Review #1 of 2: Iolanthe by Gilbert & Sullivan Austin, June 13 - 23, 2019
by Brian Paul Scipione
Iolanthe, pronounced "I Oh Lon Thee," is a comic opera by W.S. Gilbert and Arthur Sullivan about the trials and tribulations of Strephon (who is half fairy and half mortal), his mother the fairy Iolanthe (who has been banned from fairyland for marrying a mortal), and Phyllis, the girl he loves. It is one of fourteen operettas for which Arthur Sullivan wrote the music and his creative partner W. S. Gilbert wrote the libretto. The 1882 play was a biting satire of British law, government, and social mores, although the satire may seem quite mild to modern audiences used to SNL and South Park. Gilbert and Sullivan had achieved such popularity by that time that Iolanthe debuted in both London and New York on the same night, partly in order to forestall widespread pirating such as had occurred with their earlier works. The play was a hit and played in London for 398 performances.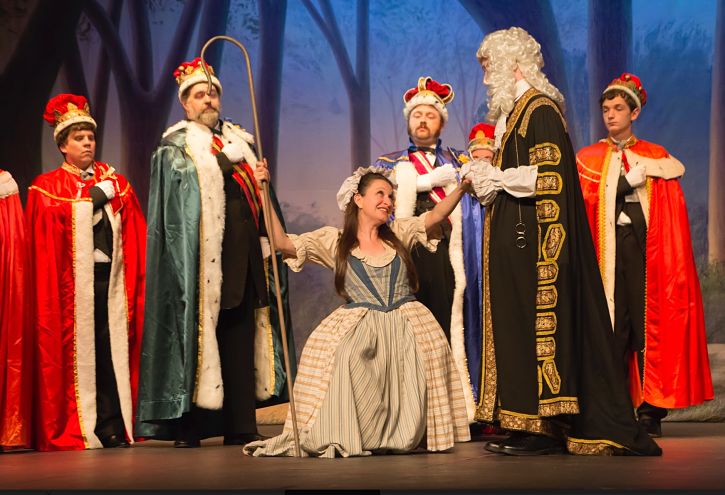 This present production is brought to you by Gilbert and Sullivan Austin. It marks the company's 43rd year of continuous production, an impressive record. The company is dedicated to preserving and promoting the works that Gilbert and Sullivan created between 1871 and 1896. Both men were knighted for their contributions to British music and culture. The Austin company does one grand production each summer, fully staged with a live orchestra, as well as recital performances, and musicales at which the audience is encouraged to sing along. The company also performs community outreach and will perform for schools, community events, and private parties. Ralph MacPhail, Jr. is artistic director, Jeffrey Jones-Ragona is music director and orchestra conductor, and Bill Hatcher is production manager. The performances feature helpful supertitles.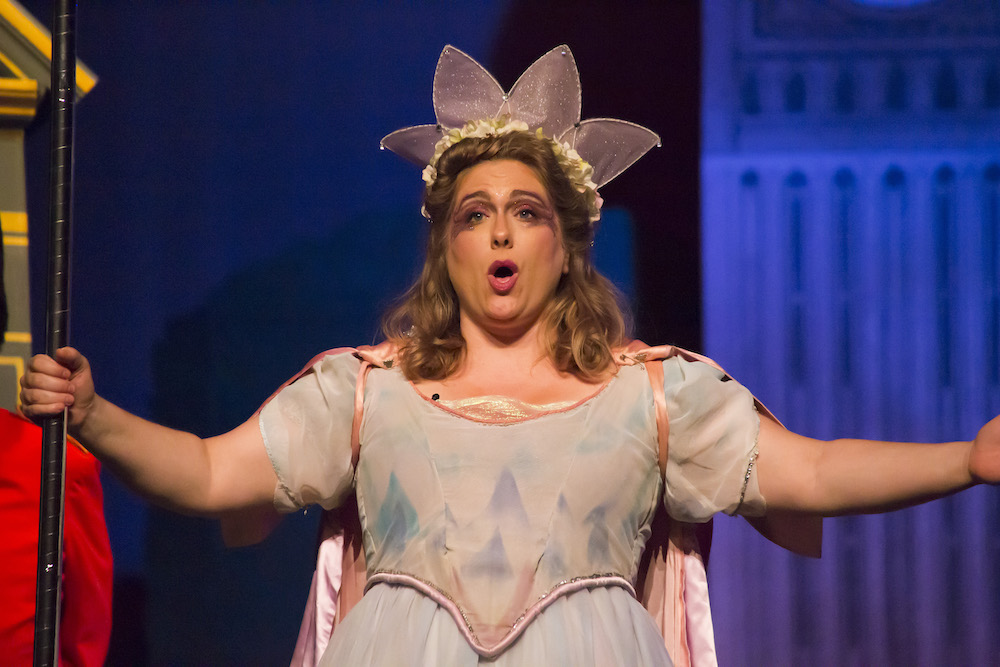 This production is very professional and faithful to the original work. If Gilbert and Sullivan Austin's goal is preservation, then they have achieved it with aplomb. The Worley Barton Theater at Brentwood Christian School is delightfully modern, and the pit orchestra sounds beautiful and very full. The overture lets you know what you're in for right away. Themes are very lyrical and brought to mind Haydn with a touch of the soundtracks of early Warner Brothers cartoons. There was no shortage of wooden blocks and triangles ringing out through the auditorium. The music, though somewhat repetitive, is full of whimsy and joyous song, as well as some challenging bits of fast-paced patter, particularly in Arthur DiBianca's rendition of the Lord Chancellor's nightmare song.
A shepherdess's staff and diminutive fairy wings helped establish the first act's Arcadian setting. It did seem a bit odd that the house lights continued dimly lit during the performance, a decision that diminished the fourth-wall experience, but perhaps that was so the audience could read the supertitles easier. The spectators, clearly devotees of this repertory theatre, thoroughly enjoyed the show.
For me, Bethany Ammon as the Queen of the Fairies and Angela Irving as the simple shepherdess Phyllis were the runaway stars. Irving's voice displayed a bright and colorful emotional range that soared sonically through the space. Ammon's mezzo-soprano voice is impressively strong but lilting at the same time, adding an emotive depth to all her lines.
Whether you're a veteran or a newcomer to the work of Gilbert and Sullivan, you won't find a better or more accurate production of Iolanthe in central Texas.
---
Iolanthe
by W.S. Gilbert and Arthur Sullivan
Gilbert & Sullivan Austin
Thursdays-Sundays,
June 13 - June 23, 2019
Thursdays - Saturdays at 7:30 p.m., 2 p.m. matinees on Sundays and on second Saturday, June 22
Worley Barton Theatre at Brentwood Christian School