Review: The Hunchback of Notre Dame by Texas State University
by Michael Meigs
You're unlikely to see a musical production of this scope and flourish on Broadway these days. In fact, the stage version of Disney's 1996 animated film was produced and premiered in Berlin in 1999, where it had a successful three-year run. It didn't get to America until 2014, but Broadway wasn't in the cards. The Disney folks were convinced that the popularity of the film wouldn't be great enough to haul enough tourists into the theatre to cover the astronomical costs of mounting a production on Broadway, particularly without the comforting happy ending. The cost/price/tourist equation has driven production decisions in top New York theatres for well over a decade. It results in a predictable biais toward the familiar and the safe.
These adaptations of Victor Hugo's 1831 gothic novel were completely unknown to me. I'd never seen the Disney film or the other, later treatments. Musical numbers from the film by the reliable duo of Alan Mencken and Stephen Schwartz seemed to offer little offense, though I've discovered that despite its commercial success the film provoked some controversy over its use of religious themes. James Lapine wrote the book for the German staging, and Peter Parnell is credited for the U.S. version. If you're really into exegesis, there's lots of material available online about the writing, reconceptualization and plotting.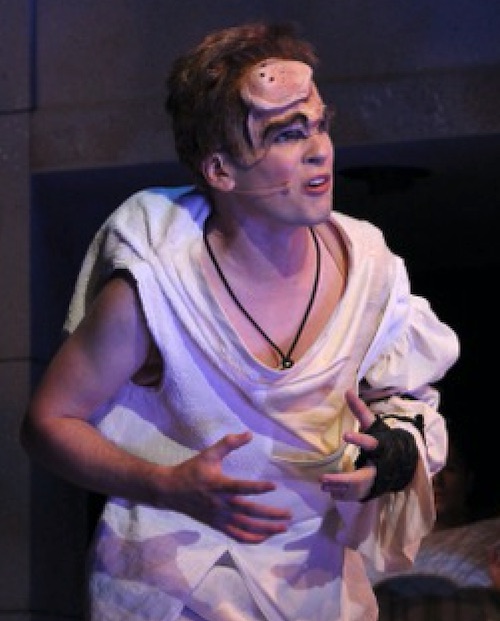 As a relative innocent in these matters, I was struck by the presentation of a Disneyfied story in a context that appeared to aspire to the credibility of grand opera.
Disney's usual elements were unmistakeable: Esmeralda the innocent heroine, disadvantaged but valiant; Captain Phoebus, the tall, good-looking romantic lead who's a wrong-headed bumbler at first but responds to the heroine's purity; an unambiguously evil villan (okay, Cathedral Archdeacon Frollo gets some dialogue about resisting the temptation of that young flesh, but who are we kidding?); and an appealingly oddball sidekick, Quasimodo, who moves the plot forward. The success of the German version may have been due to antagonistic elements: German audience's enthusiastic acceptance of Disney myths; a story that defended outcasts and decried genocide, themes constantly emphasized by German communications since the early 1950's; and Lapine's relatively audacious rewriting of the plot to make it a tragedy with elements from Faust and from La Bohème.
Back in 1956 and 1957 Warner Brothers gave lots of Americans their first tastes of opera with cartoons of Bugs Bunny as Brünnhilde and Elmer Fudd as Siegfried. Disney seems to have decided to try the opposite tack by using the animated characters of The Hunchback of Notre Dame for an operatic depiction of wickedness, doomed passion and the conversion of the underdog, all in a potent caricature of Christianity.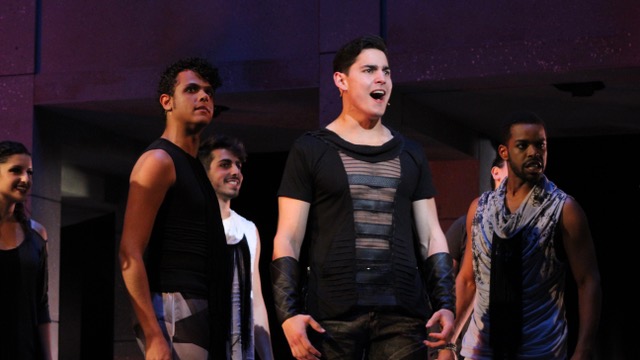 Now that I've wrestled my way through those thoughts, let's examine the way craft and art elevate this material. Under Kaitlin Hopkins, Texas State University has invested time, talent, attention and funding in building its musical theatre program. This is an artistic world without the constraints of the Broadway bean-counters. The program of The Hunchback of Notre Dame offers bios of fifty performers. Stephanie Wells directs an orchestra of seventeen players. The list of technical specialists is long. Court Watson's set is a towering schematic of the cathedral lit by Andrew McIntyre's intentionally dramatic lighting. Brandon R. McWilliams' costumes are legion; some, such as those of gargoyles and statues, are terribly clever, while others, such as the short black shifts worn by gypsy women, seem to have been dashed off without much thought.
Cassie Abate's choreography is Broadway busy in the crowd scenes, meaning that you'll catch different character glimpses in all directions, and some of those dancers are astonishingly gifted ("who was that guy who. . . ?"). Whimsy burst constantly through the action, emphasizing rather than interrupting. Particularly eye-catching was the aerialist trio Alex Aponte, Ashlyn Maddox and Lexi Ganongh, neatly matched physically as the three cathedral bells, coordinated in character and motion. Similar cartoon satisfaction was provided by gargoyles Anthony Skillman and subtle physical clown Emma Kessler.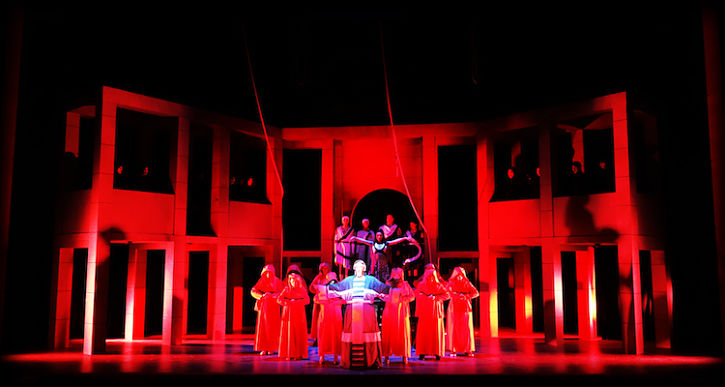 Strongest of the voices was redoubtable Texas State faculty member Ron Ulen. His presence and huge baritone overcame the script's caricature of Archbishop Frollo, particularly in "Hellfire," the powerful scene in which the enforcer sees his sin but cannot resist temptation. Ulen's performance anchored the production with maturity and bleak experience amongst a cast of ardently hopeful twenty-somethings. On the opposite end of the character spectrum Daniel Z. Miller's clear, accurate tenor made Quasimodo less of a victimized monster and more of an angel imprisoned in unfortunate human flesh. Other principals -- Ana Yi Puig as Esmeralda, Chris Clark as her would-be suitor Captain of the Guards Phoebus, and Ian Deane as Clopin, head of the gypsy band -- sang well and delivered sincere performances. Director Kaitlin Hopkins kept this massive circus coherent, crisp and running on time.
EXTRA
Click to view excerpts from the Texas State program for The Hunchback of Notre Dame (part I) (part II)
---
The Hunchback of Notre Dame
by Alan Mencken, Stephen Schwartz, Peter Parnell
Texas State University
Tuesday-Sunday,
April 23 - April 28, 2019
The Hunchback of Notre Dame opens Tuesday night, April 23 and runs through Saturday, April 27 at 7:30 p.m., with matinee performances on Saturday, April 27 and Sunday, April 28 at 2 p.m. All performances will be in the Patti Strickel Harrison Theatre, 405 Moon Street, San Marcos, TX.
Individual tickets start at $13 for adults and $8 for students, and may be purchased by phone at 512-245-6500 or online at txstatepresents.com.
Special Event Parking for all fine arts events occurring is now only available in the Edward Gary Street Garage, 405 N. Edward Gary Street. The garage is located on the corner of University Drive and Edward Gary Street for a flat fee of $5 per event. Please Note: The garage attendant will only be accepting cash. Credit/debit card transactions will not be accepted for special event parking.
Seven Performances: Tuesday, April 23 – April 28, 2019.
Tuesday, April 23 at 7:30 p.m.
Wednesday, April 24 at 7:30 p.m.
Thursday, April 25 at 7:30 p.m.
Friday, April 26 at 7:30 p.m.
Saturday, April 27 at 2:00 p.m.
Saturday, April 27 at 7:30 p.m.
Sunday, April 28 at 2:00 p.m.
Tickets Tuesday – Thursday: $13 adults, $8 students;
Friday - Sunday at 2:00 p.m.: $18 adults, $8 students