Review: Fun Home by Ground Floor Theatre
by Michael Meigs
There is a charming love story at the center of Fun Home, the musical based on Alison Bechdel's ground-breaking graphic novel of the same name. Taylor Flanagan, playing Bechdel, makes a new friend at Oberlin College when she hesitantly visits the Gay Students Union. Joan-- attractive, open and friendly -- is the bridge by whom Alison discovers love. Meeting the sweet generosity of Joan, jumpy, inhibited Alison begins to see a way forward to fulfillment and freedom. In the Ground Floor Theatre production directed by Lisa Scheps Alison's discovery is made particularly dramatic by pairing Flanagan with non-speaking actor Sandra Mae Frank as Joan. Their gentle love affair develops in American Sign Language. Taylor Flanagan speaks her lines while signing them, though there's no indication when or how Alison might have learned the skill of signing; Frank's dialogue is utterly silent, expressed with graceful and decisive gesture. That hardly mattered to me; movement and expression completed a story that was only one-half available in words.
Or rather, that's what I thought at the time.
I was sitting in the wrong place.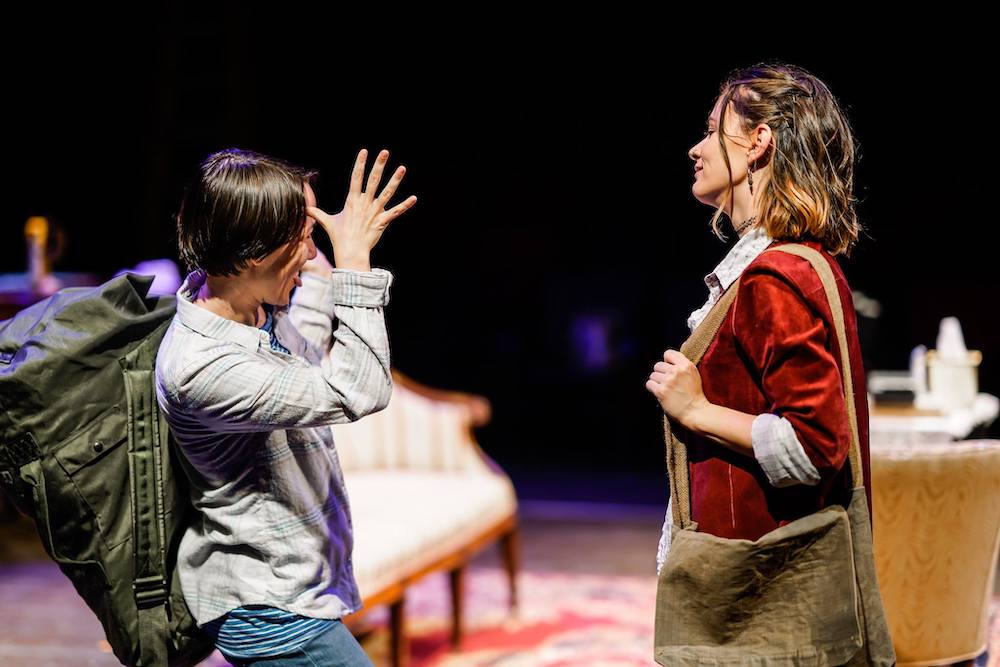 The Ground Floor Theatre is set up in a tall, vast space with hard, highly reflective walls. Director Scheps chose to stage this musical in thrust-stage format. I'm not good at estimating distances because my depth perception is poor, but it seemed that the playing space was at least fifty feet square. The only fixed set pieces were the walls across the depth of the playing space, used by designer Ia Ensterä to depict panels suggesting Bechdel's 2006 graphic novel. Movable set pieces trundled on and off the stage included a bed and a coffin. A slightly raised platform ran across the depths of the stage.
My mistake was to take a seat halfway up stage left instead of integrating myself into the several rows of chairs at the front of the space. I was seeing the action in cross section instead of in a pseudo-proscenium view. And that meant it wasn't until very late in the musical, when Alison took Joan to visit her home, defined as that platform in the stage depths, that I saw the words of Joan's ASL communication were being projected on the rear wall beneath one of Ensterä's cartoon panels.
As I wrote above, that didn't matter. Scheps' choice to cast a non-speaking actor in the role of Joan, written as an alto, may have in fact added something special to a production mounted by a group that stresses inclusion. The information provided for that lovely love story was more than sufficient.
Other technical aspects were much greater hinderances for comprehension.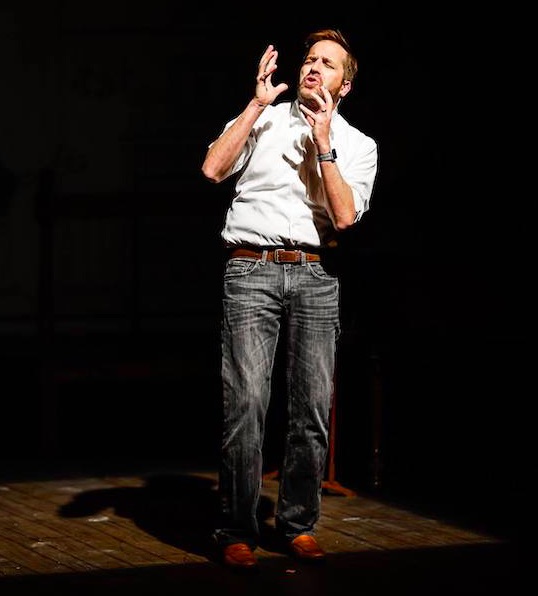 I'd looked forward eagerly to the Austin production. I hadn't managed to get to San Antonio for the Public Theatre's staging just weeks earlier at their Cellar Theatre. Scheps cast some of my Austin favorites -- Jim Lindsay, Sarah Marie Curry, and Taylor Flanagan -- and with Sandra Mae Frank and Mariela Denson as the 10-year-old Alison she chose actors of special charisma.
But I couldn't understand as much as 40% of the lyrics and dialogue. The Ground Floor Theatre is an echo chamber, the actors wore body mics and were amplified, and Adam Roberts and the four accompanying musicians were playing the muscular score loudly and exuberantly. For me, at least, this story of intimate sensibilities, despair, confusion of sexual identity, cross-generational disconnects, and missed reconciliation was an acoustic mess.
Jim Lindsay, so often cast as a comic lead, created Alison's father Bruce as a complex, conflicted character who was present and absent at the same time throughout Alison's development. Sarah Marie Curry embodied mature balance wrought from regretful memory and the smoothing if not soothing passage of years. Perky Mariela Denson displayed admirable confidence and mastery as she played alongside the grownups in a piece examining seriously adult themes. Alejandra Murga as Alison's mother, Jim's wife, bore up under disappointment and loneliness, an example to Alison of the penalties of bending to convention.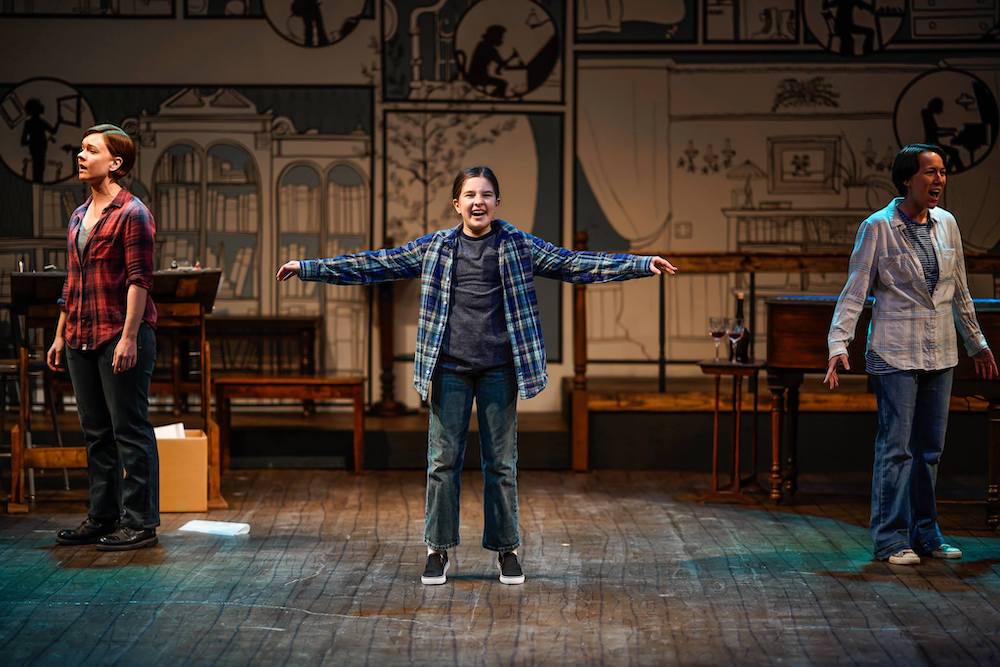 I'm glad that all the comments I saw on-line were enthusiastic. I never read the work of other reviewers before I put down my own thoughts, but it was a good sign that the titles of published reviews were positive. And for the sake of the artists, the theatre, and the significant thematics of Fun Home, the reports of sold-out houses were encouraging. I'll just have to wait until some other company produces the work to be able to absorb and appreciate the content of the musical version done by Lisa Kron and Jeanine Tesori.
Until then I can go back to Bechdel's handsome, striking and silent graphic-novel version.
EXTRA
Click to view the program for Fun Home by Ground Floor Theatre
---
Fun Home
by Lisa Kron, Jeanine Tesori, after Alison Bechdel's graphic novel
Ground Floor Theatre
Thursdays-Sundays,
December 06 - December 22, 2018
Ground Floor Theatre
979 Springdale Rd
Austin, TX, 78702
FUN HOME will run December 6-22 at 8 pm with Sundays at 5 pm at Ground Floor Theatre, located at 979 Springdale Road in Austin at the corner of Springdale and Airport Boulevard.
[poster image by Shannon Grounds]