Review: Nevermore, The Imaginary Life and Mysterious Death of Edgar Allan Poe by Penfold Theatre Company
by David Glen Robinson
Nevermore, the musical is an imaginary biography of America's famous nineteenth century writer. The treatment, authored by Jonathan Christensen, is brilliant for wisely and succinctly relating the facts of Edgar Allan Poe's life—what we know of them—to some of the major works of Poe's fantastic flights. Christenson's imagination cuts through what remains obscure about Poe to create plausible scenarios, and then he wraps it all up in music and song to make a musical. And Michael McKelvey of Doctuh Mistuh Productions looks at it and says, "This is perfect for Austin." And he's right.
Poe fans have eagerly awaited the remount of the 2015 Austin premiere at Austin Playhouse. Michael McKelvey directs and Ryan Crowder of Penfold Theatre assists. Christenson gives them a fantasia riffing on the eternal entanglement of reality and dream. His work suggests how that conflict and one man's repeated tragedies created an alternate universe of horror and thwarted ambition. Poe's innate brilliance allowed him to write it all down and send it spinning into the future.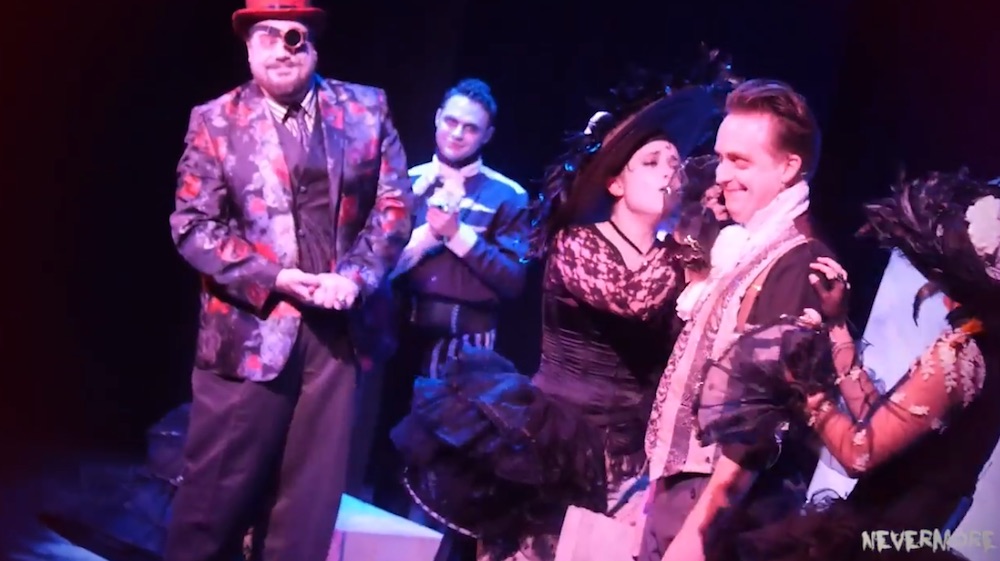 The performance of this work must instantly go over the top and stay there for the duration of the show if it is to work at all. And this it does. The fantasy realm is signaled with costumes and styling hailing from somewhere among the graphic esthetics of Edward Gorey, Aubrey Beardsley, Tim Burton movies (mostly Beetlejuice), and 90s Goth subculture. Minor inflections of The Addams Family are thrown in, probably so millenials can get some kind of grip on it. Credit goes here to Glenda Wolfe, although her bio gives her name as Glenda Barnes, her maiden name. The program gives no credit for the grotesque makeup and styling on all the characters; the default for makeup is usually the costume designer. The same goes for the fantastic raven monsters that emerge from Poe's nightmares to menace him. Altogether, Nevermore may showcase Glenda Wolfe's best work to date, and that's saying a lot.
The set is simple but charged with foreboding, essentially three movable rocklike panels against a black background. They loom like the stelae of an ancient fallen culture, to serve multiply as walls, bedsteads, and the slabs of a sepulcher of hoary lineage. The program gives no credit for set design, but this reviewer remembers this set from the 2015 Austin Playhouse premiere. Prop designer Teresa Carson may deserve some of the credit here. Many of the design and material elements of the earlier production are worthilly re-showcased here.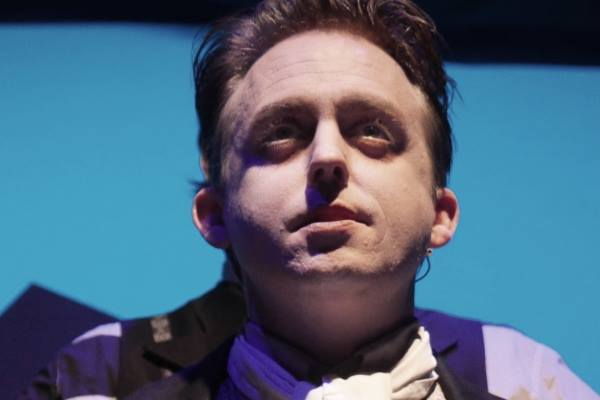 Tyler Jones reprises his 2015 role and leads a superb cast—Stephen Mercantel, Matt Connely, Joey Banks, Emily Christine Smith, Suzanne Balling, and Natalie Blackman. Memories of that experience, along with Jones' mellow and clear voice, give the audience the confidence to entrust itself to him while riding along with Jones' exploration of Poe's inner self, a dark side beyond the dark side.
The ensemble is beautifully supportive of each other, apparently with a single-minded focus on precise and powerful singing of their production numbers. They succeeded admirably and transcend requirements by generously helping each other right through the opening night wobbles and bobbles and costume adjustments and miscues. They were a joy to behold.
Stephen Mercantel opens the show by singing a descriptive introduction, the scenario of the entire production: Poe is brooding at the railing of a steamer bound for New York when he meets a mysterious performance troupe, heading by chance for the same destination. Also by chance, they plan to perform several scenes from Poe's poems. Would he allow them to demonstrate their material?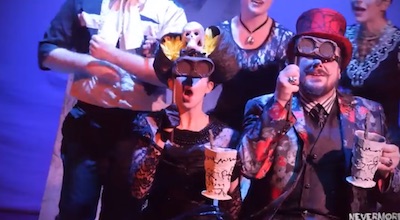 This is all the excuse Playwright Jonathan Christenson needs to take us far from the steamer to the exotic and fearful lands on the far shore of Poe's pain-stoked imagination. Christenson matches incidents of Poe's life with his major works—not in precise chronological sequence, but who cares?—and turns the results into spectacular production numbers, the kind Director McKelvey comprehends and embellishes to perfection. This reviewer's favorite was "The Raven," followed by "Israfel."
"The Raven," in particular, was a blended and magnified work combining literature, theatre, music, and dance in powerful and artful performance. To this reviewer's ear and memory of this oft-read poem, Tyler Jones sings and dances every line of it, with choral additions from the ensemble. The darkness, the passion, and the power rise up to enchant us. Nevermore forevermore. Kudos to all.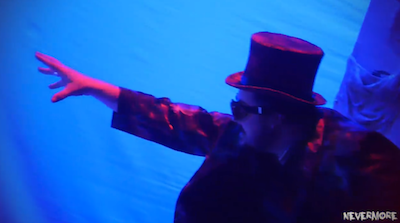 Matt Connely brings his great presence and excellent voice back to Nevermore from the 2015 staging. Like all the cast except Jones, Connely sings at least four characters, his physicality and voice turning on a dime to meet each character's demands. It seemed that for half his time on stage Connely channeled the voice of Orson Welles from about the period of Citizen Kane. For the rest of the timehe sang in ranges Welles never could have attained. Connely's is a rare talent indeed.
Suzanne Balling also returns from the 2015 edition. Her range of acting is almost beyond belief. She inhabits all her characters the instant she steps on stage.Balling supports all the stage work around her and works to assure that all the scenes work. She shines as Eliza Poe; gentle, abstracted, and utterly self-possessed. Balling is a great trouper. Incomparable is a term coined for her.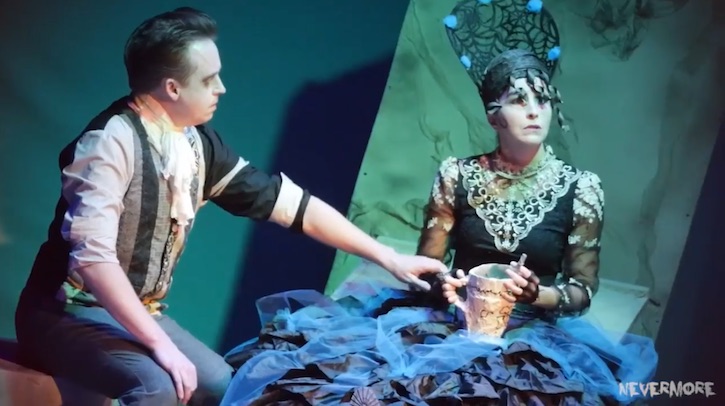 Joey Banks and Emily Christine Smith both come to the show with impressive musical theatre credits. Banks is a Doctuh Mistuh veteran, having performed in several of its shows; his performance is knowing and fine-tuned, for all its quick-change character hi-jinks. Emily Christine Smith is a specialist in character voices. Her vocalizations as Fanny Allan are at times a literal hoot and always hilarious. Surprisingly, Smith brings comic relief to an otherwise tragic figure in Poe's life, his beloved stepmother, Fanny. Her fatal madness was probably the source of many stories, poems, and characters in Poe's work.
Natalie Blackman gives us perhaps the most beautiful voice in the show. Her elocution and timing are superb and unfailing. Her students at Texas State University had better come see her performance if they want a good grade—and to become good actors. Her character of Elmira is a gem in the play that Blackman mines and polishes to perfection. Elmira's hairpiece is something out of Edward Gorey or Tim Burton. She uses it in character with periodic adjustments to bewitch the young Poe in the graveyard where they both feel the most comfortable. Blackman's Elmira is an eldritch goth-black smurf who enchants Poe and the audience. The love relationship between Elmira and Poe was life long, but a failure and great frustration to both. Elmira may have inspired any number of the unattainable women in Poe's poems.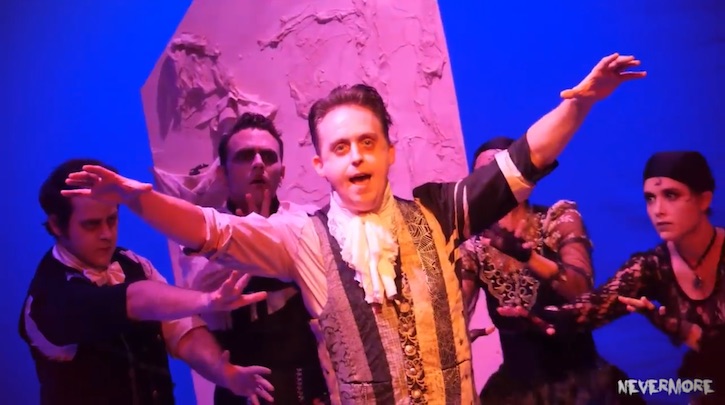 Nevermore is full of dance, but, again(!), a choreographer's credit is missing from the program.In such cases, credit usually defaults to the director, that is, McKelvey. Assistant Director Ryan Crowder was probably also involved with the creation of lively movement throughout the play.
The biographical realities of Poe's life in Nevermore are based in historical research. The stack of 52 envelopes is a replica of the letters sent to Elmira by Edgar. The original of the Valentine's Day card also exists, along with the 52 letters, in the Poe Museum in Baltimore. The dialogue between Edgar and his step-father Jock Allan regarding Edgar's support in college comes directly from the letters between the two. The letters are widely published, but other aspects of Poe's life events are no documented. The lack of accurate diagnoses of Poe's fatal condition is due to a lack of accurate medical records of any kind, thus stoking the controversies surrounding his demise ever since. In short, never was a historical musical more aptly titled than this one.
Nevermore: The Imaginary Life and Mysterious Death of Edgar Allan Poe is highly recommended for everyone who has ever had a dream or a nightmare. This means you. See this show. It plays October 25 to November 10, 2018 at the Ground Floor Theatre in east Austin.
EXTRAS
Click for CTXLT review of 2016 production by Dr. David Glen Robinson
Click for CTXLT review of 2016 production by Brian Paul Scipione
Click to go to video promo of 2018 production, published at CTXLT
---
Nevermore, The Imaginary Life and Mysterious Death of Edgar Allan Poe
by Jonathan Christenson
Penfold Theatre Company
Thursdays-Sundays,
October 25 - November 10, 2018
Ground Floor Theatre
979 Springdale Rd
Austin, TX, 78702
October 25 – November 10, 2018
Thursdays – Saturdays at 8 pm and Sundays at 5 pm
Special Halloween Performance on October 31st at 8 pm
Ground Floor Theatre, 979 Springdale Rd #122, Austin, TX 78702
Admission $15-$30