Review: Side Show by Trinity Street Players
by Michael Meigs
Theatre art is always a time machine of sorts, and the Trinity Street Players give us a lens into at least four eras: the early 20th century of tawdry sideshows, higher toned vaudeville, and pre-Code motion pictures; the mid-1990's when Bill Russell's musical about the conjoined twins Daisy and Violet Hilton surprised and intrigued New York theatre; 2014 when the show was reworked and revived successfully; and our own world of 2018, where the diversity and difference treated so kindly in this libretto have become misprised by many and are at considerable risk. Austin is an appropriate venue for Side Show -- although the town is "weird" now only in that it's a worldly city in a gerrymandered expanse of red, it's profoundly sympathetic to varieties of ancestry, race, national origin, physical ability, and sexual orientation.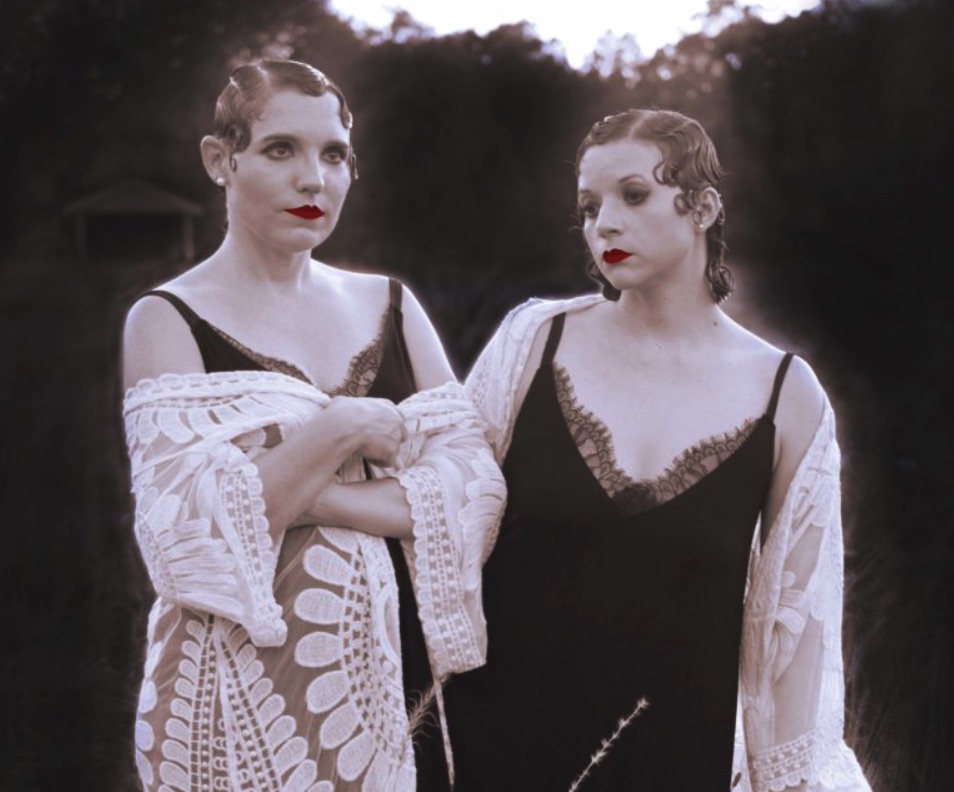 That's especially true of the theatre community, who metaphorically let their own freak flags fly. The Trinity Street Players are no exception, and we can be grateful they've developed over the past decade in the shelter and sanctuary of that black box on the fourth floor of First Austin, a baptist community of faith with a view of Christian oblilgations that is decidedly different from much of Texas fundamentalism.

Joined at the waist from birth, Daisy and Violet were shunned and consigned as wards of a carnival empresario. Their familly was not the tidy one of conventional Americans, for they had only one another. Russell situates these two delicate and charming creatures in a family of carnival "freaks," some real and some fake, but all sympathetic and very human -- except for "Sir," the carnival master who touts them all as entertainment.
The story is a thin one, and it's entirely revealed on the "Historical Timeline" provided on page four of the program. In sum, Act I recounts the discovery of the twins by vaudeville-connected outsiders and the lawsuit that set them free from their exploiter; Act II is the tale of their successes and their yearning for love. In both aspects there are disappointments that are inadequately foreshadowed.
The real appeal of the piece is the Side Show cast, which is a rich candy box of Austin musical theatre performers exulting in the pieces by Russell and composer Henry Krieger. Leads Ann Pittman Zárate and Sarah Zeringue have lovely subtle voices, astonishingly well matched vocally and physically. They're costumed and made up to reinforce their images as identical twins. In Act I they are virtually indistinguishable from one another, and one pleasure of Act II is seeing them demonstrate differences of personality. The Side Show poster image shown above is evocative of hand-tinted photographs of the 1920s, but it does them something of a disservice. These women are lively, vivacious and appealing, and the audience takes delight in seeing them transform in the course of the story. Costume designer Colleen Power Griffin tells that story wonderfully in fabric and accessories. And how about those wigs! Here's a glimpse: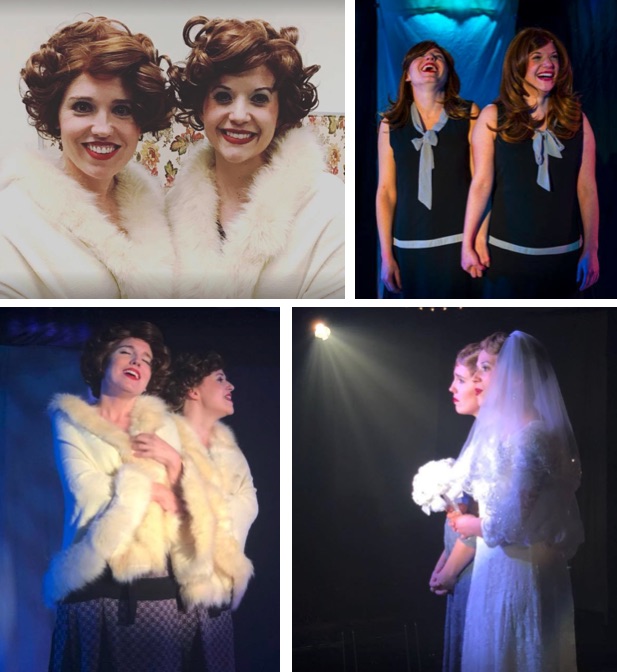 Director Eric Vera appears to have hand-picked this cast, so that the music is delivered with intelligence and verve throughout. This isn't Rodgers and Hammerstein; you're not likely to walk away humming the tunes. The authors have crafted a piece where the music and lyrics carry the action forward instead of pausing it. Paul Pew as music director and accompanying musicians Alan Jefferson, Adrienne Banks and Syd Polk provide a gratifyingly elaborate sound from behind the audience without overriding the modestly amplified voices. And you'll get to hear Rodrick Sanford's resonate bass, especially in admonitory The Devil You Know and the love ballad You Should Be Loved, that fabulous tenor of Andrew Cannata as the song-and-dance man, and -- merged most of the time in the ensemble -- the art of Michelle Alexander (wearing a beard!) and of Ryan Smith.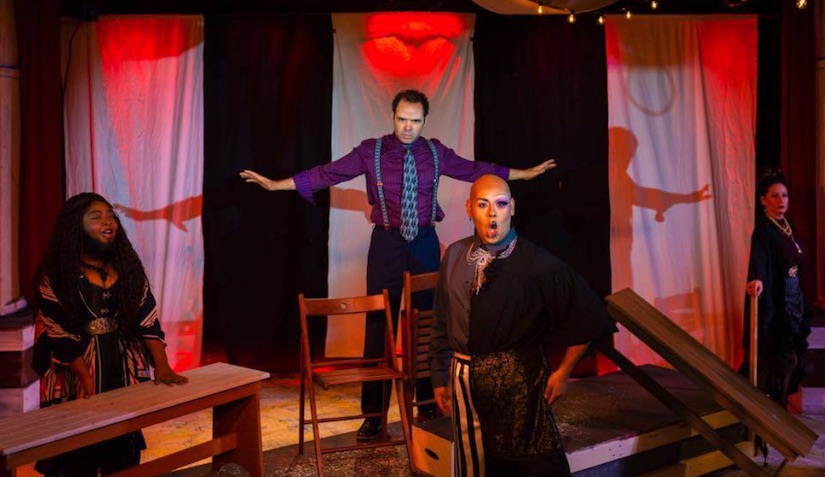 Kirk Kelso and Rick Felkins, character actors familiar to Austin theatre goers, play central roles -- Felkins as the bad guy carney owner and Kelso as his adversary from New York intent on freeing the twins. Steve Williams has a brief appearance as Harry Houdini and delivers essential advice with In Your Mind, hitting that climactic high note perfectly.
The set is relatively simple, an arrangement of curtains across the rear.A long narrow platform is moved repeatedly throughout the show to suggest shifts of scene or perspective. Various cast members lean in to disengage the set piece, shift it and lock it again. Though these movements weren't particularly obtrusive, I found myself watching ther set more than I would have liked.
Kelso and Cannata, the outsiders who liberate the conjoined twins, become prospective suitors in Act II. If I'd been king of the forest, I would probably have switched their roles, in large part to hear Cannata as the conflicted romantic lead in Marry Me, Terry. That wouldn't be meant as a slight to Kelso, though; Kirk has triumphed so often as the comic zany that it's a pleasure to see him play it straight.
Adam Roberts choregraphed Side Show with appropriate flair. Leslie Heathcox's prowess was particularly noticeable in the dance numbers and helped give additional dimension to his role as Ray the carnival vampire.
This production is a fundraiser for the Trinity Street Players, one of the most consistently high-quality performing groups in Austin. Treat yourself to their time machine; these freaks and fine people deserve it.
EXTRA
Click to view the Trinity Street Players' program for Side Show
---
Side Show
by Henry Krueger, Bill Russell
Trinity Street Players
Wednesdays-Sundays,
October 12 - October 28, 2018
Trinity Street Players
Black Box Theatre, 4th floor, First Baptist Church
901 Trinity Street
Austin, TX, 78701
Performances 7:30 pm Wed-Sat evenings and 2 pm Sunday matinees Oct 12-28, 2018
Side Show is shown in part as a fundraiser for Trinity Street Players. To secure a reservation, purchase a ticket now! FREE tickets are offered the night of each performance starting 45 minutes before curtain! Early Bird Tix are $15. After Sept 18th, they are $20.
Click HERE to reserve and pay for tickets.

FREE CHILDCARE is offered by First Austin October 13, 21, and 26. Call 512-476-2625 or email clarion@fbcaustin.org to secure your child's spot.