Review: Black Dog by Bottle Alley Theatre Company
by Justin M. West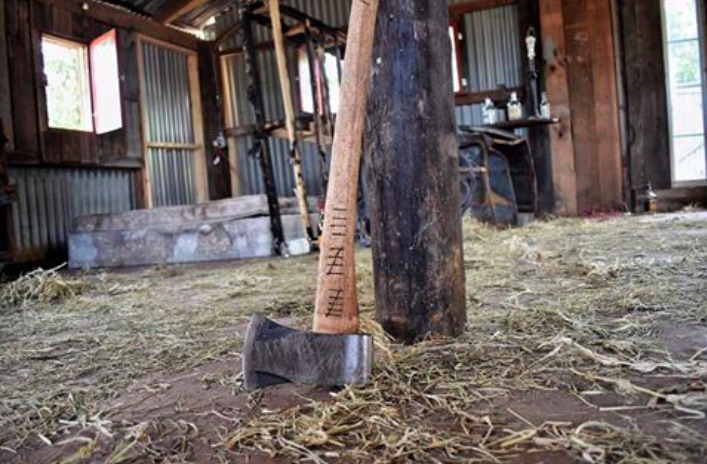 Bottle Alley, brainchild of local playwright Chris Fontanes, is nothing if not offbeat. If you're in the mood to dress to the nines and buy your trophy wife a $9 plastic cup half-filled with some shitty Merlot or another, this is not the theatre company for you. However, if you desire something original, risky, and challenging, and you don't mind using bug spray before watching a show in a creepy ass barn filled with shit that will kill you if you aren't watching where you're walking... well then you might consider Bottle Alley's latest offering, Black Dog.
Bottle Alley often bills itself as "found space theatre," and while it has often been precisely the opposite, they excel at finding offbeat, extremely fitting venues for their works. Despite its humble outward appearance, this might be Bottle Alley's best venue yet. Black Dog is presented in a disheveled barn behind a food court in South Austin, near a bar that looks more like the staging grounds for a heist than anywhere you'd go to slake your thirst. But… inside the venue, we're presented with some exceedingly loathsome characters who fill our heads with macabre tales of bloodshed and torture.
Over the course of ninety minutes, two main antagonists (there are no good guys, here) regale us with the stuff of nightmares. Murderous desires and memories of spilled blood make us uncomfortable. Stories of budding friendships and lost loves almost pull us away from the madness, until inevitably things turn sour. Sam, bound for almost the entire show with a burlap sack over his head, acts as both victim and narrator, conscience and dramatic historian.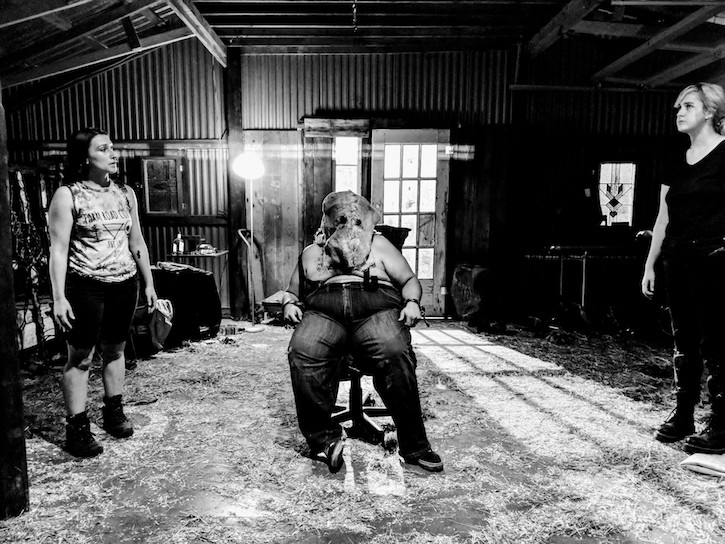 This is a show with running themes of abuse and social anxiety. Of attachment and retribution. Of the bonds of love and friendship, and the deepest caverns of human depravity. Through lengthy monologues and thoughtful abstractions, the audience is forced to ask... why?Dani Stetka's direction takes an excellent script by playwright Chris Fontanes, and gives us both excellent performances and an effective use of a very sinister space, creating a feeling of immersion that many "immersive" shows only dream of.
The show is well-cast, and the performances are on point all around. Rachel Holderbach as Ophelia exudes a confident airiness totally unbecoming of such a vile individual, and it's unsettling. Sara Cormier as Rainey is genuine, intelligent, and manipulative, and she somehow manages to draw sympathy for a character intent on cannibalism. William F. Reed's solid performance as Sam has us wondering why he isn't more alarmed at his situation... until he very much is, and we fear for his life, whatever evil he's clearly been up to, himself.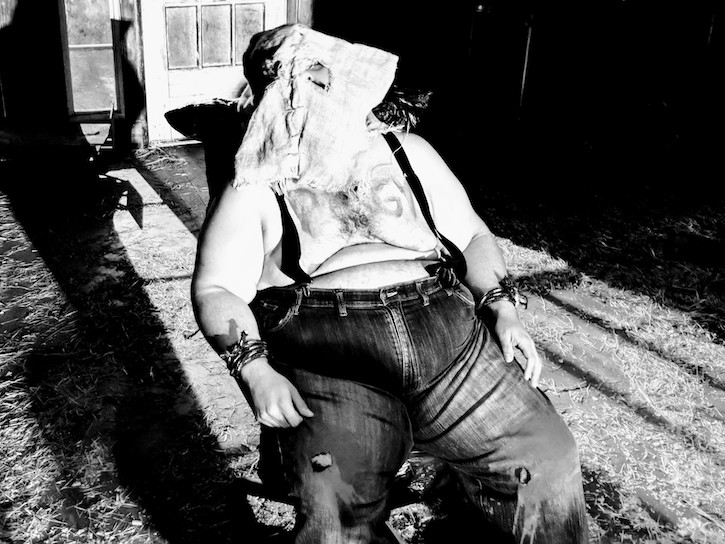 At one point during this performance, a police car hauled ass past the venue, causing the actors on stage to take pause. The sirens had almost passed when Sam, half naked and bound to his chair, cast in eerie shadow under a dingy yellow bulb, shouted "Help!" A short while later, it happened again, and this time Rainey held a knife to his throat before he could make a sound. It was all a bit of ad-libbing and I cracked a grin at how expertly the cast handled the moment. It added something to the show that no one had planned and made it better in the process. To me, it was the highlight of the show; I wasn't watching a play, I was voyeur to a seedy event taking place before me, cringing each time a blade touched itself to a character's neck.
Reviewer's Note: I also saw Bottle Alley's last show, Self Portraits, and tried repeatedly to write a review of it and utterly failed. Nothing I wrote did justice to it. Shame on me. It's far too late for an actual review now, but I will say that it was probably the most enjoyable piece of theatre I've seen in years. How's that for a mini review of a show from moons past? Black Dog was a very different beast, but it's certainly no less worth your time.
---
Black Dog
by Chris Fontanes & ensemble
Bottle Alley Theatre Company
Thursdays-Sundays,
September 13 - September 23, 2018
The Barn
6218 Brodie Lane
Austin, TX, 78745
Thursdays - Sundays at 8 p.m.
We will be doing EIGHT total performances over two weekends (the 13th through the 23rd) at The BARn (shoutout to The BARn! Which is located at 6218 Brodie Lane).

Performances begin at 8 p.m. with the house opening around 7:45. However we encourage our audience to get there early and grab dinner from the awesome food trucks or grab drinks from the bar!

IMPORTANT: There will be NO late admission.

Tickets are $10 plus service fees, available from