Review: Real Women Have Curves by Teatro Vivo
by Michael Meigs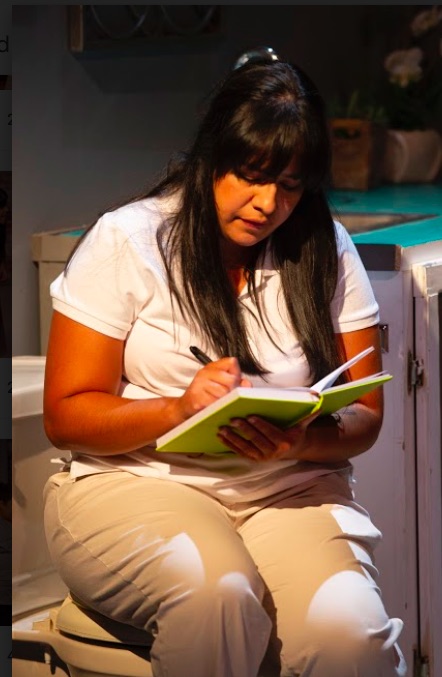 The script of Josefina López's Real Women Have Curves is swift moving and atmospheric, and it blasts along like a roller coaster doing the curves. The women aboard the ride are sharply differentiated, talky and engaged with one another. It's not surprising that this 1990 play produced in Los Angeles was eventually turned into a successful film back in 2002.
Austin's Teatro Vivo does a good job of it, too, for director Claudia M. Chávez hand picked a cast of five women endowed with talent and curves and not reluctant to show off either of them.
Scenic design by Tomás Salas credibly transforms the MACC's gym-like space into a run-down paint-stained basement workshop equipped with sewing machines, work tables, racks, an industrial steamer, a bathroom with toilet, a pair of steel doors and even a murky window looking out onto a parking lot.
Playwright López uses a framing device based on her own experience. The youngest of the women, Ana (played by Minerva Villa), wants to be a writer. In the opening sequence she sneaks off to the bathroom and scribbles a description of life in Estela's enterprise, a literal sweatshop sewing up dresses for $30 that will eventually retail for $400 at a high-rent department store. It's a quick exposition, a device abandoned immediately and taken up again only as an elegy at the end.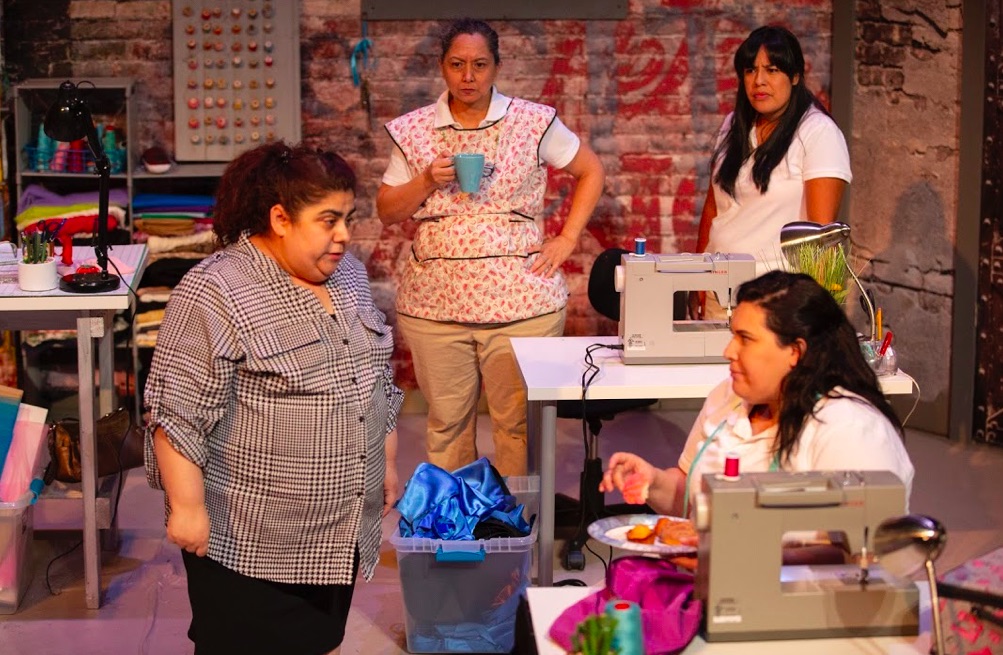 Playwright López evokes memories of the hopeful time just after legislation made it possible for undocumented immigrants to adjust status. Four of these workers did so successfully. Only the ambitious, feisty owner Estela didn't manage to do so, because of an absurd but unresolved felony charge. The trauma lingers, however, for sometimes the women forget they no longer have to hide from the dreaded "Migra" (now ICE, the authorities who enforce migration laws). Some twenty years later, those fears have been renewed, making López's story of the women's courage, humor and solidarity that much more relevant.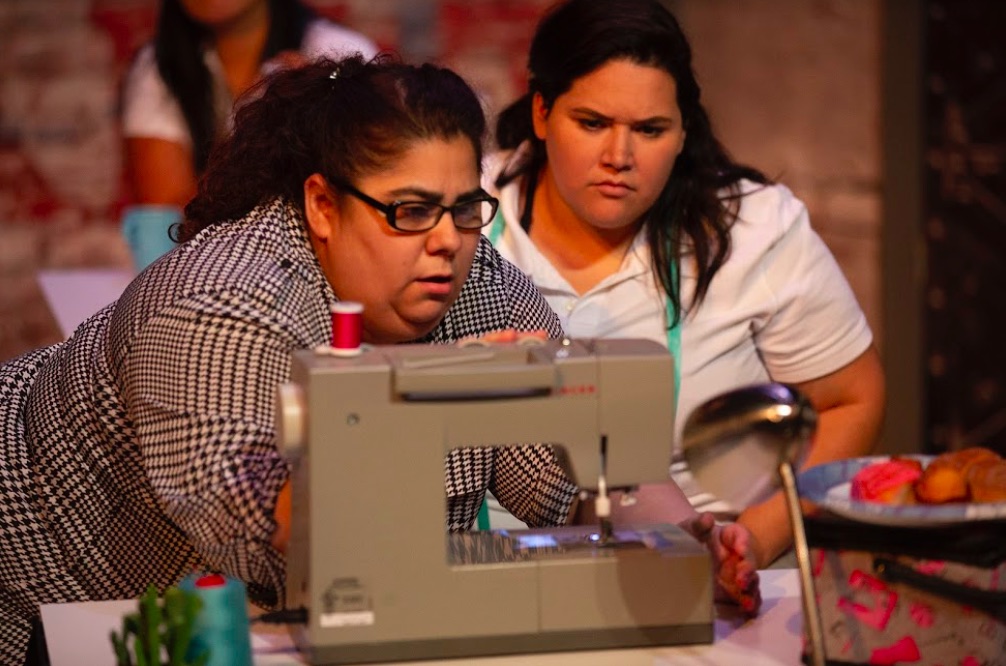 Eva McQuade as owner Estela is forthright, organized and insistent, but she's no bully. McQuade's subtlety of expression is notable, especially in the close quarters of this performance space. This cast, which also includes Gina Marie Palacio, Ana Laura de Santiago, and Martinique Duchene Philips, offers both a cohesiveness of Latina identity but also a vivid, comic differentiation of character. They're individuals but they're also family both literal and metaphorical. Director Claudia M. Chávez takes advantage of the complex space and moves the actresses about the obstacles and opportunities of the set, gathering them and then dispersing them in ever new configurations.
The action through which those differences are expressed is the make-or-break commission Estela has received to provide 150 dresses on a tight deadline. Material is lacking, machines break down, mistakes are made. Tension rises throughout, and the pugnacious Estela has to balance production demands against the physical and psychological needs of the task. The appealing humanity of this small band of sisters is an implicit appeal to audiences and to faceless society to recognize the value of their work and their very existence in U.S. society. The playwright gives Estela and her comrades a triumph in which we can all share.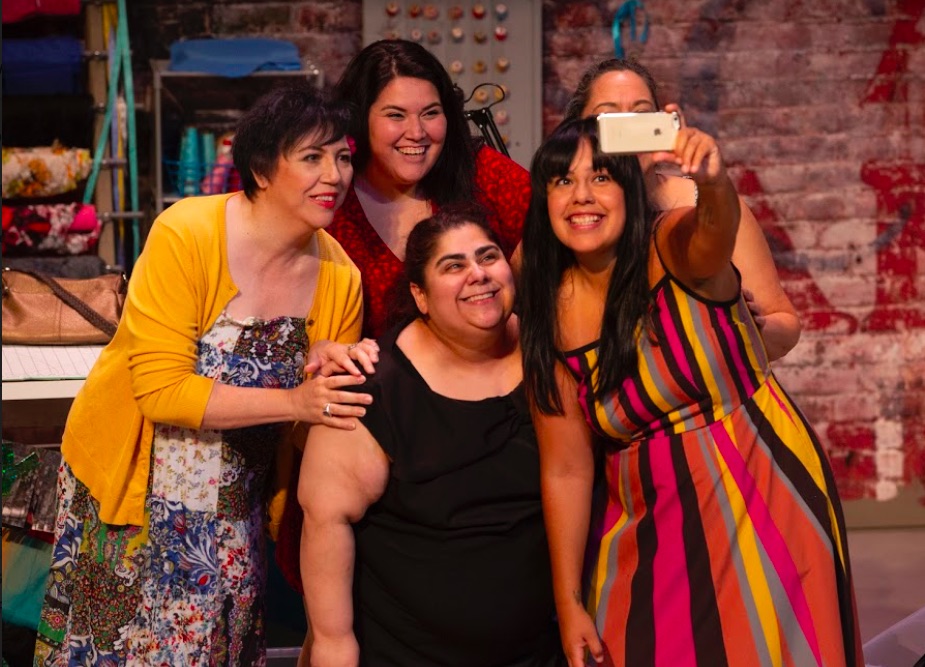 As is typical of Teatro Vivo, the script is in English but liberally salted with Spanish phrases and Latino quirks. The audience was mostly Tejano/a, folks who enjoyed the comic mirroring of a familiar culture, but spectators of any ethnic can appreciate and enjoy the story, the human warmth, and the comic tropes.
EXTRA
Click to view Teatro Vivo's program for Real Women Have Curves.
---
Real Women Have Curves
by Josefina Lopez
Teatro Vivo
Thursdays-Sundays,
August 02 - August 19, 2018
Performances:
August 2-19, 2018
Thursdays-Saturdays 8:00 PM
Sundays 2:00 PM
Click here to Get Your Tickets Today!
Emma S. Barrientos-Mexican American Cultural Center