Review: Beauty and the Beast by Zach Theatre
by Michael Meigs
With its seven-week-long production of Disney's Beauty and the Beast Austin's Zach theatre sets the stage with its familiar flourishes and mastery of theatrical design for a lavish banquet of comfort food. It's a fun evening with beloved characters in a familiar story, where the sweet, bookish heroine prevails over her caddish, smug suitor and recognizes the true worth of the towering, rude and resentful beast who turns out to be a prince in disguise.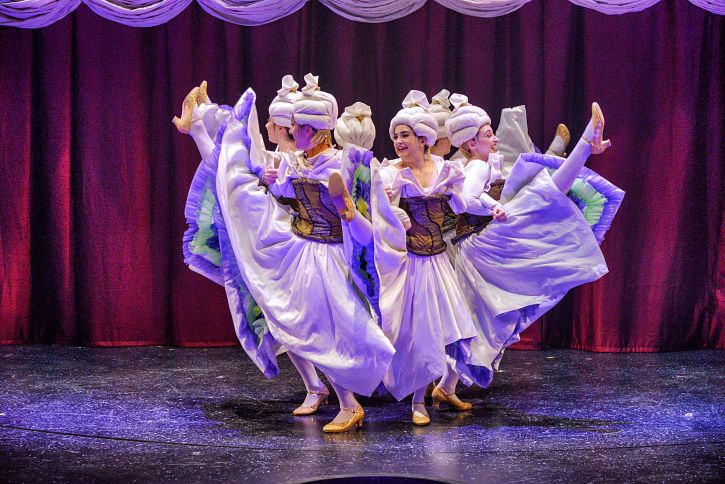 You probably didn't need that summary, since Disney's 1991 animated film of it and the 1989 The Little Mermaid were formative elements in contemporary American romantic consciousness. Zach is staging a version of the 1993 Broadway show that ran for 13 years. Disney's script and music were eventually made available for regional and local productions, and over the last decade Central Texas has had the opportunity to see at least nine productions in venues ranging from high schools to community groups to this professional production. In fact, you can get tickets for the production currently running at the Temple Civic Theatre so as to compare the shows. You'll have to hurry, though, since as of this writing the Temple production is completely sold out for its July 20 - August 5 run, except for next week's Friday evening performance.

We enjoyed the evening immensely. It's a tuneful musical with a lively hidden orchestra directed by Zach pro Allen Robertson, performers lovingly costumed by Susan Branch Towne, and a massive set by Court Watson that revolves on the stage turntable to alternate between the Beast's towering castle and Beauty's rural village. Sarah Burke's choreography is just as much fun, with my favorite moment being the Busby Berkley swirl of young lady napkins for "Be Our Guest."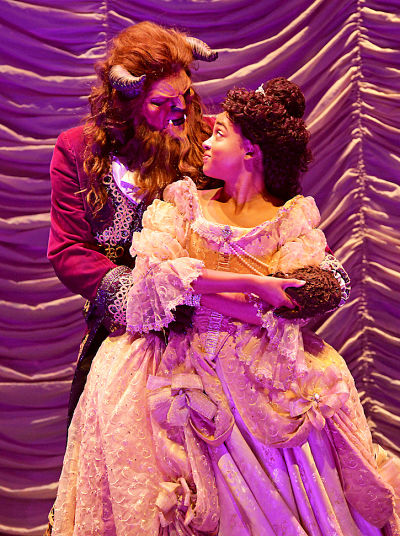 The Zach Theatre imported the principals, both Equity actors -- winsome Briana Brooks as Belle and Alexander Mendoza as the brooding, looming Beast, both of whom have performed these roles elsewhere -- but filled most secondary roles with Austin actors. Newly arrived in Austin, Kevin Pellicone was Gaston's lickspittle sidekick Lefou (French: the crazy one), unfortunately directed to perform as a prancing weakling, presumably gay. Pellicone, who's performed as Lefou elsewhere, clowned with goofy energy.
This is a nostalgia evening, and we had a curious sensation when surveying the packed audience. The seats appeared to be filled mostly with folks in their mid-forties and up. Mind you, a 7:30 p.m. curtain is a positive disincentive for those thinking about bringing the kids or grandchildren. By the time Act II rolled around, past 9 o'clock, there were audible sounds of misery from some of the few children there, and there were parents who hastily hustled away with overwhelmed, exhausted kids. Matinees at 2:30 p.m. on Saturdays and Sundays of this lengthy run will be kinder to the youngest ones.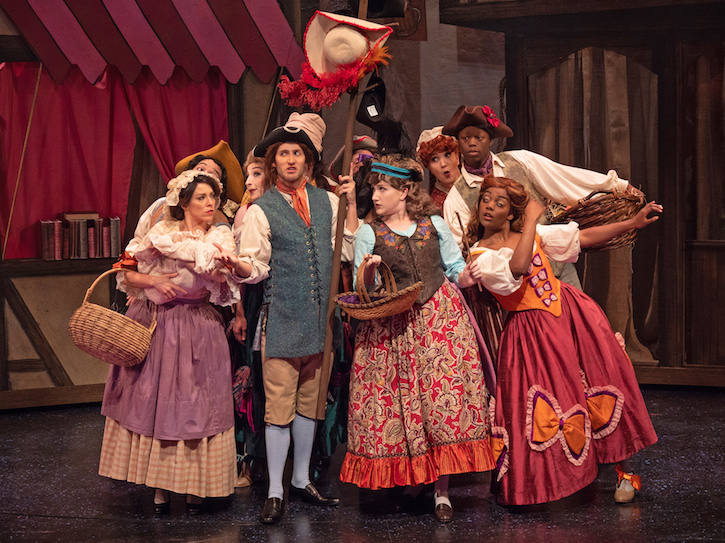 Much of the amusement at the Beast's castle comes from Towne's costuming. John Christopher, recognized by the 2018 Austin Critics Table as outstanding individual performer, is jolly but confined in the structure of Cogsworth's clock; effervescent Zach musical comedy favorite Meredith McCall is reduced to a face by the bulk of Mrs. Pott's teapot; and Martin Burke, long recognized by many as probably the funniest actor in town, is candlestick Lumière, denied the use of his hands except for an occasional electric flash of surprise or indignation. Disney's animated film delighted by rendering inanimate objects as comic personalities, but the requirement to evoke the film onstage comes perilously close to reducing live actors to little more than objects with faces and voices. June Julian as the animated wardrobe Madame de la Grande Bouche (French: the lady with the big mouth) has the advantage here, for her powerful soprano overwhelms such disadvantages.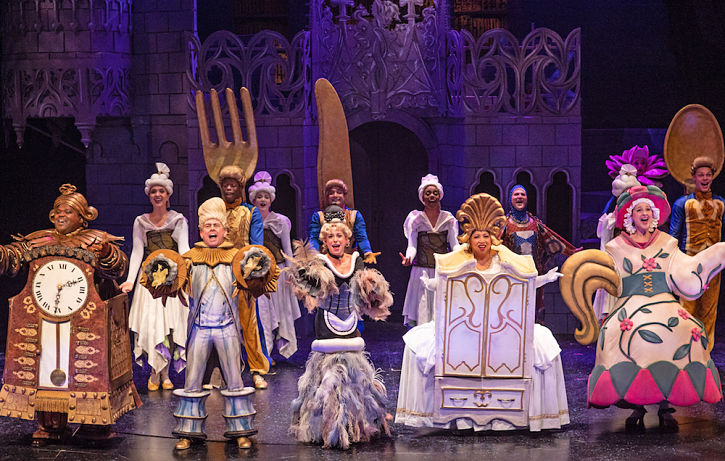 Back in the village Matthew Redden faces no such constraints. Sporting that vaguely colonial 'do, he delights in conceited Gaston's oblivious ego. It's almost with regret that we see town-hero-gone-bad Gaston disappear over the back wall of Beast's castle, presumably falling to his death. And Michael Ferstenfeld as Belle's bewildered father is endearing, in manner and appearance a Disneyfied Tevye.

Beauty and the Beast is familiar, polished, mostly empty of message, and entirely reassuring. You'll enjoy its comfort food, which as Zach's bread-and-butter helps keep Austin's leading performance institution in the public eye and in the black.
EXTRA
Click to view the Zach Theatre's program for Disney's Beauty and the Beast
---
Beauty and the Beast
by Walt Disney Studios
Zach Theatre
Wednesdays-Sundays,
July 11 - September 02, 2018
Wednesdays through Saturdays at 7:30, Sundays at 2:30.
Tickets start at $25 and are available online at zachtheatre.org, by phone at 512-476-0541, or in person at the ZACH Theatre Box Office, in the Topfer Theatre, 202 South Lamar Boulevard (corner of Riverside Drive and South Lamar) Monday through Saturday, 12–5p.m. ZACH Theatre is wheelchair accessible. Discounts are available for groups of 8 or more. Student Rush Tickets are $20 one hour before show time (with valid ID).
Pride Night: Thursday, July 12, 2018
ASL Interpreted and Open Captioned: Wednesday, July 18, 2018
Post-Show Discussion: Wednesday, July 18, 2018
Champagne Opening: Thursday, July 19, 2018