Review: Seminar by Jarrott Productions
by Michael Meigs
Last month we took a full day of our Chicago trip to drive to Oak Park, a western suburb, to visit the Frank Lloyd Wright house, now a museum, and to stroll the neighborhood where many of his striking early designs were constructed. The tour guide and info at the museum and workshop described and displayed Wright's genius and recounted his life. Afterward our daughter turned to us with a deeply offended expression. "He was a genius -- why was he such a jerk?"
That's one of the themes that Theresa Rebeck explores in Seminar, a highly structured play in which four aspiring writers have paid a lot of money for ten sessions, one a week, with Leonard, a writer with a track record and a huge obnoxious ego. Leonard's a sociopath. He takes no delight in demeaning and destroying his paying clients; he simply doesn't care.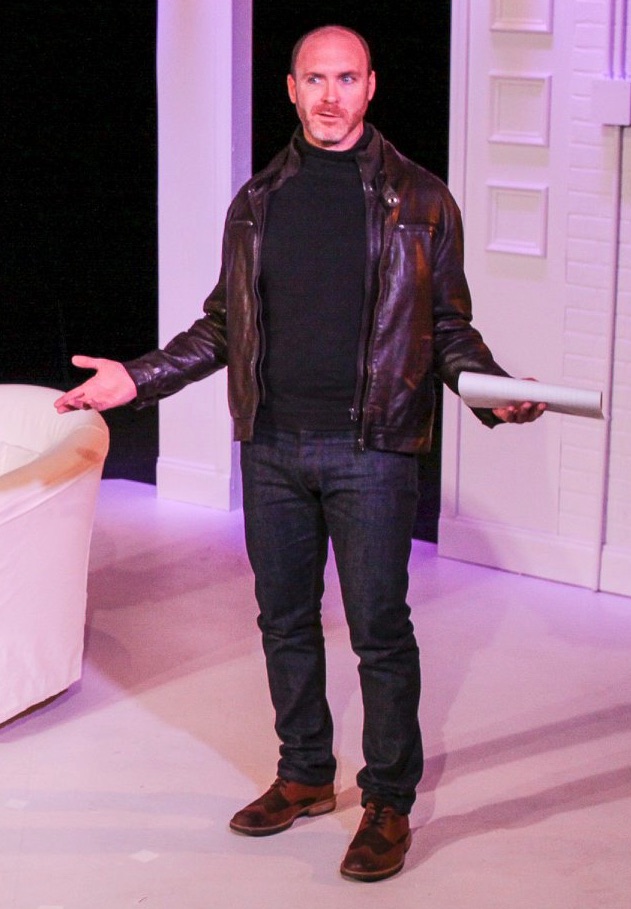 Seminar is very NYC. Meetings take place in the rent-controlled apartment on the Upper West Side, a handed-down family holding inhabited by Kate, one of the participants. The uneasy clique of aspiring writers is drawn mostly from privileged famiies. Their aspirations to write are generally unfocused -- Kate presents a story that she has worked and reworked throughout her undergraduate career. The first hour of this fast-moving 90-minute experience primarily depicts Leonard's humiliations of them and their uneasy efforts in his absence to make sense of this torture by discussing him and one another at length.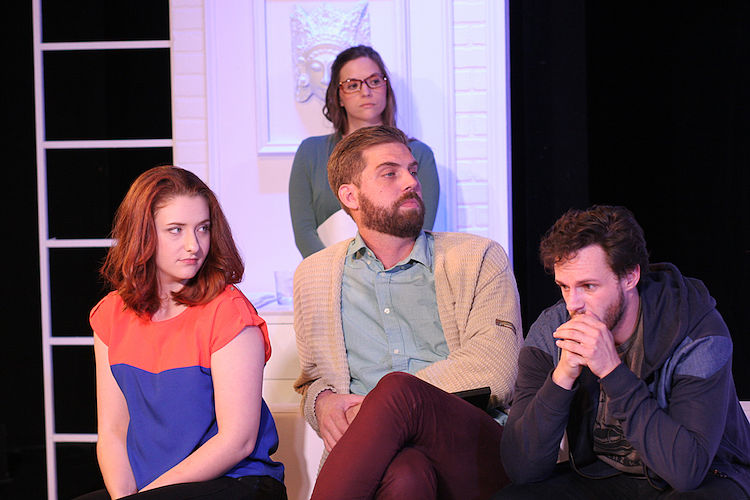 Advance warning: you will be required to suspend belief and simply accept that Leonard and others are able to speed-read and evaluate written text and assess its value within ten seconds.
The other, greater target of Rebeck's satire is the profession of writing itself. The play is a coming of age story, a swift and merciless parable of what happens to dreams of literature when aspirants have to face up to the cruel realities of writing and publishing as business. Who's going to pay you to do what you so desperately desire? (I grant myself the liberty to ask that question, fully aware of the 732 theatre reviews I've written and published over the past ten years.) Leonard's scorn is impersonal but the marketplace, as wide and varied as it is, is potentially far more crushing. Colum Parke Morgan as Leonard is generally despicable, as he must be, but Rebeck grants him a virtual aria of rebuke describing the likely fate of even the most talented writer.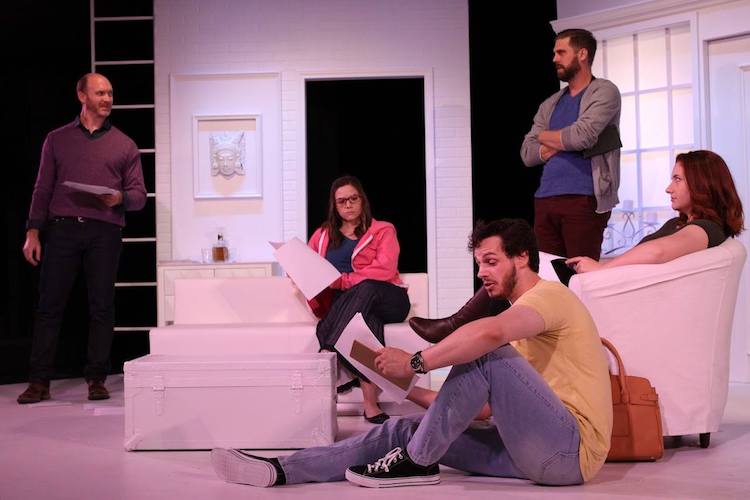 The dynamics within the group are not surprising, featuring the conniving, rivalries and sexual clashes one could take for granted in any high-pressure contemporary setting with two men and two women, all singles. Devin Finn as a slightly pompous veteran of writing camps, Sarah Zeringue as the fretful Kate, and Regan Goins as striving Izzy are credible variants of ambition. Brooks Laney is Martin, the participant most reluctant to share his writing. Laney provides a convincingly underplayed character who will in fact become the unexpected protagonist. Colum Morgan as Leonard delivers the man's absurdities with glassy-eyed zeal, but he comes across as not much older than his pupils; Leonard's claim to have worked with Robert Penn Warren was hardly credible, considering that the celebrated writer died thirty years ago.
Seminar is not just a rant; Rebeck's too good a playwright for that. There is satisfying development of the characters and a story arc neatly tied up by the end. And even a little redemption for the wicked Leonard.
Craig Brock's sound design is appropriate and attractive; enter as soon as the house is open so you can enjoy Africa blues and Mano Dibango-type pop. Michael Krauss's all-white set is a puzzle, perhaps pretending to be elegant while effacing itself so the audience can concentrate on words and action. The shift of set pieces in the final scene, intended to signal our removal to Leonard's apartment, just doesn't work, for that prevailing white and the retained sculpture simply confuse us.
EXTRA
Click to view the program for Seminar by Jarrott Productions
---
Seminar
by Theresa Rebeck
Jarrott Productions
Thursdays-Sundays,
May 10 - June 03, 2018
Trinity Street Players
Black Box Theatre, 4th floor, First Baptist Church
901 Trinity Street
Austin, TX, 78701
Tickets are now on sale for Jarrott Productions next play—Pulitzer Prize nominee Theresa Rebeck's hit Broadway comedy SEMINAR! Don't miss out! Make your reservations at www.jarrottproductions.com today!
SEMINAR opens May 10th and performs Thursday-Saturday evenings at 7:30 pm and Sunday afternoons at 2:30 pm through June 3rd at the Trinity Street Theatre, located inside the First Baptist Church of Austin at 901 Trinity Street downtown.
[cast photos by Steve Williams]