Review: Self Portraits by Bottle Alley Theatre Company
by Michael Meigs
The eleven actor/writer/participants in Bottle Alley's Self Portraits filled the Back Pack's hole-in-the-wall space in East Austin with exuberant energy reminiscent of summer camps, stand-up comedy fests and drama therapy sessions. This was a real smörgåsbord of an evening, a festive intellectual table of unpredictable experiences. These celebrants had worked up thirty pieces averaging about two minutes each, and the numbered sheets hung on a line high across the stage. Audience members were encouraged to shout out requests, and the cast captured the corresponding sheet. So the order was largely random -- unless of course there were ringers somewhere in back of us pushing the selections one way or another.
The order probably didn't matter much, for the wild contrasts of subject matter, participation and tone gave us no time for reflection. A funny quirky flash like "How My Husband Sees My Period" gave way to sketches about poliltical polarization gave way to reflective monologues gave way to games or dances. A healthy millenial skepticism infused the comic pieces; intensely serious reflection about relationships, exploitation and arbitrary life disasters gave depth and grip to others.

Most lengthy and most gripping was Tim Olivares's account of family agonies as a hospitalized child hovered at the edge of death for weeks. The family photos projected above the stage and his reading of text messages drew everyone into the suspense and a grieving that still persists. His quiet tone belied the waves of emotion that surged through the story.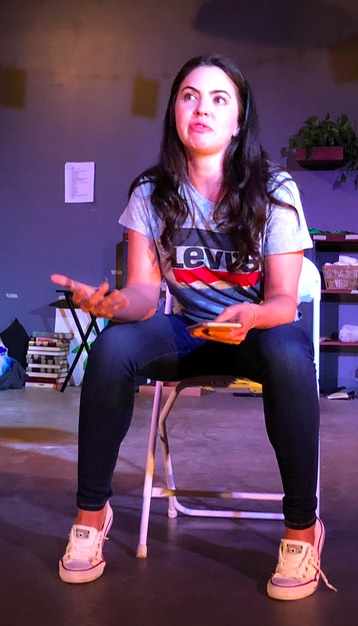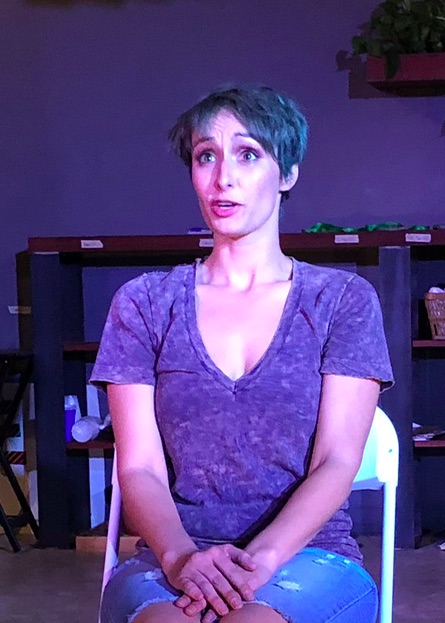 Equally gripping were solos by Kim Gifford about an abusive marriage and by Amanda Aguirre about sexual abuse and its enduring effects.
Particularly insightful and revealing were the self-deprecating comedy pieces by Abigail Rose, who recited a wild series of diary title entries conveying the heedless intensity of college years and then chugged a full gallon of water as a vivid illustration of the plunge into experience, and by Marci Blackwell, who worked her way hesitantly, word by word, through a late-Friday-night text message hoping to hook up with someone without appearing too terribly anxious to do so.
And who could resist " Women Talk about Political Opinions while Eating Increasingly Spicy Food"?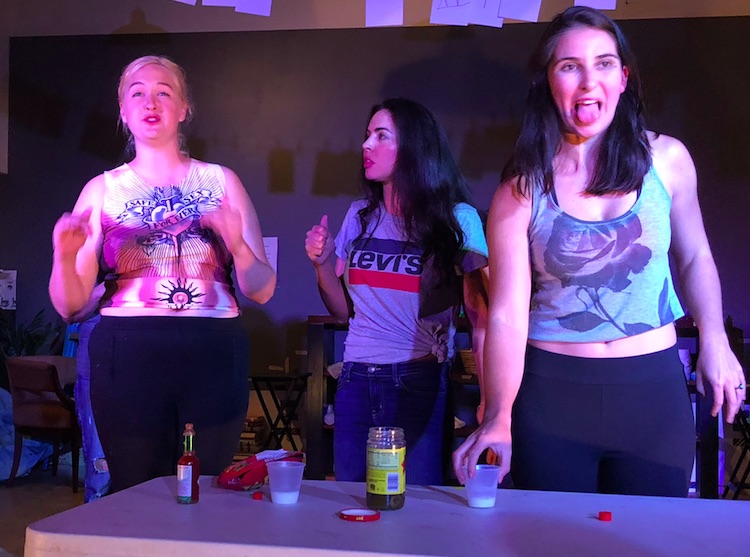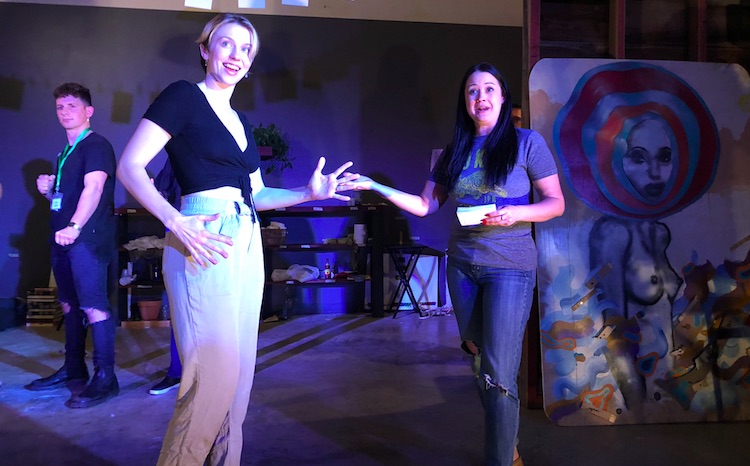 Cast as a gameshow challenge to the audience, the "Whoragon Trail" parodied that growing-up Oregon Trail board game by encouraging the audience to decide multiple-choice questions that would determine just how sexually adventurous a protagonist was going to be.
Movement, dance, posturing and clowning were frequent. The overall message was that this baker's dozen, if one counts directors Chris Fontanes and Dani Stetka, take the need for play and for plays with great seriousness. Behind the laughter was a keen sense of the absurdity and difficulty of lives of young adults; they invited us in, revealed themselves and just about knocked our socks off with energy and revelations.
EXTRA
Click to view the program leaflet for Bottle Alley's Self Portraits
---
Self Portraits
by Organized by Bottle Alley Theatre Company
Bottle Alley Theatre Company
Thursday-Tuesday,
April 05 - April 10, 2018
We will be doing SIX straight performances (the 5th through the 10th) at The Backpack (shoutout to The Backpack!). House opens at 8 with the show starting around 8:20 or so.

BYOB (but there will also be drinks there - cash is appreciated!)
Tickets are $11.34 (service fee included), available via