Review: Romeo and Juliet by Mary Moody Northen Theatre
by Michael Meigs
Every teen deserves to attend a good staging of Romeo and Juliet, and the production now at the Mary Moody Northen Theatre is just that. On opening night I happened to sit next to a young woman who was thrilled by the opportunity. Not a student at St. Edward's University either; she'd read the play in high school and had watched Zeffirelli's film over and over again, and she was rapt to see that familiar action unfolding speedily before us in the close-up excitement of performance in the round.
Robert Tolaro directed and took full advantage of Michael Massey's strong, simple set design. That central square at the MMNT is mostly filled by a platform about two feet tall, with stair access at the corners. It evokes the thrust staging of Elizabethan stages while offering a multitude of other possibilities. Two sturdy low tables are the sum of furnishings. The cast swiftly repositions them between scenes to serve the action, sometimes removing them to the floor of the theatre to serve as benches or additional step platforms. United, they become the bed where Juliet meets her husband and later takes her poison potion; they eventually become the bier upon which her motionless gauze-draped figure lies, a near-corpse awaiting revival to meet her lover.
Shakespeare's play is the quintessence of romanticism, written long before the self-infatuated Romantics. Love is sudden and violent; tragic death springs from parental opposition and misunderstandings; beautiful youth is cut off before it has time to flower. This play is a staple of our stage, and not only at high schools and colleges. This website has tallied 14 productions in Central Texas over the last decade, most of them in Austin and San Antonio.
Weston Smith and Luxy Banner are lively and appealing as Romeo and Juliet. They're confident and convincing with that iambic pentameter, and it's easy to identify with them. For one thing, they're entirely age appropriate. Banner's only a bit older than Juliet's 14 years, while Romeo, his friends and his Capulet opponents have every appearance of authenticity.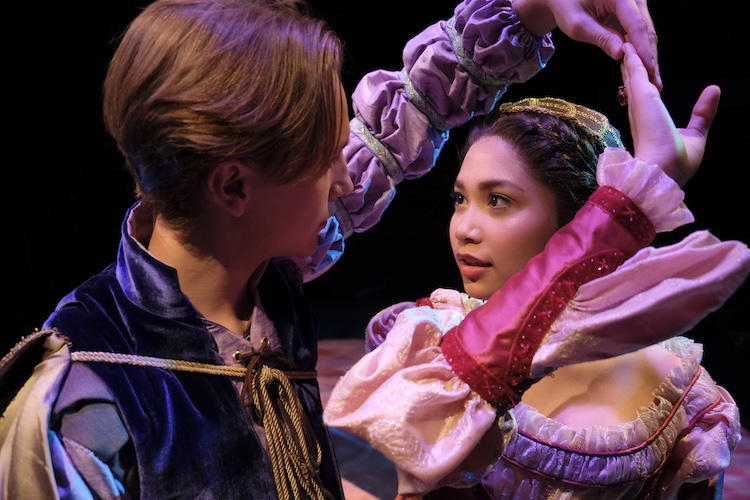 The theatre department at St. Edward's University has a decades-old practice of employing three Equity actors in their casts, a way of awakening aspiring performers to the craft and the realities of the profession. Depending upon the choice of play, those visitors of more polished ability and greater experience may dominate or usurp the audience's attention. Recall, for example, the otherwise outstanding production in this stage of Albee's Who's Afraid of Virginia Wolfe? with Babs George as Martha and Ev Lunning, Jr. as George, as well as David Long as Cyrano and David Stahl as Galileo.
Tolaro uses his Equity folks wisely. Mary Agen Cox is a nurse of good humor, loving and bawdy, ultimately devastated by Juliet's apparent demise; Brian Coughlin as Juliet's irate father incarnates grown-up ire and control in his key short scene; and Stahl as Friar Lawrence dutifully supports true love, counseling the young, aiding and abetting. The friar's ceremony of marrying the two is done largely in pantomime with liturgically appropriate detail.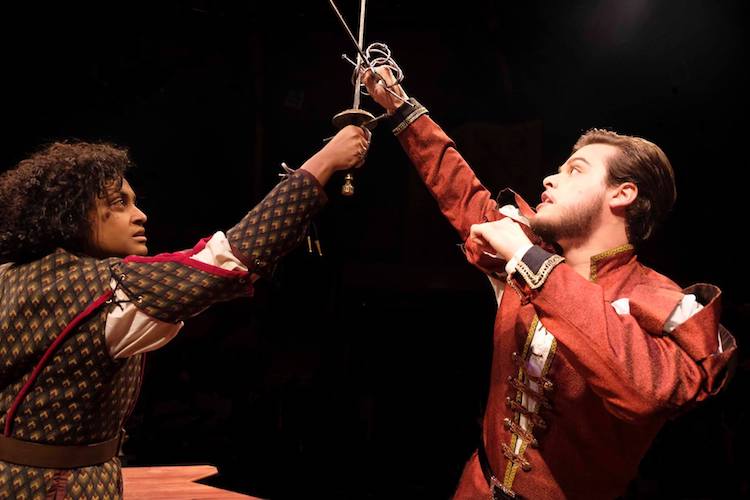 And bravo as well for the hot-blooded. Blake Browning is a handsome, caddish Tybalt and a deft hand with a rapier; Sierra Boudoin matches him point for point as Mercutio. Boudoin's bouncy insouciance is inspiring, and she does a fine, kinetic job with the difficult fantastical 'Queen Mab' speech. Victoria Bergstedte as Benvolio is particularly well spoken and responsive, showing an easy confidence onstage.
Diction and phrasing are good throughout, although under the press of highly emotional scenes the two protagonists and Benvolio lose some of the necessary precision of speech. It's good that many of us are so familiar with the story that we have no need of subtitles and little need of spelled-out speech.
In this Romeo and Juliet the young persons are the story, and they carry the story. Riveting fight choreography by David Long literally thrusts young opponents at one another in a whirl of hostility, and Toni Bravo's design of the dance at the masquerade is stately and enchanting. Beautiful costumes by Susan Branch Towne and Natalie George's subtly effective lighting reinforce the tragic narrative.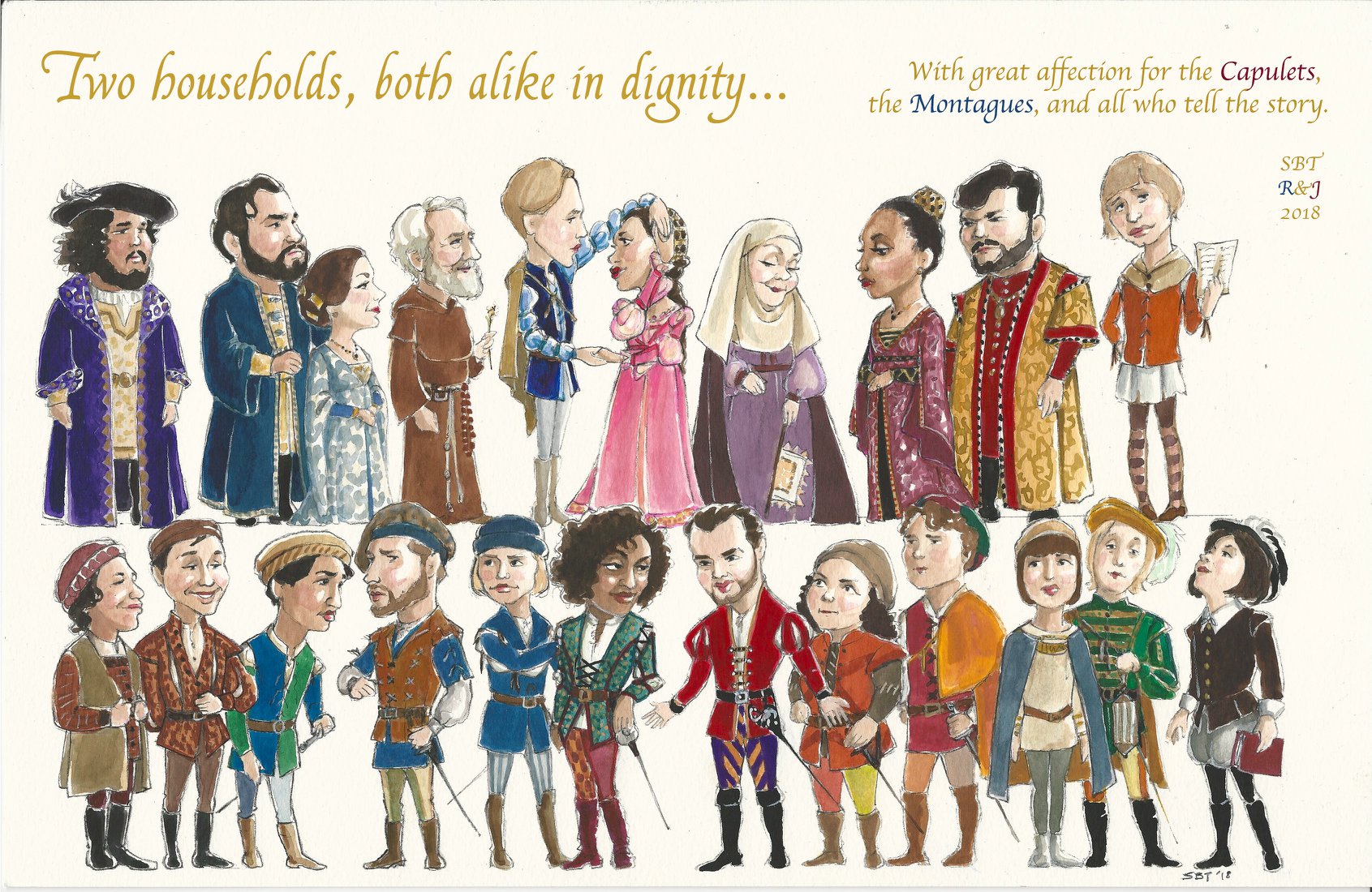 EXTRA
Click to view the program for Romeo and Juliet at the Mary Moody Northen Theatre
---
Romeo and Juliet
by William Shakespeare
Mary Moody Northen Theatre
Thursdays-Sundays,
February 15 - February 25, 2018
WHEN: Feb.15 - 25, 2018
7:30 p.m. Thursdays – Saturdays
2 p.m. Sunday
WHERE: Mary Moody Northen Theatre
St. Edward's University
3001 S. Congress Ave.
Austin, TX 78704
Campus map: https://stedwards.app.box.com/v/campusparkingmap
TICKETS: $25 Adult ($18 Students, Seniors, St. Edward's community)
MMNT Box Office: 512-448-8484
Online: www.stedwards.edu/theatre
Box Office Hours are 1 - 5 p.m. Monday – Friday
Student discount nights: Feb 16 and Feb 22: $10 ticket with any student ID
SEU Alumni night February 22, $10 tickets for St. Edward's Alumni in honor of MMNT's 45th Anniversary and Homecoming & Family Weekend.