Review #2 of 2: The Father by Jarrott Productions
by Michael Meigs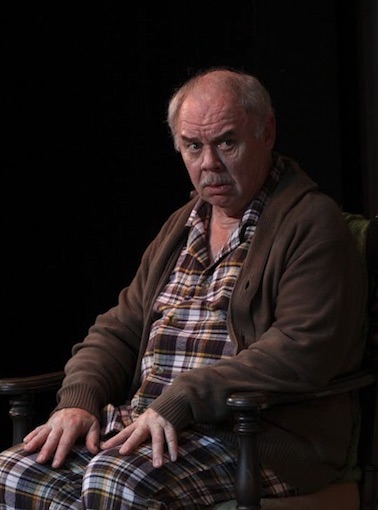 No novice to theatre, David Jarrott established his eponymous stage company in 2015 to produce Freud's Last Session with himself in the title role. Nothing wrong with that; there's a long and honorable tradition of actor-entrepreneurs gathering companies about them as they select dramatic works they can star in. Jarrott's done a good job of it, too, in choosing works that are smart and intelligent (adjectives that are not exact synonyms), recruiting really gifted talent, and finding plum roles for himself. With Florian Zeller's The Father Jarrott has done all of that again, and more. Plus he's in the title role.
The scene is a relatively bare and tacky little urban apartment imagined by set designer Desiderio Roybal. Initially a bit of a disappointment as we remembered Roybal's meticulously presented hoarded mess in Arthur Miller's The Price, this set and all of the other design elements prove to be cannily chosen to support the concepts of playwright Zeller and of director Rick Roemer, back in Austin especially for this creation. The Father manipulates stage conventions in unexpected ways and creates uncertainties for the audience that correspond to those assailing title charcter André, a widower deep in retirement and dependent on his daughter Anne.
Is this a mystery, a family drama or a portrait of breakdown? It is all three, with multiple levels that push us to ponder family, loyalties, the messy business of growing old, and the rapidity with which physical, mental and emotional assets can waste (or be wasted). Jarrott as André creates an essentially affable character capable of changing from instant to instant but losing both short- and long-term memories. Amber Quick, one of my favorites on the Austin stage, delivers a particularly strong performance as Anne, André's daughter, by turns exasperated, loving, and placating as she seeks to manage André's life while preserving her own. Zeller's story suggests the possibility of toxic dependence while presenting both father and daughter as whole and appealing characters.
The virtues of the stage at the Trinity Street Players are particularly proptitious for examining these intimate subjects. You sit very close to the playing space and to those design elements that wrap you up in the puzzles of the plot. Craig Brock's superb sound design preps you pre-performance with haunting solo piano, sharply defined lines of music tinged with dissonance, and the ambient sound during blackouts between scenes pulls you in unexpected directions. During those blackouts Roybal's set transforms in surprising and sometimes bewildering ways. Chris Conard's lighting subtly supports the moods and the suspense. The reductionist transformations of the set emphasize possibilities disappearing for the protagonist.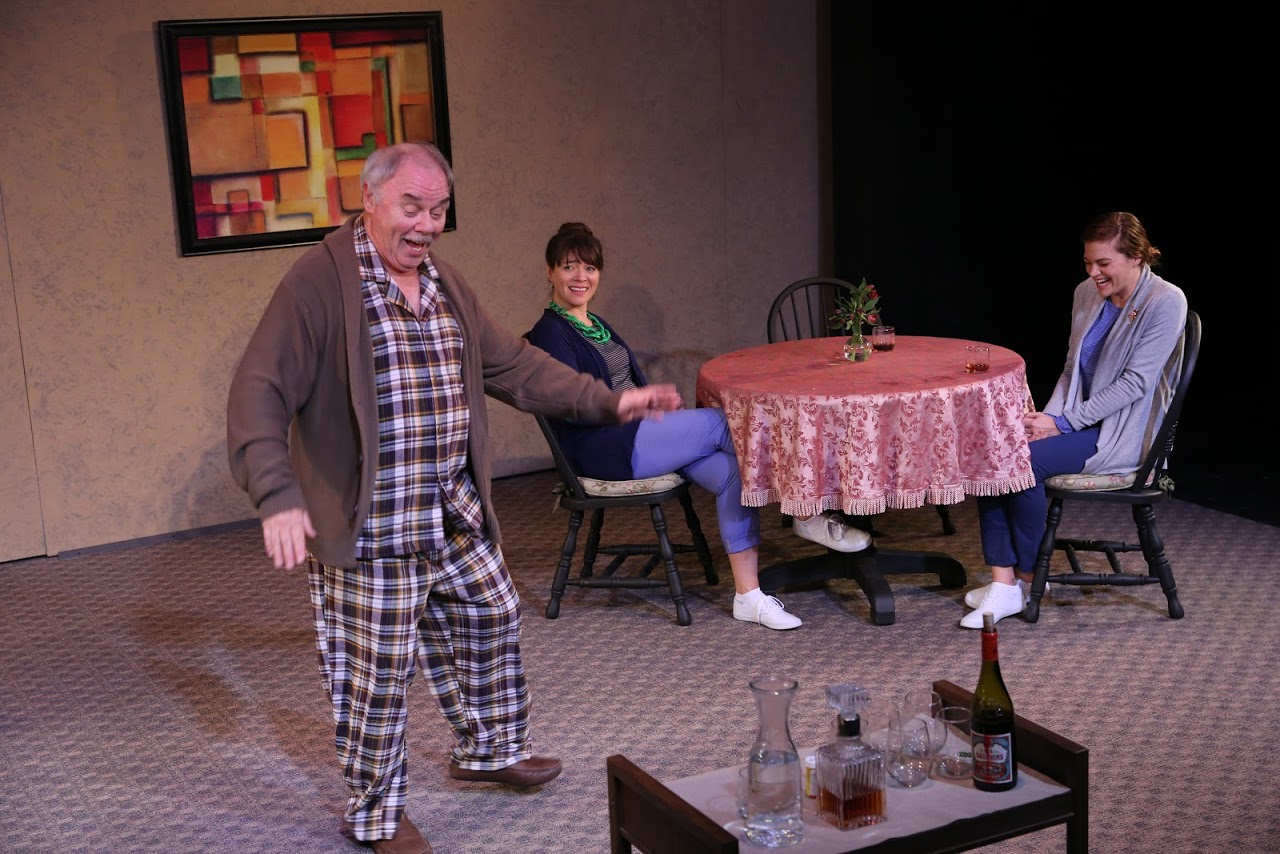 In the first half of the 90 uninterrupted minutes of this production Anne is seeking yet another caretaker for her father, after several have left in frustration. Lori Kovacevich plays Laura, the young woman brought in for that purpose. André's transformations are illustrated as the characters get to know one another. Jarrott makes André light-hearted and flirtatious one moment, abrupt and sharp the next; Kovacevich befriends both daughter and father with her mild temper and patience. As other characters appear and contradict the information given and the assumptions made by the audience, the question becomes: who is being gaslighted here?
Eric Austin as Pierre, Anne's (former?) husband, Heidi Penix and Joel Gross intervene in the lives of father and daughter, overlapping physically and in time, becoming muitiple characters, each crisply defined. The suspense of the piece is created by the tensions of trying to figure out how they all fit together.
Director Roemer and the cast create an engrossing, complex story unfolded, almost literally, in compelling rhythm. David Jarrott as the beleaguered father evokes deep sympathy as he moves into this labyrinth. His is a memorable performance in a piece about human frailty. The last scene with Penix as nurse and Jarrott as despairing André is a moving pietà that will stay with you for a very long time.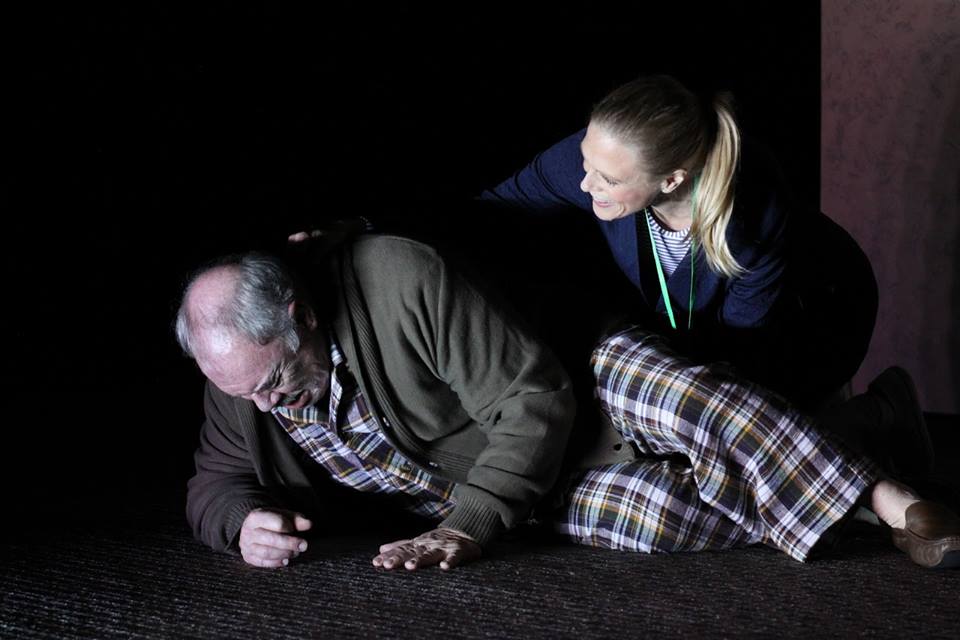 EXTRA
Cick to view the Jarrott Productions program of The Father
---
The Father
by Florian Zeller
Jarrott Productions
Thursdays-Sundays,
February 08 - March 04, 2018
Trinity Street Players
Black Box Theatre, 4th floor, First Baptist Church
901 Trinity Street
Austin, TX, 78701
Thursdays - Saturdays at 7:30 p.m., Sundays at 2:30 p.m.
one Monday performance at 7:30 p.m. on Monday, February 12, 2018
Ticket prices range from $15-$30. Opening night with champagne reception, all tickets are $30. From then on, Thursdays $18 (students/seniors/teachers/former teachers) $20 (general admission) and Fridays-Sundays $23 (students/seniors/teachers/former teachers) and $25 (general admission); special Monday Industry Night tickets are $15.
[poster image: Photo: Steve Williams. Graphic Design: Michael Jarrott.]