Review #1 of 2: THE FATHER by Jarrott Productions
by Brian Paul Scipione
Travelling to a new place can be nerve-wracking. Certainly, it's the worth the adventure and the thrill of seeing new things and meeting new people, but there's always an underlining sense of unease. That is why hotels are so important in our culture, just as the village inn was thousands of years ago. No matter how your day goes--exhausting walks, strange foods, the not-quite-perfect communication with the locals--you can retreat to your hotel room. It is your home away from home, your safe haven, a place to re-charge, essentially because it is the known in the unknown. The only place better is your actual home. But what if you lost your home? Not all at once but piece by piece, reassurance by reassurance. . . eventually you would be mentally adrift in a tumultuous sea of uncertainty and fear. This spine-chilling possibility is exactly what happens to the titular character in Florian Zeller's The Father and what's worse is the fact that the cause of all this is irreversible, because it is advanced dementia.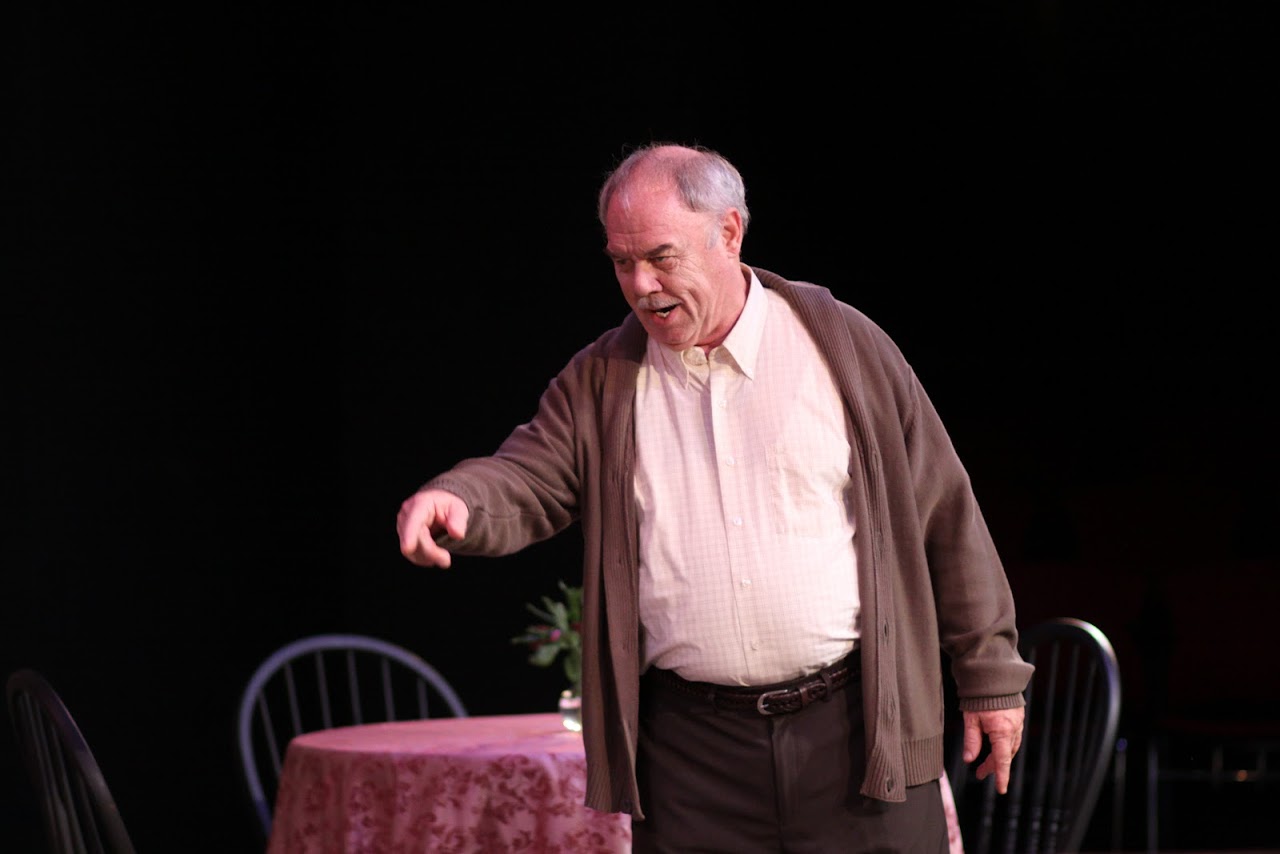 It is estimated that more than five million Americans suffer Alzheimer's, just one of the diseases that fall under the umbrella of dementia. The World Health Organization reported in 2015 that an estimated 47 million people world-wide suffer from dementia. It is not an inevitable part of aging, but it is increasingly common. So, it is no surprise Zeller's artistic study of the effects of dementia from the victim's viewpoint has deeply resonated with so many. Since its Parisian premiere in 2012, the play has garnered many awards (including the 2014 Molière awards for best actor, best actress and best show) and was adapted into the 2015 French film Floride. Robert Hirsch, Kenneth Cranham, and Frank Langella have all won awards for tackling the challenging lead role of André.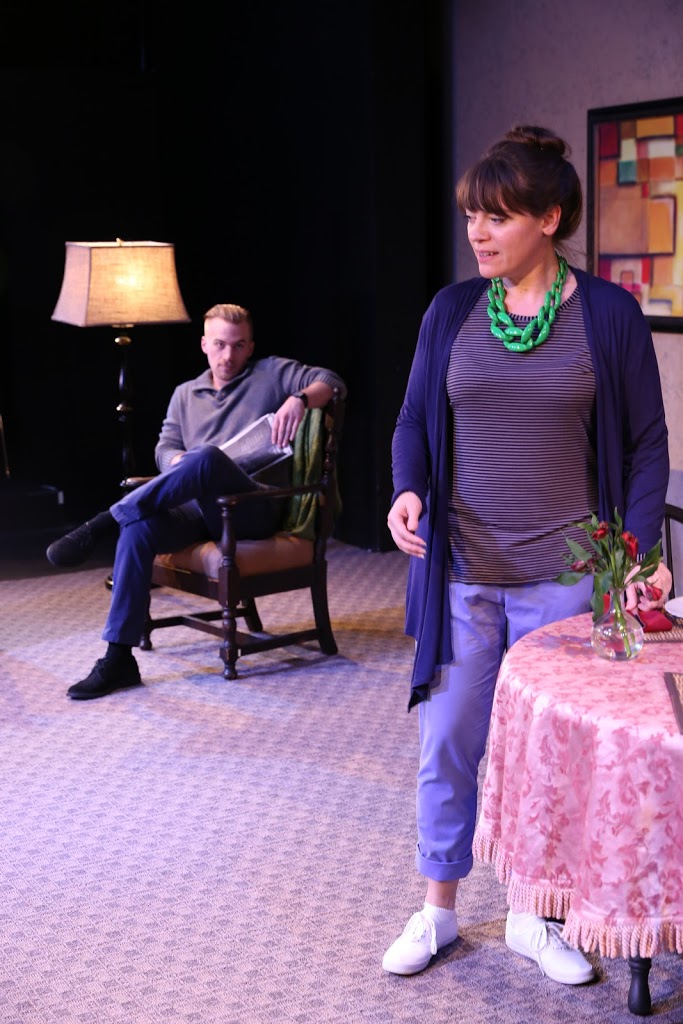 A unique feature of this play is that the only role played by the same actor is that of the protagonist and titular character André. The characters around him are played by multiple actors. For U.S. audiences it might seem a twist on The Wizard of Oz, in which Dorothy wakes up and realizes the denizens of her dream-land are all the same as the people of her hometown. André believes he knows his daughter, only to be shocked to see her moments later with a completely different face.
Last year Jarrott Productions tackled the delicate subject of living with and caring for a profoundly disabled person in their riveting production of The Herd. This is a theatre company that does not back away from intense subjects and demanding performances. By returning this year to do The Father, Jarrott Productions comes full circle, from the care-giver's perspective to the cared-for's perspective. The audience was so wowed at the show that I attended that they were still holding their breath during the beginning of the curtain call, taking a beat themselves to fully process what they had just seen. And understandably so. The performance is a brisk ninety minutes with no intermission. Its ending is filled with heart-breaking reveals about the story and with, on a scale of 1 to 10, an emotional tenor set to eleven. No spoilers here of course, but the tableau at the end is truly inspired and so befitting of the subject matter that it's almost easy to miss. Overall the pacing of the show brought to mind one of the fierier compositions of Niccolò Paganini. The cast of this production is amazing, each turning in a rapt and quietly beautiful performance.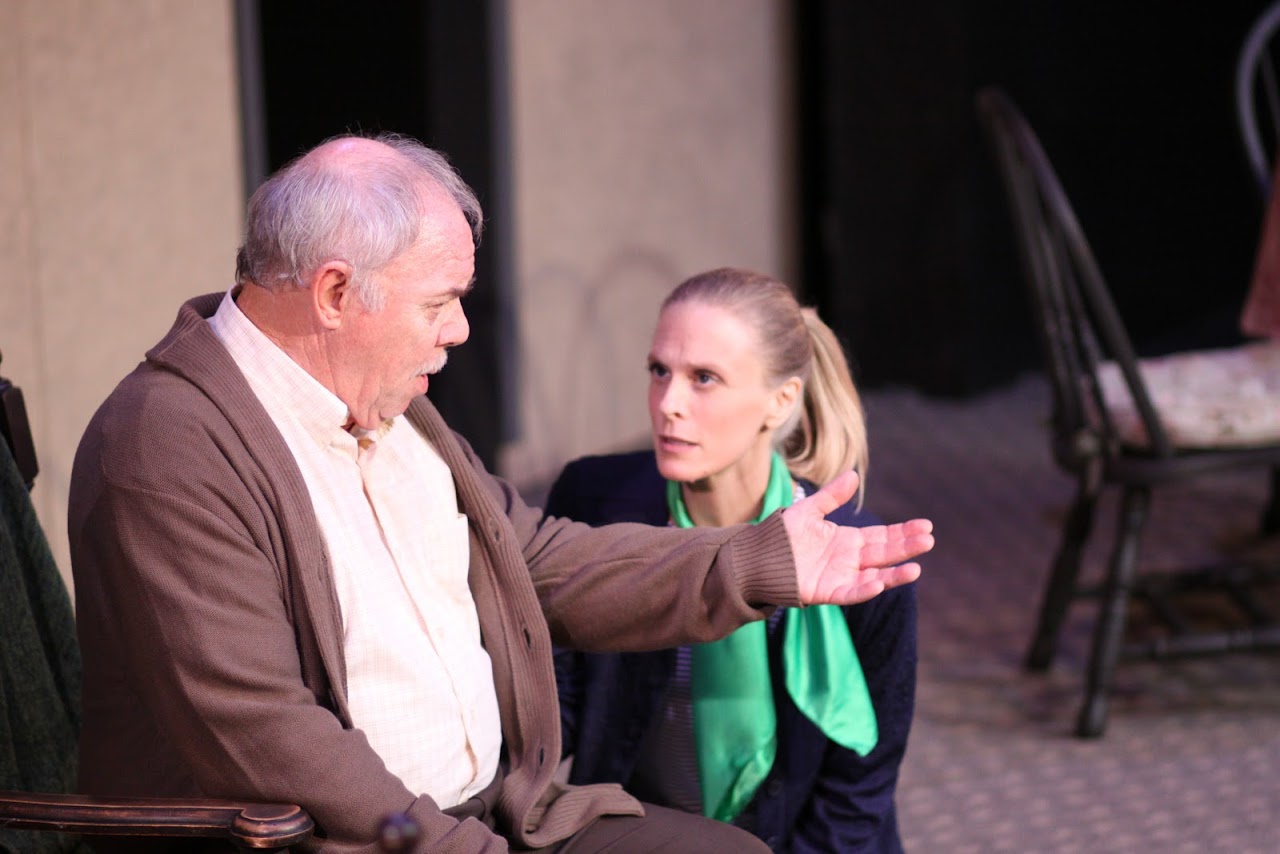 The play begins with daughter Anne (Amber Quick) trying to explain to her father, André (David R. Jarrott) that they no longer have a helper. Though he doesn't remember it, he chased the last one out with a curtain rod while shouting obscenities at her. The stakes are clearly already high. Anne must find a balance between living her own life and taking care of a parent who is very emotionally abusive. André, on the other hand, just wants to be left alone in his own apartment with his own stuff. As the story progresses we see that André not only regularly fails to recognize those about him, but he is also losing a grip on his own past. Finally, he doesn't even know where he is anymore. He grasps tenuously for the few things from his past he can recall, above all his wristwatch. At one point, he declares, "If I were to lose this watch I might never recover." But lose it he does, again and again.
Jarrott as André is a mélange of denial and frustration, jolly one minute, in utter anguish the next. Jarrott has fully captured the essence of this internally and externally crucified character. He engages completely with the role and brings the audience into the shadowy confines of the victim's mind. It is impossible to look away, and yet he gives viewers hope every now and then when he catches on to what's actually going on. Those hopes are smashed like snow-globes toppling off the mantelpiece. Jarrott's performance is stellar. He's a stranger in a strange land without even a hotel to return to.
EXTRA
Click to view the Jarrott Productions program for The Father
---
The Father
by Florian Zeller
Jarrott Productions
Thursdays-Sundays,
February 08 - March 04, 2018
Trinity Street Players
Black Box Theatre, 4th floor, First Baptist Church
901 Trinity Street
Austin, TX, 78701
Thursdays - Saturdays at 7:30 p.m., Sundays at 2:30 p.m.
one Monday performance at 7:30 p.m. on Monday, February 12, 2018
Ticket prices range from $15-$30. Opening night with champagne reception, all tickets are $30. From then on, Thursdays $18 (students/seniors/teachers/former teachers) $20 (general admission) and Fridays-Sundays $23 (students/seniors/teachers/former teachers) and $25 (general admission); special Monday Industry Night tickets are $15.
[poster image: Photo: Steve Williams. Graphic Design: Michael Jarrott.]