Review: Hate Yourself by Bottle Alley Theatre Company
by Michael Meigs
If Austin has a 'beat generation' Chris Fontanes is part of it. He's straight out of the jagged earnest non-conformist tradition of those who believe that words make a difference. Even if -- and especially if -- they describe the quietly desperate and downtrodden.
The man's been making theatre in Austin holes and haunts since 2012 in the single-minded belief that saying it, writing it, and calling attention to it makes it so. The word is magic, a vehicle to take us out of our tawdry scrabbling reality. Perhaps to another reality with its own heavy dose of tawdry and scrabbling, but one that pushes us to reflect. And in the alternate reality of collaborative creation that is the performance of narrative art.
Fontanes' Hate Yourself was to be staged in an Eastside gallery but for some unexplained reason that venue fell through, and the tiny band of Bottle Alley Theatre found refuge once again at the house that's Sessions on Mary. So Hate Yourself wasn't staged; it was housed. On a sofa in a iving room, where Tim Olivares and Emily Rankin provided a duo with carefully contained emotion confronting the immense puzzle of just existing and trying to make sense of it all.
There's a whiff of Beckettian despair here, and in post-performance remarks author/director Chris Fontanes was nakedly frank about that. This is a theatre group without even a shoestring. He works in a food truck, and at the end of the day he takes his share of the day's tips and has to decide whether to spend them on necessities -- food, transportation, lodging -- or on essentials: the needs of the theatre piece he's currently creating.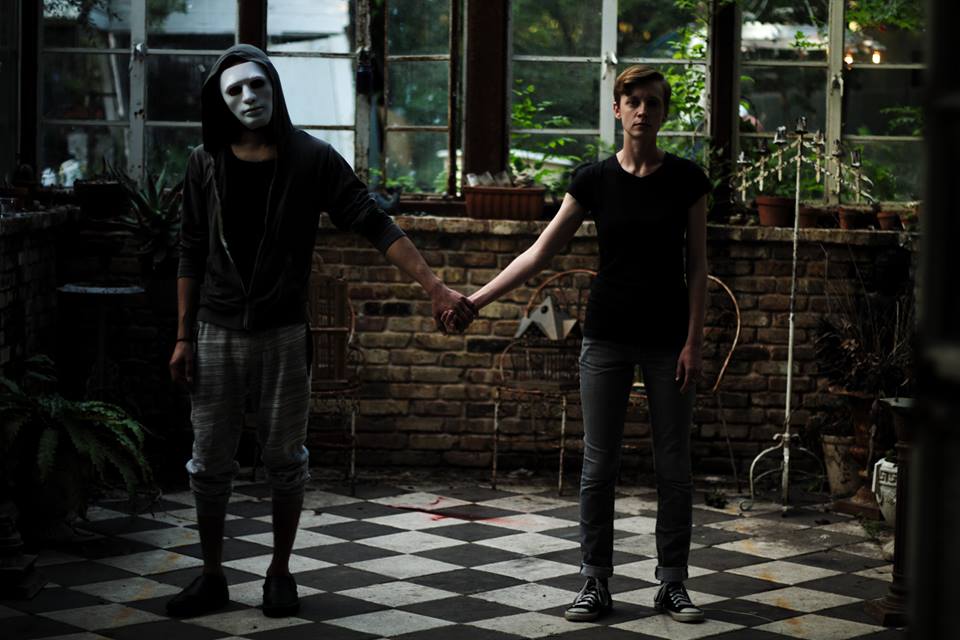 Though Hate Yourself has a concept and a story arc, its message was painfully direct and clear. Olivares is Hyde, despondent, perhaps a psychiatric patient, who speaks in a monotone and wears a blank white mask revealling only the hectic of his vigilant eyes. Perhaps there's a hint here of Edward Hyde, the wicked half of Stevenson's Jekyll and Hyde; perhaps there's a suggestion that the character has much to hide; perhaps the playwright's just teasing us and daring us to read more into this inert but eloquent character than actually was intended. The persistent theme here is that same uncertainty, writ large: Why care? Why speak? And, implicit: Why make art? In that deliberate monotone Hyde speaks in indifferent tones of death and meaninglessness, but Fontanes' script uses simple but powerfully evocative imagery, as if to posit that considering nothingness in precise imagery is thereby sufficient to overcome the void.
Hyde has hired Jamie, an actress, as caretaker, tentative companion and sometime role-player. Slim Emily Rankin meets Hyde's tonelessness with patience and game willingness. She's been hired to listen, to perform and to impersonate. We're attracted by her sylph-like transformations; she steps willingly into the English-accented persona of Hyde's ex-lover until he eventually tires of that game. The relationship between the two intrigues us, and eventually the inevitable happens: in her own quiet confessional tones, Jamie persuades Hyde to reveal himself by removing the mask -- and she puts it on.
Whipped by circumstance, I was unable to attend Hate Yourself until the final Sunday night of the six-performance run, and as always with Fontanes' work I left both grateful and frustrated. Grateful for the revelatory shine of his writing; frustrated that over the five years I've followed his work he's been confined to the theatre of small hopes and large disappointments. He has a keen sense of character that Olivares and Rankin served extremely well. His recent Wraith Radio, also featuring these two actors, was recognized by the Austin Critics Table for the quality of the original script. His prose is direct and his images are vivid. Hate Yourself is a contained vortex where art and humanity are swirling downward; Fontanes's vision is compelling, but it would be enormously more attractive to audiences if set in stories more largely imagined, as Wraith Radio was.
EXTRA
Click to view the program folder for Hate Yourself by Bottle Alley Theatre
---
Hate Yourself
by Chris Fontanes
Bottle Alley Theatre Company
Fridays-Sundays,
June 09 - June 18, 2017
ICOSA Gallery
702 Shady Lane, suite 190, Austin, Texas 7870
Suite 190
Austin, TX, 78702
June 9 - 18, 2017
Fridays - Sundays at 7:30 p.m.
Opening night is Friday, June 9th with additional performances on Saturday and Sunday evenings. Closing night is Sunday, the 18th which will conclude the play's limited run of six performances total. The house shall open at 7:30 with the performance scheduled to begin at 8.
Performances shall take place at ICOSA, located at 702 Shady Lane
Tickets $10 ($11.34 including service fee) via