Review: The Herd by Jarrott Productions
by Brian Paul Scipione
"The quality of mercy is not strain'd, it droppeth as the gentle rain from heaven
Upon the place beneath: it is twice blest; it blesseth him that gives and him that takes."
This quote is brought to mind several times during Jarrott Production's Texas premiere of The Herd, a play about the stress-inundated lives of a family raising a very disabled child. And it's no surprise Kinnear has chosen it. Not only is Portia's speech from The Merchant of Venice one of the most famous Shakespearean moments of impassioned acting, it shadows The Herd's larger themes of redemption, desire, smothered sense of self, familial obligations and of course mercy. Portia points out that no one can be forced to show mercy; one grants clemency for it is as natural as rain and benefits both parties.
Playwright Rory Kinnear has peopled his play with very realistic personalities in situations that are all too real. Tonight is the 21st birthday of Andy, the disabled son (Americans take note, while the drinking age in England is now 18 it was once 21, so the 21st birthday retains the air of a milestone). For another family it might seem an easy task to have the grandparents over for dinner to celebrate the son's birthday with his mother and sister. It becomes quite an intense and elaborate affair when the son has to be transferred home from an institution. As if that weren't enough, here come a few curve balls: the sister has a surprise guest, Andy's estranged father has shown up out of the blue, and Andy is getting progressively sicker during his journey home. One begins to expect it's a set up for a Noel-Coward-style family romp with inane antics, quick wits and fanciful romps, but alas it is not.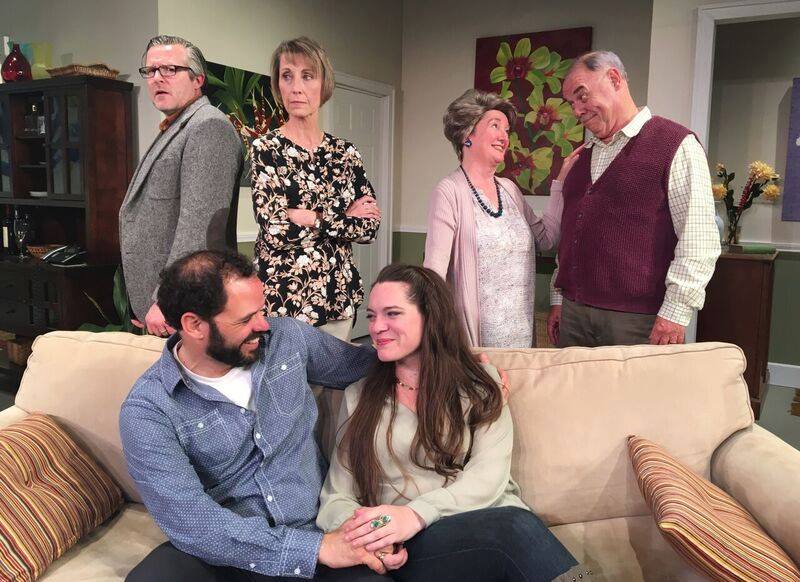 The many funny lines dashed liberally throughout the script were pulled off with perfect comedic timing, but the overall mood was dark and glum, more like the films The Ice Storm or Carnage than Meet the Parents. The brilliant scene design by Desiderio Roybal contributes to this sentiment. The one-scene set of an English living/dining room is replete with all the miscellanea of everyday life: glasses, lamps, linen napkins, bottles, chairs, O'Keefe-like paintings on the wall. The room is cozy, but the many moments of high tension transform it into something eerily claustrophobic. This becomes more evident during the second act as more people fill the space.
The blocking by director Roberto Tolero had to be very precise to accommodate the actors' moves around the room and each other. There is no feel of crowding; on the contrary the movements seem dictated by the characters' relations, status and feelings about one another. The new boyfriend doesn't know where to sit and awkwardly attempts to sink into the wallpaper or the furniture. The daughter is so enraged at her father she doesn't even want to be near him, so she skirts around him like he is a pool of vomit. Grandfather must be assisted out of or into his chair. The mother whips around the room like a caged animal, a predator trying to protect her young.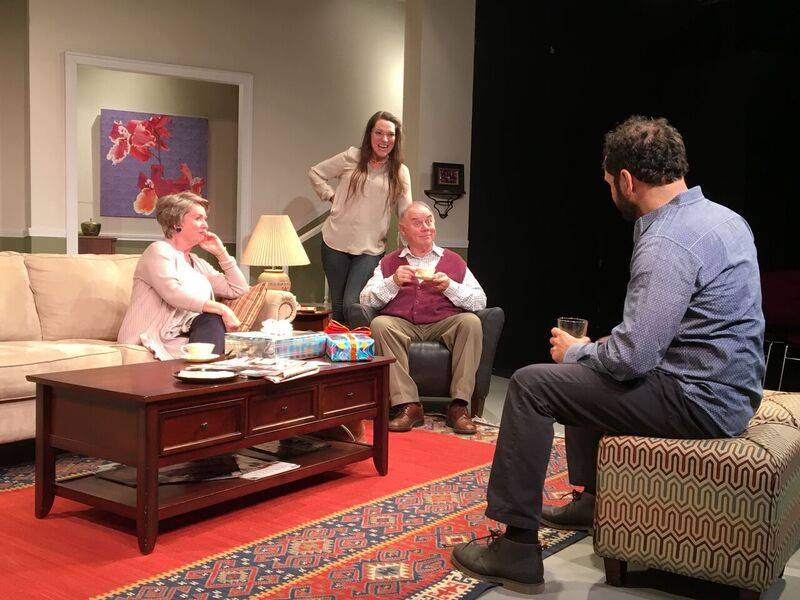 So though I was expecting a comedy I was treated to something better, something more deft, taut as a tendon, gritty and very endearing. The humorous lines popped and sizzled. The Grandmother had plenty. When asked not to tease the boyfriend, she replies, "I'm far too old to promise anything."
The mother, played stunningly by Jan Phillips, also had some fun lines, but they were often tinged with invective. "I'm going to call her and start an argument. That seems to be my calling."
The script is peppered through and through with curse words which seem to have more impact delivered in a British accent.
I can't say enough about the cast, all consummate professionals at the top of their games. This is easy to discern, seeing how quickly one gets wrapped up in the story.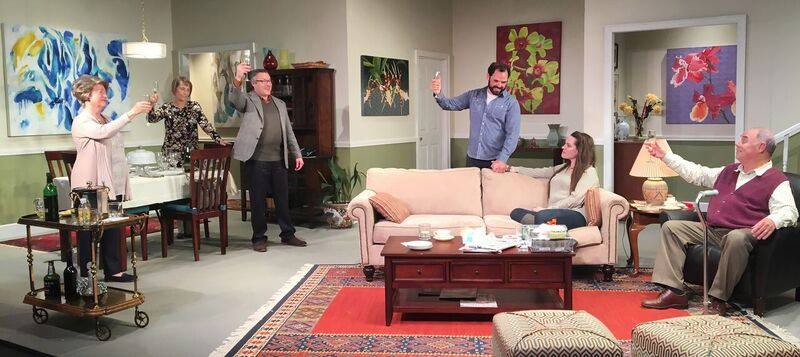 The audience sympathizes with each of them although for completely different reasons. The father is the kicked underdog who inexcusably abandoned his post. The grandfather suffers pangs of old age and has the accompanying wisdom, but this does not stop his wife from hen-pecking him at every turn. The daughter? In her own words, "I'm 33 years old. I'd like a life too!"
Finally, and unfortunately traditionally, Carol the mother seems to be bearing the lioness's share of the problems. Jan Phillips shines throughout every scene but in the end we still see Carol taking martial charge and marching everyone off to help Andy, because no matter how conflicted she is, how harried, how anxious, she has no time for herself: Her maternal instincts cannot be strained.
---
The Herd
by Rory Kinnear
Jarrott Productions
Wednesdays-Sundays,
April 06 - April 30, 2017
Trinity Street Players
Black Box Theatre, 4th floor, First Baptist Church
901 Trinity Street
Austin, TX, 78701
The Herd runs April 6 - 30, 2017 at Trinity Street Theatre, 4th floor of First Baptist at 901 Trinity in downtown Austin, Texas.