Review: The Curious by Bottle Alley Theatre Company
by Michael Meigs
Writer-director Chris Fontanes prefers the shadow worlds of mystery, enigma and the threatening unseen. Forced to turn to 'found' spaces, his essentially penniless and well named Bottle Alley Theatre Company makes a virtue of that necessity by incorporating the environment fully into the action. Their cryptic parables don't hang like abstract art from the surfaces of scenery flats on a stage.
The Curious is set in a modest but comfortable bungalow in Austin's south-of-the-lake 78704: Sessions on Mary, a private home the owners make it available fom time to time for music jams and even for this penniless theatre company. As a witness to the story -- witness, not mere spectator -- you are seated on a sofa or in an armchair that's effectively part of the playing space. You're participating in a world of eerie, with a fourth wall that sometimes dissolves. The characters, particularly dissolute and highly verbal Jack, played by Richard Gallegos, will sometimes appear very keenly aware of your presence as they tell their stories. At other times Fontanes provides dialogue that takes over and lets the fourth wall, the unspoken barrier between actors and watcher, slip back in place.
The Sessions on Mary setting wraps you up and absorbs your attention, but the notional setting is less clear, enigmatic à la Fontanes. In brief prologue as Jack settles into the armchair facing you a lonely voice speaks from somewhere in the static. It's a quietly despondent radio message from Wraith, protagonist of Fontanes' previous play Wraith Radio. Why? And what's the connection other than mystery? We don't know.
In the course of the ensuing hour the scenario materializes. The 'Curious' of the title appear to be investigators of the paranormal, assigned to detect a ghost whom we watchers will spot hovering beyond a window and, later, elsewhere. That through-line of plot is casual, almost an afterthought to Fontanes' probing of the characters. A video camera is set inside the front door, aimed inward, and a glaring lamp sends sharp illumination into the heart of the house.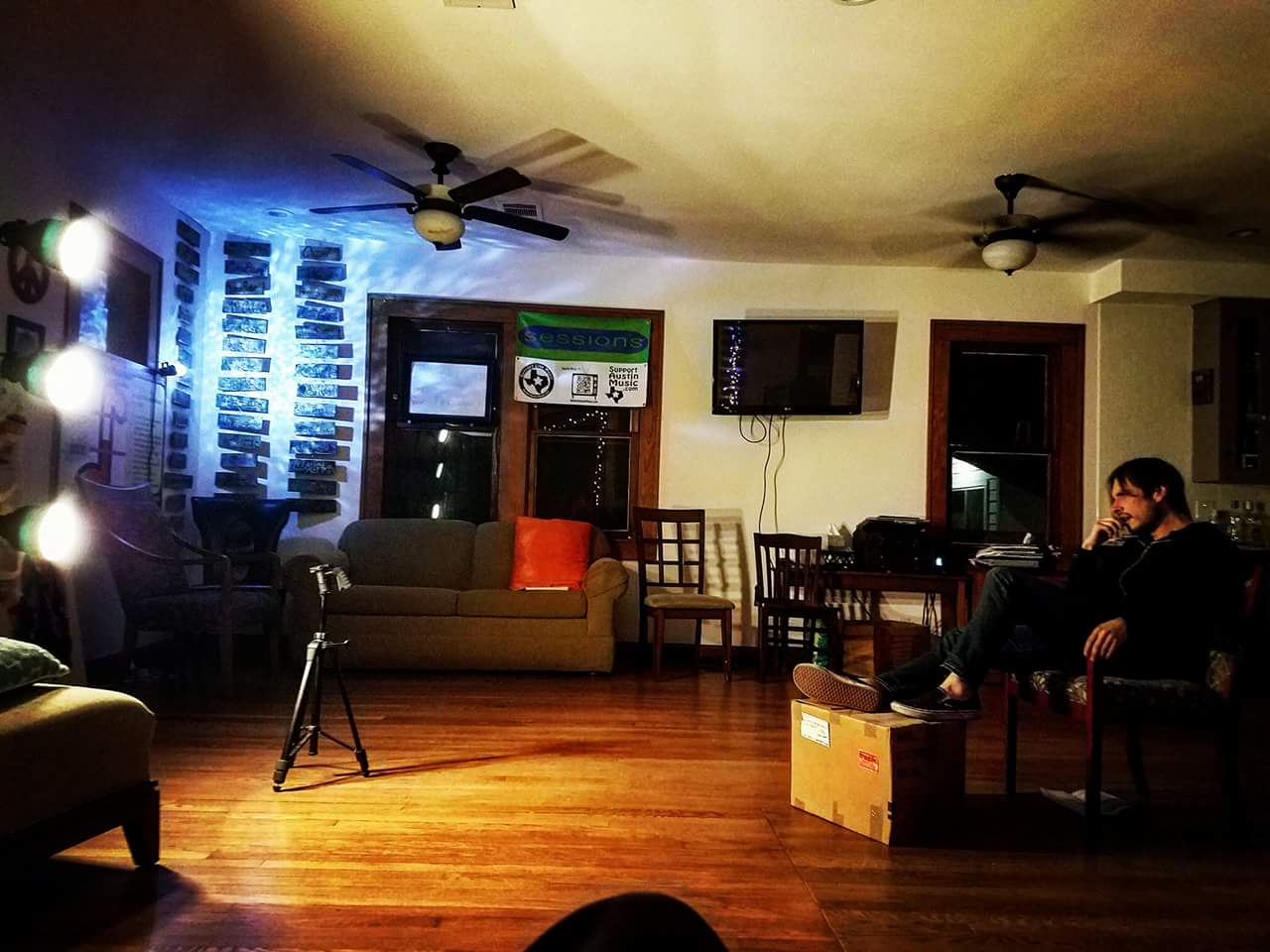 Jack gives us a boozy yarn and presents himself as indifferent honest. Richard Gallegos is speaking to us and to the camera as if to the void, evoking some vivid images and a tired gentle insolence. The front door opens and Moira (Lauren Giebitz) steps in, bringing a literal blast of fresh air from the yard along with a watchful pragmatic attitude. She proves a good verbal sparring partner to Jack, and Fontanes choreographs the scene as a duet or fencing match. Moira's on her feet, moving, eyes fixed on Jack. The exchanges are terrifically rich in pauses and quiet mutual estimate. The dialogue isn't raised or emphatic as it might have to be in a larger and more formal space; exchanges are measured and paced with exquisite verisimilitude.
The pauses in this piece speak unbounded stories. At times sentences in monologues shade close to inaudibility, but the thrust is clear.
Jack leaves, perhaps driven out by Moira's unyielding reactions. She settles in for a monologue, and that fourth wall shivers a bit as we try to understand whether she's seeing us. Soon we meet the rest of these intent ghostbusters, both emblematically named. Lucky (Jasmine Lane), slim and intent under a wild head of blond and orange hair, will be revealed as the medium; Bones (Jacob Shatz) is the taciturn tech preoccupied with scanning for presences and short-spoken with the real humans in the room.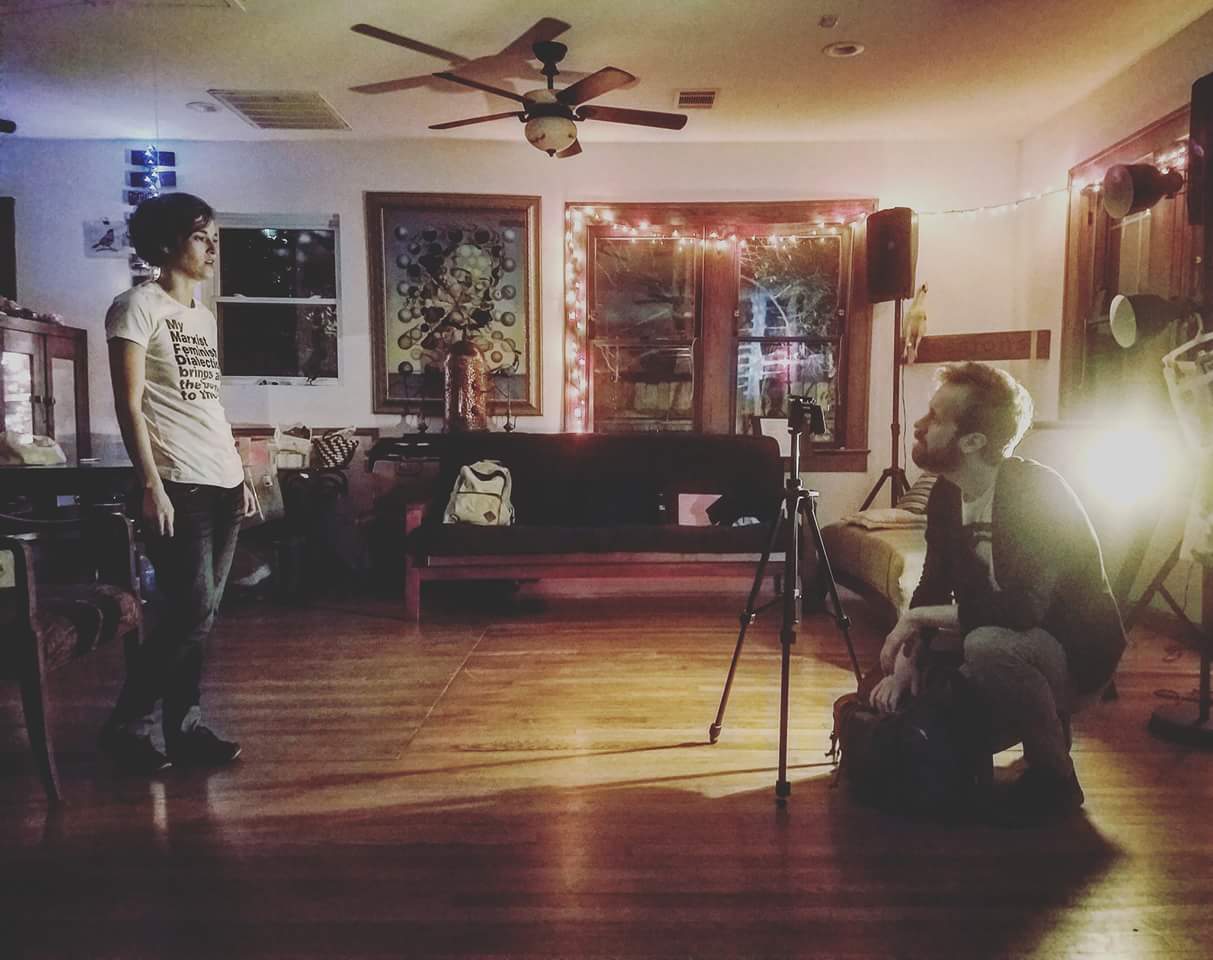 Lane's performance has a subtle shining to it as our understanding of her moves from edgy groupie to spiritual channeler. She asks to be bound to the chair and blindfolded, almost as if offering herself in resignation to sex kink. What happens next is even more unnerving. Mere flesh we can understand; a tied-up voice from beyond is something else again.
Jack will come back on to an empty room, clutching a six-pack.
That ghost is real, or as real as one allows it to be in chamber drama. It does manifest. Your hour in the beyond will end, and you will find yourselves safe and sound, in the up-close-and-personal presence of actors who've whispered close to the untouchable. The case of the 'Curious' is both solved and unresolved.
Fontanes has again bound a group of explorers in a mystery and invited the witnesses along. As in life, we'll have to be satisfied with that.
EXTRA
Click to view the program leaflet for The Curious by Chris Fontanes
---
The Curious
by Chris Fontanes
Bottle Alley Theatre Company
Fridays-Sundays,
February 24 - March 05, 2017
Friday / Feb 24th
Saturday / Feb 25th
Sunday / Feb 26th
Friday / Mar 4th
Saturday / Mar 5th
Sunday / Mar 6th
@ Sessions on Mary. 7:30 p.m. house / 8 p.m. show
See Bottle Alley Facebook page.