Review: The World According to Snoopy by Texas State University
by Michael Meigs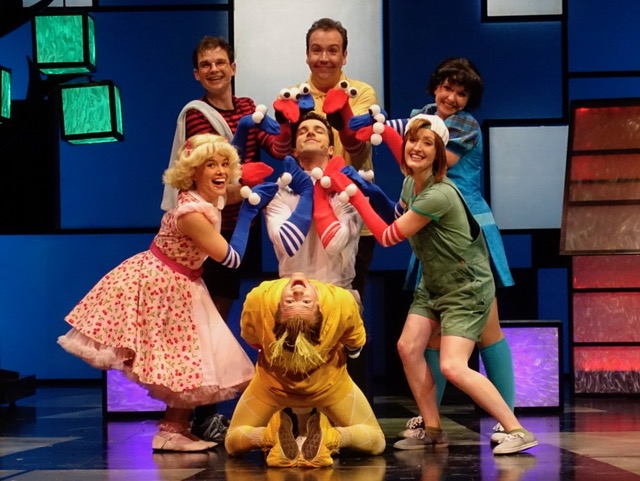 It's not surprising that Kaitlin Hopkins, head of musical theatre at Texas State University, was motivated to bring the Peanuts gang back on stage. The director's note in the program of The World According to Snoopy, the reworking of a 1980's musical, reveals that her father was co-producer of You're A Good Man, Charlie Brown, the first musical with those characters. As a child Hopkins was taken to visit the cartoonist in Santa Rosa, California.
Schulz drew the strip for fifty years. Though he authorized television, film and stage spin-offs depicting his quiet never-changing world of wistful youngsters, the cartoonist declined to allow another artist to pick up the sketchpad. He ended the series in 2000 and died only weeks later. An impassioned writer might claim that he left a gap that couldn't be filled, but that wouldn't be true. That rich trove of four-panel scenes and Sunday comics is still in wide syndication. Almost all of us in the United States have grown up with his sweet comedy and wry reflections.
In 2015 Texas State workshopped a revision of Snoopy!! the Musical, working with composer Larry Grossman and bringing in composer & lyricist Andrew Lippa. The renovated show runs only this week only at Texas State in San Marcos, but it will transfer to Houston's Theatre Under The Stars for a two-week run in June.
The World According to Snoopy is a virtuoso marvel, a carefree fast-moving demonstration of the craft of musical stage performance. In some ways one could call it the culmination of the program that Hopkins has built at Texas State since 2009. Seven energetic, lithe and entirely focused young entertainers deliver every minute they're on stage. Choreography, movement, physical presence and focus are superb. They embody the art of the craft.
It's no wonder that of the seven-person cast of the 2015 workshop production, three are in national touring companies, another's performing aboard a cruise line, and two others, not yet graduated, are back on stage in this production.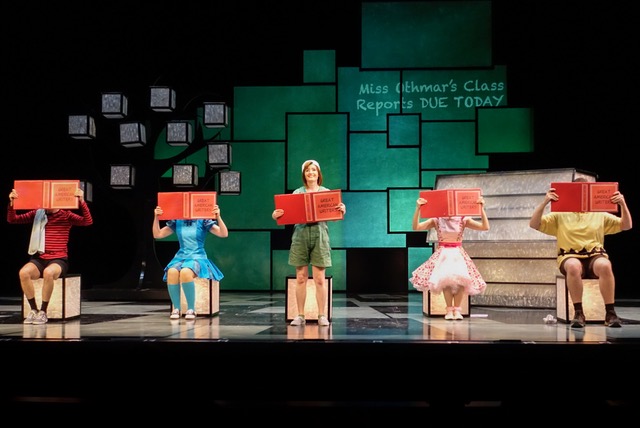 There's not really a story. But we don't really need a plot here, for Schultz provided with a treasure chest of tropes: kids in grammar school, Linus waiting for the great pumpkin, Snoopy's innocent conceit contrasted with Charlie Brown's sighs and dreaming, Woodstock the twittering bird with a definite character, Snoopy's nostalgia for the puppy farm, the doghouse his imagination transforms at will into a Sopwith Camel or a bachelor pad, Snoopy as aspiring writer, Charlie's moonstruck infatuations, Peppermint Patty's tomboy impatience, crabby Lucy and her psychiatrist's stand, Sally's bright-eyed fascination with a Barbie future, Linus's blanket -- did I leave anyone out? The evening is a succession of songs and performances of various styles inherent to U.S. musical theatre since early in the twentieth century.
The orchestra in the pit has only six players but they deliver rousing full-throated accompaniment to the onstage action. Michelle Ney's stage design is enchantingly simple, using large blocks lit from within with different colors according to the moment and rear panels that shine with projected moving images designed by Andrew McIntyre. The only large piece is Snoopy's doghouse, and it's more a concept than a construction, for it illuminates from within and swivels smoothly about the stage. Costumes must have been fun for Sally Rath to design, the bright colors and shapes immediately recognizable from Schulz's art. Big-eyed saucy Raegan Roberts as Sally with her tight blond curls, petticoats and great big floral skirts looked like a diminutive Peggy Sue.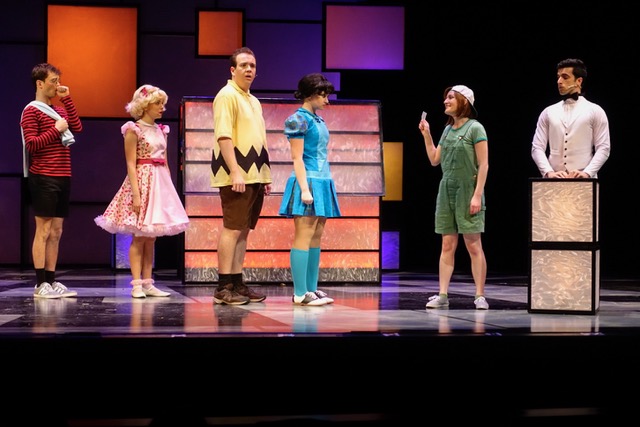 The three young women cast as Lucy, Patty and Sally could have swapped costumes, wigs and characters, for they had similar stature, shape and vocal ability. The men were more varied. Tall lean Ryne Nardecchia clad all in white as Snoopy was visually and temperamentally distinct, part of Schultz's running joke that a mere dog was more self confident and ambitious than the kids around him. Grayson Samuels with his broad shoulders filled out Charlie Brown's yellow t-shirt and projected an endearing resignation. Ty Hunter Taylor's slim Linus was alternately wise with advice and adorably panicked when his blanket was taken away.
Special praise goes to Nick Eibler in the mute role of Woodstock. Eibler's a vibrant dancer, an impressive gymnist and a clever clown. One entire number -- The Great Writer -- has Snoopy at the typewriter imagining one absurd plot turn after another as Eibler's Woodstock wordlessly acted out characters and plot developments -- a frantic variant of charades in hilarious reverse.
I was especially touched by the two-scene between Samuels as the dreamily plaintive Charlie Brown wanting to be comforted and Adria Swan as Peppermint Patty. Poor Sweet Baby is her solo, a cross between a torch song and a lullabye. As she delivered it we seemed to slip momentarily into a more grown-up performance, something that this performer, at her own age, might sing. That thread snaps at the end when Patty ends with, "Well, just forget it, Chuck!"
Every second of this two hours of performance was thought out, mapped, drilled and rehearsed to easy perfection. One wonders how this assured coordination and collaboration could leave room for swing performers, even though four are listed in the program: Jacob Burns, Daniel Z. Miller, Grae Muawad and Cristina Oeschger.
Just as comic strips are printed on unfeatured newsprint, The World According to Snoopy is rolled out over the neutral background of Schultz's wistful world. With little plot and not much confict other than Maggie Bera's adorable exasperation as Lucy, it provides a platform for the seven players and their technical supporters to show a heartily approving audience just how that singing and dancing should be executed. These young persons with the confidence and skills of pros entertain us mightily and take us back to that imagined time when life was simple and full of promise.
As it is for these attractive performers.
EXTRA
Click to view the program for Texas State's The World According to Snoopy
---
The World According to Snoopy
by Larry Grossman, Hal Hackaday, book by C. Schultz associates
Texas State University
Tuesday-Sunday,
February 14 - February 19, 2017
Patti Strickel Harrison Theatre, 405 Moon Street, San Marcos, TX
Parking:Special Event Parking for all fine arts events occurring is now only available in the Edward Gary Street Garage, 405 N. Edward Gary Street. The garage is located on the corner of University Drive and Edward Gary Street for a flat fee of $5 per event. Please Note: The garage attendant will only be accepting cash. Credit/debit card transactions will not be accepted for special event parking.
When: Seven Performances: Tuesday, Feb 14, 2017 - Sunday, Feb. 19, 2017.
Tuesday, Feb. 14 at 7:30 p.m.
Wednesday, Feb. 15 at 7:30 p.m.
Thursday, Feb. 16 at 7:30 p.m.
Friday, Feb. 17 at 7:30 p.m.
Saturday, Feb. 18 at 2:00 p.m.
Saturday, Feb. 18 at 7:30 p.m.
Sunday, Feb. 19 at 2:00 p.m.
Tickets: Monday – Thursday at 7:30 p.m.: $15 adults, $8 students
Friday - Sunday at 2:00 p.m.: $18 adults, $8 students