Review: Matt & Ben by Penny Dime Productions
by Michael Meigs
What happens when a buddy story about a brainy jock and a happy jerk in Massachusetts is performed by a pair of sopranos at the Institution Theatre, a hang-out for aspiring improv artists?
And say, how's that for an opening paragraph of a review? Probably just about as surprising as the opening scene of Matt & Ben when a fully written and brilliantly crafted movie script falls out of the ceiling and lands in the mess that is the apartment shared by Matt Damon and Ben Affleck.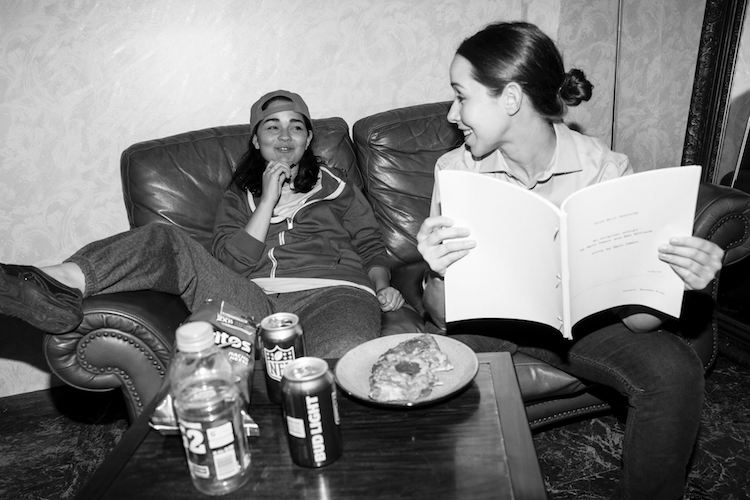 Matt & Ben the production did start pretty much like that, in fact, back in 2002. Mindy Kaling and Brenda Withers came up with a fictitious back story for the 1998 Academy Award given to Damon and Affleck for their first and only collaboration, the screenplay for Good Will Hunting. The guys went to high school together and both wanted to break into film. They had some connections, but in this version at least they were short of ideas. Kaling and Withers had a good time mocking guy talk and playing Damon's intensity against Affleck's supposed happy-go-lucky leave-'em-laughing intellectual laziness. Before they're hit with the significance of the script from nowhere, Affleck is intent on transcribing the dialogue from J.D. Salinger's The Catcher in the Rye in naïve expectation that the rights will be easy to obtain from that obsessively publicity-shunning author.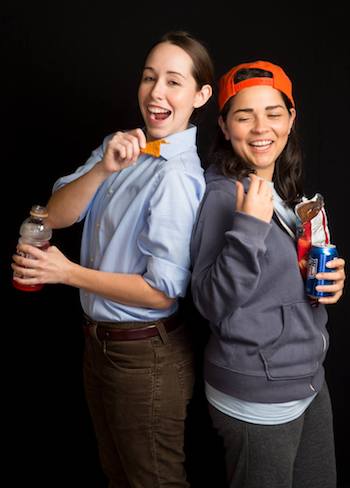 The evening played from January 6 - 21, 2017 in the small annex to the theatre, a simple box with a shallow step-up stage across one end of the rectangle. Megan Sherrod, playing Matt Damon, was here last March in Jason Robert Brown's The Last Five Years, playing opposite Sarah Marie Currie. In that production her character Cathy went in reverse chronology from despair and resignation to the elation of new love; in Matt & Ben Sherrod is the focus of the action, disciplined and often exasperated by the antics of Ben Affleck, portrayed as nonchalant, and good humored with a confident sense of entitlement by Cristina Flores.
The playfulness of the concept included a couple of additional characters impersonated in turn by the actors. Flores slipped away, got rid of that baseball cap and turned up in a curly blonde wig as Gwynneth Paltrow ('If you're really good, it doesn't matter how you get your break'). Sherrod storms off at one point and reappears as Salinger, unexpectedly communicative and helpful but determined not to approve movie rights for his novel.
Much of the funny comes from watching the women represent male bonding behavior, often addressing one another as 'Hey, man!' Sherrod's sprints in place at stage right early on make the point about Damon's physicality and discipline while amusing with her bouncy, artificially huffing and puffing, very female appearance. Guy slovenliness rules in the apartment, and happy dreams without discernible pathways to them dominate their talk. Guy talk but not locker room talk, and in fact there's very little attention paid to women at all.
The 80-minute performance resembled a bright-colored cartoon, one with the broad wink of audience-friendly improv. When all is said and done, the script implies, wasn't it really a mystery that these two, hanging out together in 1995 in Boston, managed the preposterous and amazing feat of writing an Academy-Award-winning screenplay? At the finale, after they've finally faced the challenge of getting down to work on that script, lights fade and we're treated to the soundtrack of the awards ceremony. Damon and Affleck -- the real ones, not the imitations who've won our affection -- gasp and crow and stumble all over themselves in confusion and wonder. Maybe it really was some kind of miracle, as the authors and the actors suggest.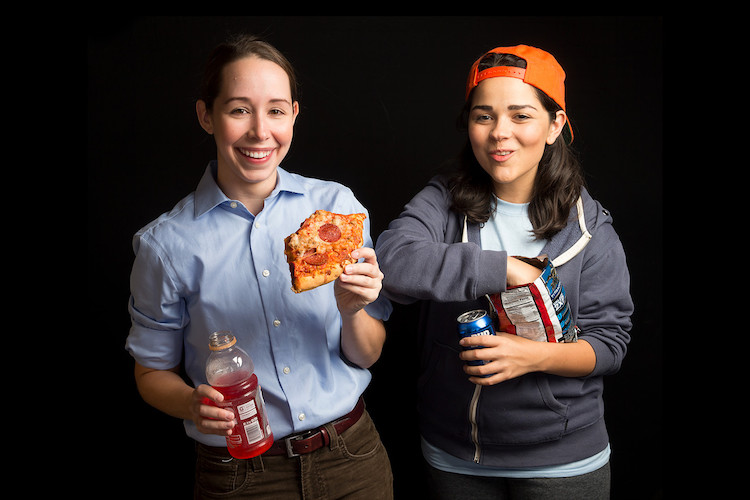 The annex at the Institution Theatre doesn't have much space -- at a guess, perhaps thirty chairs -- but with a bit of ingenuity and a forgiving audience it serves up a fine theatrical experience. Sherrod, Flores and director Emily Rankin made the most of it. They left me wishing that I could have gotten to them earlier in their run of three short weekends (Fridays and Saturdays only), so as to share the yummies with other buddies.
EXTRA
Click to view the program for Matt & Ben by Penny Dime Productions
---
Matt & Ben
by Mindy Kaling and Brenda Withers
Penny Dime Productions
Thursdays-Saturdays,
January 06 - January 21, 2017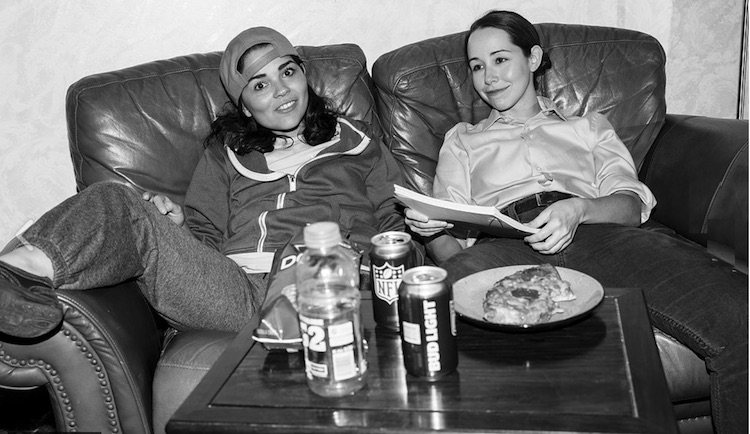 This up close and personal staging of Matt & Ben plays January 6th through 21st at 8 PM at The Institution Theater, Fridays and Saturdays at 8 p.m. One Thursday performance on January 19 at 8 p.m. Seating is extremely limited. Ticket price $15.
Tickets available on-line via Institution Theatre and thundertix. Click HERE.