Review: Mr. Burns, A Post-Electric Play by Mary Moody Northen Theatre
by Michael Meigs
American popular imaginings of recent years have been enamoured of dystopian tales of post-industrial collapse. It's not a new trope: Orson Welles' 1939 War of the Worlds hinted at it and Neville Shute's 1959 On the Beach haunted a Western world newly conscious of the H-Bomb. Hollywood has been tearing civilization apart with CGI-FX glee for decades; the first Mad Max movie was in 1979. Cormac McCarthy's 2006 The Road is a stark father-and-son survival epic.
My favorite to date is Emily St. John Mandel's 2014 Station Eleven, a vividly imagined post-plague world of collapsed civilization in which a band of Shakespearians travels warily by horse and wagon from outpost to outpost across the ruins of Ohio, earning their keep by staging the Bard.
Anne Washburn's Mr. Burns, a Post-Electric Play premiered at the Woolly Mammoth Theatre Company in Washington DC in 2012 and was later performed at Playwrights Horizons in New York. Washburn focuses on our love of story telling, likely to survive even the collapse of American society and infrastructure. Her fable doesn't offer a Shakespearian vision, though; she suggests, quite plausibly, that the collective memory of a destroyed American civilization is likely to cling to easier, more amusing and more immediate stories: visuals from television. And, particularly, to The Simpsons.

And after all, why not? The Simpsons started in late 1989 and it's still going. It's the longest running television series. Its relentless satirical send-up of middle America is really a love affair with American popular culture.
You could sit in the lobby at the Mary Moody Northen Theatre at St. Ed's and watch an episode from The Simpsons while you were waiting for the house to open. Not just any episode; in fact, the 1993 'Cape Feare' parody is key to what you'll see in the theatre. Meta of meta: once the fake nuclear cooling tower is whisked away from stage center, you'll encounter a ragtag bunch around a campfire who are happily recalling that episode, even though there's no more television, no more electricity, and no more connected American society. In a wandering and seemingly interminable recital, guest Equity artists Marc Pouhé and Jill Blackwood reconstruct Matt Groening's 1993 reworking of the movies Cape Fear featuring Robert Mitchum (1962) and Robert De Niro (1992) as the bad guys.
That retelling is wildly irrelevant to the grim circumstances gradually revealed, especially when an intruder (Ryan Mattingly) is detected and interrogated. Nuclear power plants went down hard, massive fires and fallout spread out death zones, each with a radius of a hundred miles or more. In the most moving passage of the play Cheyenne Barton tells of one man's failed effort to keep systems alive at a failing nuclear plant. We hear scraps of the stories of those present and begin to understand what they've lost, particularly when they press the intruder for news of specific vanished family members and friends.
Director David Long keeps his cast in calculated motion so that no side of this theatre-in-the-square is neglected. The MMNT actors are confident and convincing, and we begin to live with them out there in their unimaginable wilderness.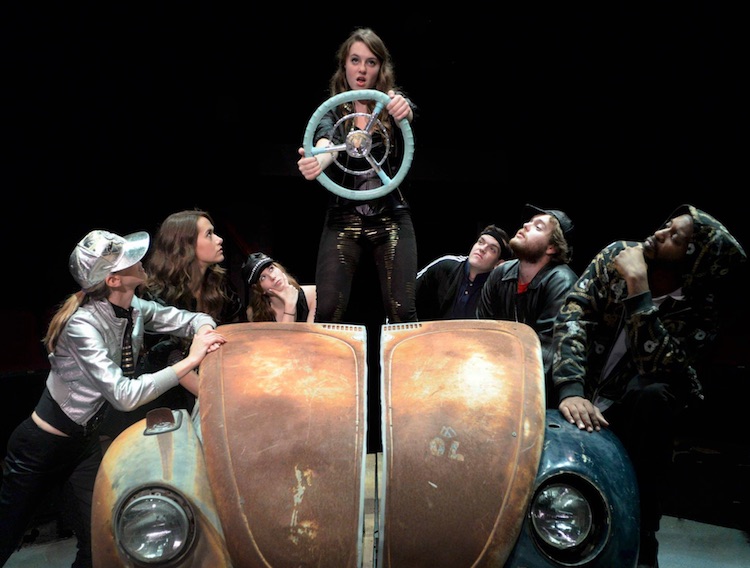 The consolation of the Simpsons story-telling is evoked and further developed in scenes set seven years later, when the band has become a company and has developed their own Simpsons theatrical piece, presented to random audiences encountered in the dangerous new world. We get a taste of their energetic but unsophisticated re-creations, and we hear of their difficulties. There's an angry debate about 'meaning': Barton insists that audiences want nothing to do with 'meaning' and prefer the deliberately meaningless entertainment of the Simpson stories, dressed up with contributed lines and makeshift props. They've developed a fine set of dance moves thanks to choreographers Danny Herman and Rocker Verastique, and some of the a capella music is charming, especially the harmonies. But a sudden and scarcely foreshadowed succession of gunfire and shouts reveals that the earnest but vulnerable company is under attack from marauders, and the lights go down.
Act II, announced as 75 years later, is a bizarre opera in masks and minor keys, as alien to mainstream American culture as the Kabuki theatre of Japan. Bart the hero is persecuted by Mr. Burns the villain and the two animals that act as his henchmen. The story's an abstract version of the Simpsons' Cape Feare episode, done in recitative and music to odd percussive music. The Simpsons are trapped on a boat in a lake of piranas and crocodiles; Mr. Burns abuses and apparently rapes little sister Lisa; Bart defies him; Bart's family may or may not have been executed. It's an elaborate and lengthy performance so stripped of humanity that it became -- frankly -- tedious.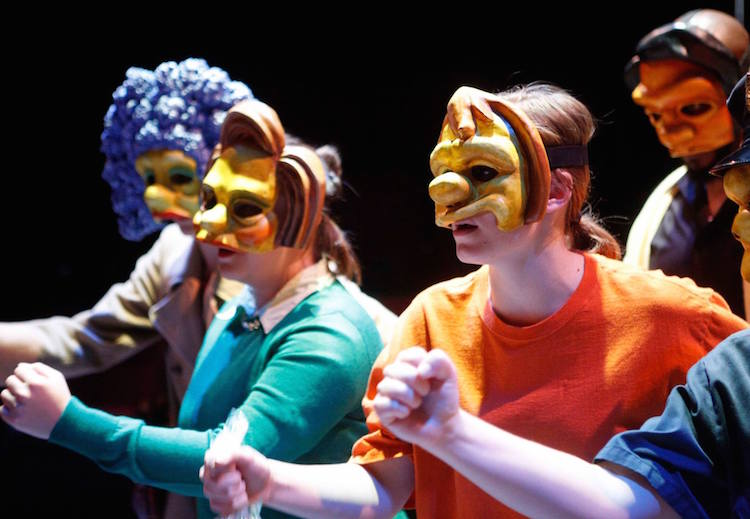 Washburn's work is a think piece with worthy aims, but it fails to connect with the audience precisely because of its thesis. As a theatre audience we become intensely involved in the stories of the characters we meet in the first half, all the more because the characters share the first names of the actors who inhabit them: Jill, Marc, Seth, Cheyenne, Ryan, Rachel and Madison. Once those personal touches are stripped away, we're left with the grotesque outlines of the characters from the animated series, equally stripped of their distinctive qualities.The intellectual point is made -- something to do with the power of myth -- but it's delivered in the first five minutes after the intermission. The music, the stark story bereft of nuance, and the stylized movement do little to elaborate or reinforce it.
The masks credited to Tara Cooper and Jennifer Rose Davis are terrific.
EXTRA
Click to view the program of Mr. Burns by the Mary Moody Northen Theatre
---
Mr. Burns, A Post-Electric Play
by Ana Washburn
Mary Moody Northen Theatre
Thursdays-Sundays,
September 24 - October 04, 2015
Mary Moody Northen Theatre is located at the St. Edward's University Campus along Campus drive. For a campus map, go to http://www.stedwards.edu/map/maincampus.
Sept. 24 – Oct. 4, 2015, 7:30 p.m. Thursday – Saturday, 2 p.m. Sunday
Mary Moody Northen Theatre
St. Edward's Universiy, 3001 S. Congress , Austin, TX 78704
Map: https://www.stedwards.edu/contact-us/main-campus-united-states
TICKETS: $22 Adult ($18 Students, Seniors, SEU Community)
Available through the MMNT Box Office: 512.448.8484
Available online at www.stedwards.edu/theatre
Box Office Hours are 1-5 p.m. Monday- Friday
Student discount nights: Sept. 25 and Oct. 1 Cost: $8 with ID