Review: One Night with Janis Joplin by Zach Theatre
by Michael Meigs
The Zach Theatre has franchised Randy Johnson's concert show, dosing it with lively Joplin imitator Kacee Clanton from LA, top-quality local talent, and a high wall projected full of Colin Lowry's CGI. Clanton and the back-up band deliver some spot-on covers of Pearl's most famous numbers. It's a thumping, thrumming night of thrills, not so cheap, a mostly mindless celebration of the highs delivered to us by that gifted misfit from Port Arthur.
The evening's "crank up the WayBack machine, Sherman!" presentation masquerades as an evening's concert by Janis Joplin, undated but floating in the space-time continuum just days before she died in October, 1970. That's close to 43 years ago, so the baby boomers and curious younger crowds are ripe for a retrospective of the untidy whitegirl blues singer. Unlike the 2001 musical Love, Janis, and the scarcely disguised film biopic with Bette Middler The Rose, this feel-good evening gives you very little about Janis's life. Yes, author Randy Johnson has pasted together a rambling commentary from the star, apparently lifted from interviews and perhaps concert footage, but it's sketchy, sometimes misleading, and, as a concept, outright deceptive.
Joplin was needy, neurotic, a binge alcoholic and a heroin addict who struggled unsuccessfully to get clean. In this evening Clanton swigs dutifully from time to time from a Southern Comfort bottle, but there's not a word about the drug habit that killed Joplin when her dealer provided unexpectedly higher-grade heroin. Johnson gives us, with the blessing of the Joplin estate, only the thrill and the yearning, Joplin's declarations of love to the audience and her assertion that only feeling is important. The shallow and fragmented texts make her sound simple minded, almost infantile.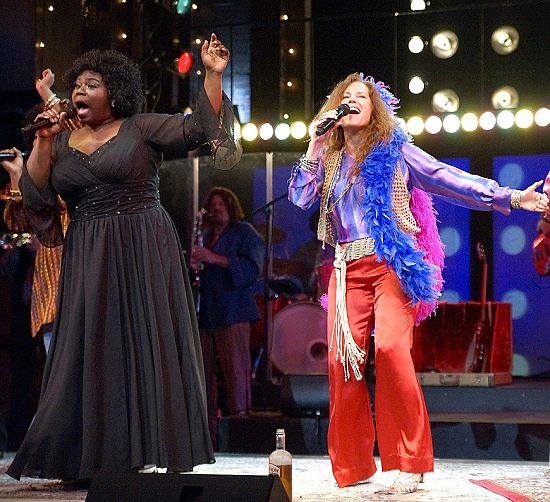 With the magic of theatre, Johnson splices into the concert evening a series of musical vignettes to present the blues influences that helped shape Joplin's style and choice of music: Odetta, Bessie Smith, Nina Simone, Motown girl groups, Arethra Franklin and others. These interludes lift the show free of predictable hippie white rock.
Tiffany Mann is the generic 'blues singer' in these flights, and folks, she just blows the white girl away. Her pure voice, power, classical training and blues ability to get down are worth the entire price of the ticket: the pure eerie soprano of 'Summertime' from Gershwin's Porgy and Bess; Nina Simone's stark, still Today I Sing the Blues in which she holds our hearts in the palm of her hand and then tears them apart while Lowry projects the silent passage of a luminous moon through the starry sky; and her Aretha Franklin number that had the energy and charisma to pull down the house. (The joint appearance of Joplin and Franklin may be wishful thinking; Joplin appeared at Madison Square Garden once with Tina Turner. Perhaps Turner wasn't in the mood to license that scene, or perhaps Mann's squared-off, robust figure didn't fit Turner's slim, leggy profile.)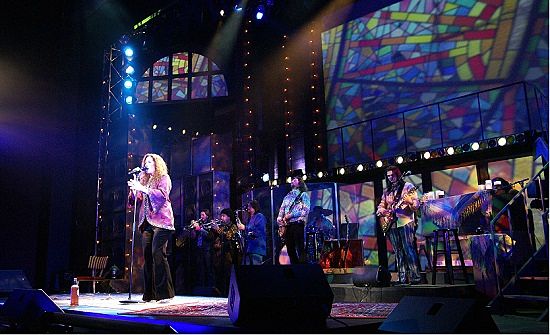 Some 'disambiguation': One Night with Janis Joplin is indeed scheduled to open on Broadway, at the Lyceum Theatre, with previews from September 20 and the formal run to start on October 10. But that's not this production or this cast. Johnson's patchwork premiered in Portland in summer, 2011, then played in Cleveland in late 2012 (where understudy Mary Bridget Davies replaced the star during previews and won the area award for best performance by an actress in a musical). Davies and the principal company played Pasadena in the spring, Milwaukee in May, and are now rocking the Arena Stage in Washington DC before traveling on to Broadway. The Austin production travels with cast and set to the San Jose Rep to perform from September 5 to 29.
One Night with Janis is fun, even if it takes you to a mythic 1970 that couldn't have existed. That backup band has got the hair, for example, but none of the hungry look; they're chunky Texas beer-drinking buddies. And no 1970 concert could have provided the dazzlement of Lowry's imaginative projections, with their wheeling depicitions of flower-power graphics and shapes borrowed from lava lamps. If you'd like to witness and seat-boogie to Joplin's rock in a squeaky-clean re-edit of her world, you'll enjoy Zach's latest offering in the Topfer, which plays Wednesdays - Sundays to August 18. The theatre has scheduled a second performance on each of the last two Sundays, no doubt expecting that folks here in one of Janis's way-stations almost fifty years ago can still be counted to turn out to support a local talent.
Review by Jeff Davis at www.austin.broadwayworld.com, July 21
Review by Cate Blouke for the Statesman's Austin360 Seeing Things blog, July 23
Review by Jillian Owens for the Austin Chronicle, August 1
Review by Olin Meadows at www.austinentertainmentweekly.com, August 21
EXTRA
Click to view excerpts from the program for One Night with Janis Joplin
Hits as of 2015 03 01: 896
---
A Night with Janis Joplin
by Randy Johnson, featuring recreations of Joplin's music
Zach Theatre
July 10 - August 25, 2013