Jul. 03 - Jul. 26, 2015

Poignant and truthful, Water by the Spoonful tells stories of recovery and redemption, and the ever-hopeful search for a safe haven in a world of struggle.
Directed by Jim Mammarella.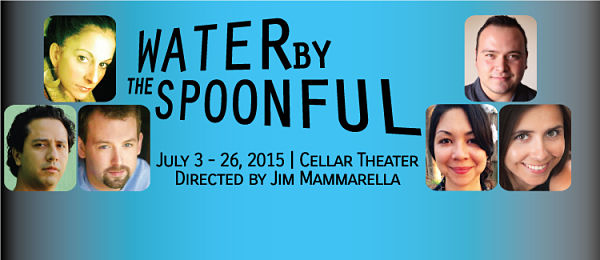 Water by the Spoonful is a play by Quiara Alegría Hudes. It won the 2012 Pulitzer Prize for Drama.[1] Hudes had previously won the 2008 Tony Award for Best Musical for In the Heights.[2] The play was to be published on August 28, 2012 by Theatre Communications Group.[3]
Pulitzer.org describes this play as "...an imaginative play about the search for meaning by a returning Iraq War veteran working in a sandwich shop in his hometown of Philadelphia."[1] The Boston Globe describes it a story of "...an Iraq war veteran struggling to find his place in the world..."[4] David Ng of The Los Angeles Times says the play "follows an Iraq war veteran who is struggling with civilian life. His story runs in parallel with those of four individuals who connect on an online chatroom dedicated to recovering drug addicts."[5] Erik Piepenburg of The New York Times describes the subject of the play as "..a Puerto Rican veteran of the Iraq war who faces personal demons when he returns to the United States".[6]
VIDEO by Rick Sanchez:
Feature and slideshow of set by Deborah Martin of the San Antonio Express-News
The play, which was commissioned by Hartford Stage as part of Quiara's 2008-2009 Aetna New Voices Fellowship, debuted at Hartford Stage in October 2011.[7] In May 2012, it was announced that the play would make its New York debut in December at the Off-Broadway Second Stage Theatre.[4] The play ran from January 8, 2013 until February 10, 2013.[8]
It is the second part of a trilogy that began with "Elliot, A Soldier's Fugue" and concludes with "The Happiest Song Plays Last".[4] The first element of the trilogy is "about a young Marine coming to terms with his time in Iraq and his father's and grandfather's service in Vietnam and Korea".[6]
-- Wikipedia
Cast

Odessa (Haikumom)
Gypsy Pantoja
Elliot
Paul Ramos
Yazmin
Julya Jara
Fountainhead (John)
Michael Holley
Orangutan
Sarah Boyd
Policeman/Professor Aman/Ghost
Benito Lara
Chutes & Ladders
TBA


Production Team

Director
Jim Mammarella
Set Designer
Ryan Deroos
Lighting Designer
Kaitlin Muse
Costume Designer
Cassandra Trautman
Media Designer
Megan Reilly
Stage Manager
Tyler Afflerbach
---
Water by the Spoonful
by Quiara Alegría Hudes
Playhouse San Antonio
Fridays and Saturdays at 8 p.m. and Sundays at 2 p.m. in the Cellar Theatre at Playhouse San Antonio