May. 01 - May. 17, 2015
Thursdays-Sundays
Middle-aged siblings Vanya and Sonia live in the family home in Bucks County, Pennsylvania. Named after Chekhov's characters by their theater-enthusiast professor parents, Vanya and Sonia have not had to grow up. After spending their adulthood looking after their now-dead parents, neither has a job, and money is provided by their movie star sister Masha, who owns the house and pays the bills. Vanya (who is gay) and Sonia (who is forever reminding everyone that she was adopted) spend their days reflecting on their lost chances, debating whether the grove of nine cherry trees on their property constitutes an orchard, [1][2] and bemoaning their rather Chekhovianlot in life. The only other resident of the house is their cleaning woman Cassandra, who, like her namesake, is prone to making dire prophecies that no one believes.
This static environment is disrupted when Masha returns home, bringing with her a flurry of drama, an endless litany of insecurity, and a much younger, gorgeous, dimwitted lover named Spike.
Vanya and Sonia and Masha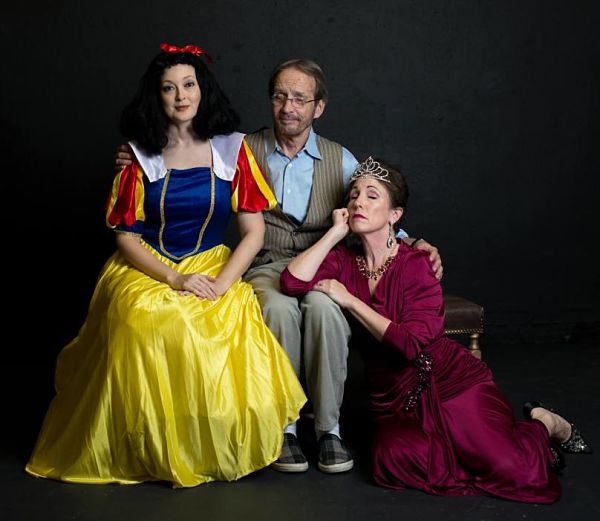 Vanya -- John O'Neill
Sonia - Anna Gangai
Masha - Emily Spicer

Spike - John Stillwaggon

Cassandra - Danielle King

Nina - McKenna Liesman

Director: Diane Malone
==
The comedy by Christopher Durang revolves around the relationships of three middle-aged single siblings, two of whom live together, and takes place during a visit by the third, Masha, who supports them. They discuss their lives and loves, argue, and Masha threatens to sell the house. Some of the show's elements were derived from works of Anton Chekhov, including several character names, the play's setting in a cherry orchard, and the theme of the possible loss of an ancestral home.
According to Durang, "My play is not a Chekhov parody...I take Chekhov scenes and characters and put them into a blender."[5] Although the characters in the play, named by university professors, share names with Chekhov characters, they are not literally the same characters but are derived from their namesakes and other characters. Durang mentioned that Masha is more like Madame Arkadina in The Seagull than any of Chekhov's characters named Masha.[5] Rather than mimic Three Sisters, his play has a sister, brother and stepsister, with the latter two being the most Chekhovian of the titular characters. However, Nina, who seems to be very much derived from the character of the same name from The Seagull, was the most like a Chekhov character according to Durang.[5] After five marriages to her contemporaries, Masha has taken up with Spike in a May–December relationship.[5] Durang says that "Cassandra, who's a cleaning woman and soothsayer, is like the Greek-tragedy Cassandra. In some ways, she's like the nanny in Vanya, but she doesn't reflect Chekhov as much."[5]
-- Wikipedia
---
Vanya and Sonia and Masha and Spike
by Christopher Durang
Classic Theatre of San Antonio
Thursdays-Sundays,
May 01 - May 17, 2015
Thursdays - Saturdays at 8 p.m., Sundays at 2 p.m.
Tickets: General Admission-$25; Sr/Mil/SATCO-$20
Purchase online: www.classictheatre.org