The Three Little Pigs
by Zach Theatre
Feb. 27 - Apr. 25, 2015
Saturdays-Sundays
Take three little piglets, their devoted single-parent mom, and a misunderstood Big Bad Wolf, and you've got the perfect "Great Big Little Broadway Show" for audiences ages 3 and up. Filled with humor, this endearing tale will leave you squealing with glee and howling with laughter!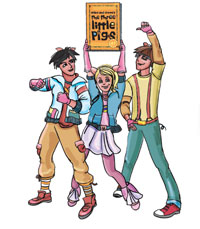 Cast
Gustavo Gomez Cha
Amanda Serra Siu
Michael Marchese Bao
Jacqui CrossMother Pig, Merchant
Russel Taylor Wolf, Superfan
Nicholas Weindel Understudy
Megan Rabuse Understudy
Megan Wright Understudy
Directed and Choreographed by Abe Reybold
Written by Stiles and Drewe
Stage Manager Megan Barrett
---
The Three Little Pigs
by George Stiles, Anthony Drewe
Zach Theatre
Saturdays-Sundays,
February 27 - April 25, 2015
Opening Friday, Feb 27; weekend performances through April 25.
Click for Tickets/schedule or telephone 512-476-0541 x1