Apr. 21 - May. 08, 2016
Thursdays-Sundays
Teatro Vivo is proud to present Stories of Us, a production that takes an in-depth look at Latino and Black relations. The play uses a variety of performance styles to explore the histories behind Afro-Latinidad while addressing how past interactions between the two separate cultures have impacted their current relationship as a community.
The Stories of Us is a collection of stories that dig deep into intercultural conflict between African Americans and Latinos, African Diaspora identity and Afrolatinidad. Think of it as a scrapbook of experiences, histories and feelings on the stage. It's takes you through stories about African roots in Mexico, the time you told your brother you were dating a "Black girl" and that moment you were proud of your heritage. The Stories of US details our stories as people of color trying to navigate each other's worlds and build one together.
This play has been written by recent UT graduate and author of the blog Black Girl, Latin World Jelisa Jay Robinson, and is directed by the Managing Director of Salvage Vanguard Florinda Bryant. In an effort to unite both groups, Stories of Us details experiences of discrimination that many still currently face and uses those observations to open a rich dialogue about the importance of acceptance, solidarity, and love.
Written by Jelisa Jay Robinson and Directed by Florinda Bryant
"This is our first production that looks at Afro-Latinidad. We have presented other plays that spoke about racism within our own community. This play has much more depth and insight into the Afro-Latino experience," said Rupert Reyes cofounder of Teatro Vivo. "The conversation that explores the similarities between Blacks and Latinos needs to begin or continue. I don't know what the forces are at play that divide us. I do know that we can be one of the forces that unite us. We hope that all of our plays create a movement for more unity on the community level, the local level."
Feature in 'Ain't I Latina?' by Janel Martinez, May 1, 2016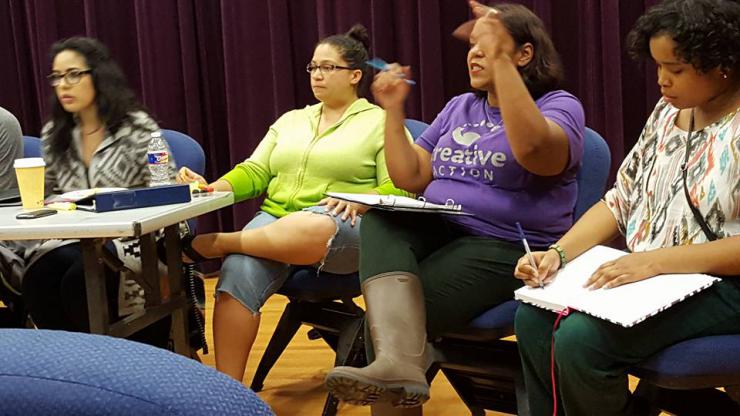 ---
Stories of Us
by Jelisa Jay Robinson
Teatro Vivo
Thursdays-Sundays,
April 21 - May 08, 2016
Date: April 21 – May 8, Thursdays through Saturdays at 8 pm and Sundays at 2 pm
Emma S. Barrientos Mexican American Cultural Center (600 River St, Austin, TX 78701)
Tickets $12 - $20; reserved VIP seating available. Purchase Teatro Vivo website or