Dec. 09 - Dec. 18, 2016
Fridays-Sundays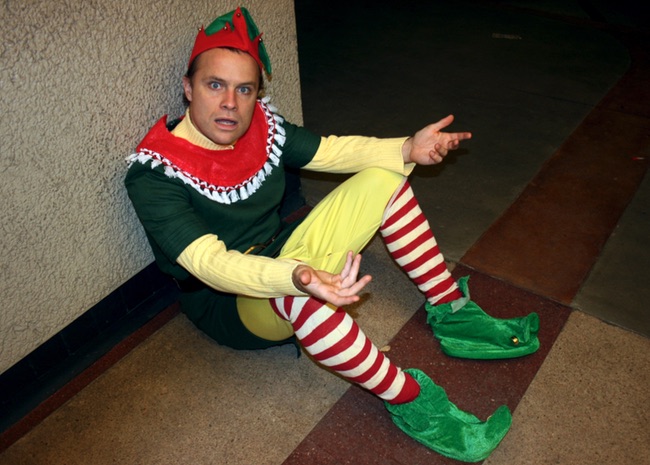 Based on the true chronicles of NPR comic genius David Sedaris's experience in Macy's Santaland display, this cult classic riffs on a few of his truly odd encounters with his fellow man during the height of the holiday crunch. John Stillwagon returns as Sedaris's not so merry alter ego Crumpet the Elf. The play contains mature content and is not recommended for children.
"The Santaland Diaries is a place to laugh at the all too familiar absurdities and contradictions of what we're so emphatically told is the most magical time of the year." -- Be Portland
"It's not about the child or Santa or Christmas or anything, but the parents' idea of a world they cannot make work for them." --The Chicago Critic
[Photos by Kaitlin Muse]
---
The Santaland Diaries
by David Sedaris
Classic Theatre of San Antonio
Fridays-Sundays,
December 09 - December 18, 2016
Show Dates: December 9, 10, 11 & 16, 17, 18, 2016
Show Times: Performances are Friday & Saturday at 8:00 PM; Sunday performances at 3:00 pm & 7:00 pm
Note: The Santaland Diaries is recommended for ages 14+; contains mature content and language, and the secret of Santa is exposed.
All performances are at The Classic Theatre, located at 1924 Fredericksburg Rd. The theatre is handicap accessible. Please call 210-589-8450 for special arrangements.
TICKETS: $20 for General Admission. For tickets and group rates please call 210-589-8450. (There is no charge for using our ticket service!!) Or go to www.classictheatre.org and click on "Buy Tickets".
Directed by: Kelly and Bart Roush Cast includes: John Stillwaggon
SPECIAL EVENTS: Opening Night - Please join us for a complimentary opening night eggnog reception.