Apr. 16 - Apr. 26, 2015
Thursdays-Sundays
In this bluegrass fairy tale, rascally robber Jamie Lockhart courts Rosamund, the only daughter of the richest planter in the country. The proceedings go awry thanks to a case of double-mistaken identity. Add an evil stepmother intent on Rosamund's demise, a pea-brained henchman and a hostile talking head-in-a-trunk (really!), and you have quite an adventure on your hands. Broadway veteran Danny Herman directs, with scenic design by Leilah Stewart, lighting by Kathryn Eader and costumes by Susan Branch Towne. Featuring guest artists Brian Coughlin, Jarret Mallon and Meredith McCall. Based on the novella by Eudora Welty
Directed by Danny Herman, Music Direction by Susan Finnigan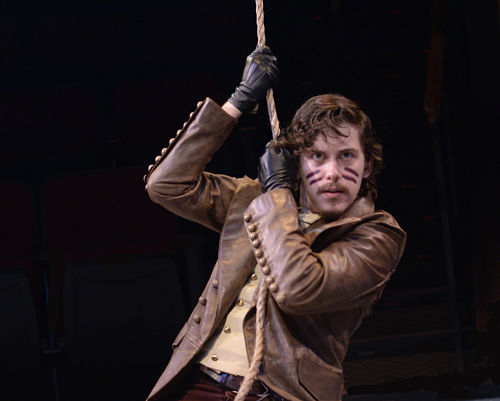 ---
The Robber Bridegroom
by Alfred Uhry and Robert Waldman
Mary Moody Northen Theatre
Thursdays-Sundays,
April 16 - April 26, 2015
All plays run Thursday - Saturday evenings at 7:30 PM and Sundays at 2 PM. The MMNT box office opens one hour prior to curtain and the auditorium opens for seating 30 minutes before the designated start time. All seats are reserved. Concessions are available in the lobby prior to the performance and during intermission. All performances take place at the Mary Moody Northen Theatre on the St. Edward's University main campus.
Thursday – Saturday evenings at 7:30 pm, Sundays at 2:00 pm
Added performance on Wednesday, April 22 at 7:30 pm
TICKETS: $25 Adult ($22 Students, Seniors, SEU Community)
Available through the MMNT Box Office: 512.448.8484
Available online at www.stedwards.edu/theatre
STUDENT DISCOUNT NIGHTS: Friday, April 17 and Wednesday, April 22: Student tickets $8 with ID.