The Panza Monologues
by Teatro Vivo
Feb. 05 - Feb. 21, 2015

Panzas! Women – even wise Latinas – are obsessed about it. Some make their peace with it, while others just suck it in. While nutritionists and politicians alike weigh in on the imperious, impossible, belly or panza, as it is tenderly known in Spanish, Chicana playwrights and cultural workers Virginia Grise and Irma Mayorga have something to say about its power for emotional and political liberation.
The Panza Monologues is an original performance piece based on women's stories about their panzas. Tu sabes – that roll of belly we all try to hide. Conceived from kitchen table conversations and chisme and compiled from interviews of Chicanas of all ages, places, and spaces, these stories create a quilt of poignancy, humor, and revelation.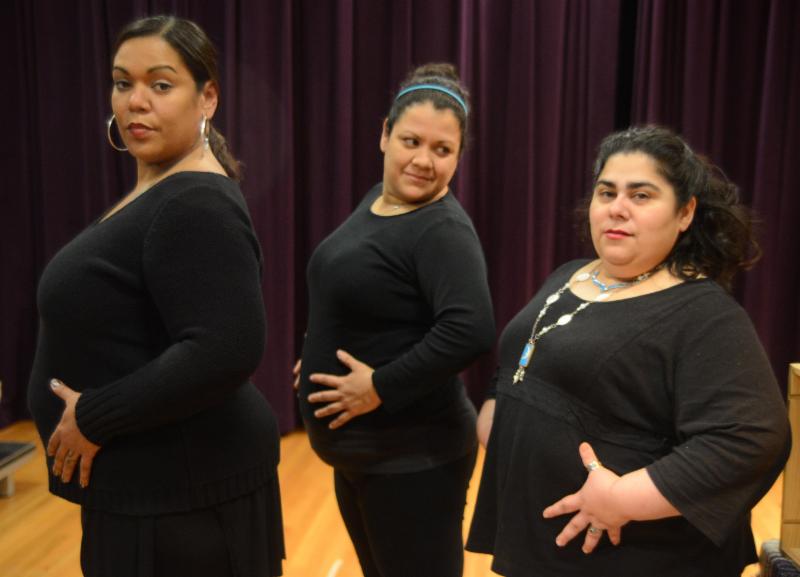 Performed in monologue format and riffing on Eve Ensler's play The Vagina Monologues, The Panza Monologues boldly places the panza front and center as a symbol that reveals the lurking truths about women's thoughts, lives, loves, abuses, and lived conditions. It boldly interconnects women's health, their body image, and social justice issues. The production has received critical acclaim in front of standing-room audiences who laugh, cry, and scream in panza-truth-telling solidarity. Austin theatre artists, Florinda Bryant and Deanna Deolloz, direct the production. Both are also performers in the production along with Eva Mc Quade.
Mature topics. Recommended for ages 13 yrs and older. Parental discretion advised.
For more information on the playwrights and the publication of the Panza Monologues visit Panzamonologues.com
---
The Panza Monologues
by Virginia Grise and Irma Mayorga
Teatro Vivo
February 05 - February 21, 2015
Teatro Vivo presents the Austin premiere of
The Panza Monologues
Telling our truths straight from the panza.
Written, compiled and collected by Virginia Grise and Irma Mayorga
Directed and performed by Florinda Bryant and Deanna Deolloz
with Eva Mc Quade
February 5 – 21, 2015
Thurs – Sat. 8 pm and Sundays February 8 and 15 at 2 pm
Emma S. Barrientos Mexican American Cultural Center, 600 River Street Austin TX 78701; Free parking is available to audience members.
Tickets $20 – $14. Tickets are available online at http://panza.bpt.me or you may purchase at the theatre starting 30 min before the performance time. Thursdays are "pay what you wish" only at the theatre box office beginning 30 minutes before show time.
Facebook – https://www.facebook.com/teatrovivoaustintx Twitter – @teatrovivotx