Feb. 11 - Feb. 21, 2016
Thursdays-Sundays
Mary Moody Northen Theatre, the award-winning producing arm of the St. Edward's University theatre training program, continues its 43rd annual season with Jeffrey Hatcher's adaptation of Nikolai Gogol's 1836 satire The Government Inspector.
When officials in a small Russian hamlet learn an undercover government inspector is coming for a surprise visit, they panic. In a rush to discover the intruder they target the wrong man, and a case of mistaken identity sends the whole village spiraling.This wild and smart adaptation of Nikolai Gogol's 1836 play shines a light on corruption and takes everyone to task.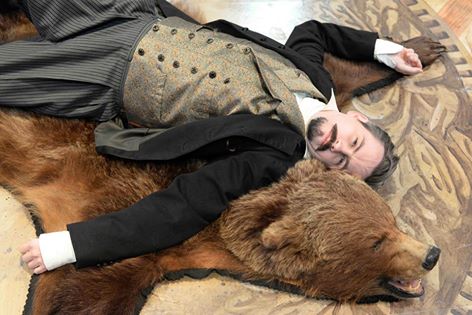 "One part farce, one part slapstick,…this naughty, frothy play is wholly entertaining… " Minneapolis Star-Tribune.
"This is one funny show." Vancouver Plays
The Government Inspector adapted by Jeffrey Hatcher from the original by Nikolai Gogol
Directed by Michelle Polgar
Featuring guest artists Meredith McCall, Jeffery Mills and Michael Stuart.
Mary Moody Northen Theatre operates on a professional model and stands at the center of the St. Edward's University Theatre Training Program. Through MMNT, students work alongside professional actors, directors and designers, explore all facets of theatrical production and earn points towards membership in Actor's Equity Association, the union of professional actors and stage managers in the United States. MMNT operates under an AEA U/RTA contract and is a member of Theatre Communications Group. Information: 512-448-8487 or www.stedwards.edu/theatre.
St. Edward's University is a private, liberal arts college in the Catholic Holy Cross Tradition with approximately 5,000 students. Located in Austin, Texas, it is one of the top universities in Texas and offers undergraduate and graduate programs, including MBA programs and a master's degree in counseling. With a network of partner universities around the world, St. Edward's is a diverse community with programs designed to inspire students with a global perspective. St. Edward's University has been recognized for 12 consecutive years as one of "America's Best Colleges" by U.S. News & World Report and ranks in the top 15 Best Regional Universities in the Western Region. Information: stedwards.edu/about.
[image via oxfordtheatreguild.com]
---
The Government Inspector
by adapted by Jeffrey Hatcher from Nikolai Gogol
Mary Moody Northen Theatre
Thursdays-Sundays,
February 11 - February 21, 2016
All performances are at 7:30 p.m. Thursdays – Saturdays and 2 p.m. Sunday.
Mary Moody Northen Theatre is located at the St. Edward's University Campus along Campus drive. For a campus map, go to http://www.stedwards.edu/map/maincampus.
Tickets
WHERE: Mary Moody Northen Theatre
St. Edward's University
3001 S. Congress Avenue
Austin, TX 78704
Map: https://www.stedwards.edu/contact-us/main-campus-united-states
TICKETS: $24 Adult ($18 Students, Seniors, St. Edward's community)
MMNT Box Office: 512-448-8484
Online: www.stedwards.edu/theatre
Box Office Hours are 1-5 p.m. Monday- Friday
Student discount night February 12: $8 with Student ID