Aug. 12 - Sep. 10, 2016
Thursdays-Saturdays
In an isolated house, strangers Nat and Diane take shelter from relentless masses of attacking birds. They find relative sanctuary but not comfort or peace; there's no electricity, little food, and a nearby neighbor may still be alive and watching them. Another refugee, the young and attractive Julia, arrives with some news of the outside world, but her presence also brings discord. Their survival becomes even more doubtful when paranoia takes hold of the makeshift fortress—an internal threat to match that of the birds outside.
Poster photo by Cheri Hamilton.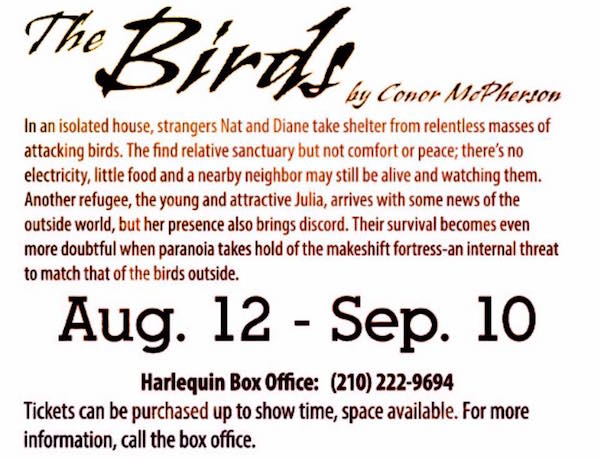 ---
The Birds
by Conor McPherson, after the Alfred Hitchcock film
The Harlequin
Thursdays-Saturdays,
August 12 - September 10, 2016
The Harlequin is proud to open its 42nd season with "The Birds" running August 12 - September 10th. For reservations call The Harlequin box office at 210-222-9694. Show is open to the public. Tickets $10-$22
Harlequin website (click here) or the Facebook community page (click here).