Sep. 09 - Sep. 25, 2016
Fridays-Sundays
Mix a Hitchcock masterpiece with a juicy spy novel, add a dash of Monty Python and you have The 39 Steps, a fast-paced whodunit for anyone who loves the magic of theatre.
This 2-time Tony and Drama Desk Award-winning treat is packed with nonstop laughs, over 150 zany characters (played by a cast of 4), an on-stage plane crash, handcuffs, missing fingers and some good old-fashioned romance.
In The 39 Steps, a man with a boring life meets a woman with a thick accent who says she's a spy. When he takes her home, she is murdered. Soon, a mysterious organization called "The 39 Steps" is hot on the man's trail in a nationwide manhunt that climaxes in a death-defying finale.
A riotous blend of virtuoso performances and wildly inventive stagecraft, The 39 Steps amounts to an unforgettable evening of pure pleasure.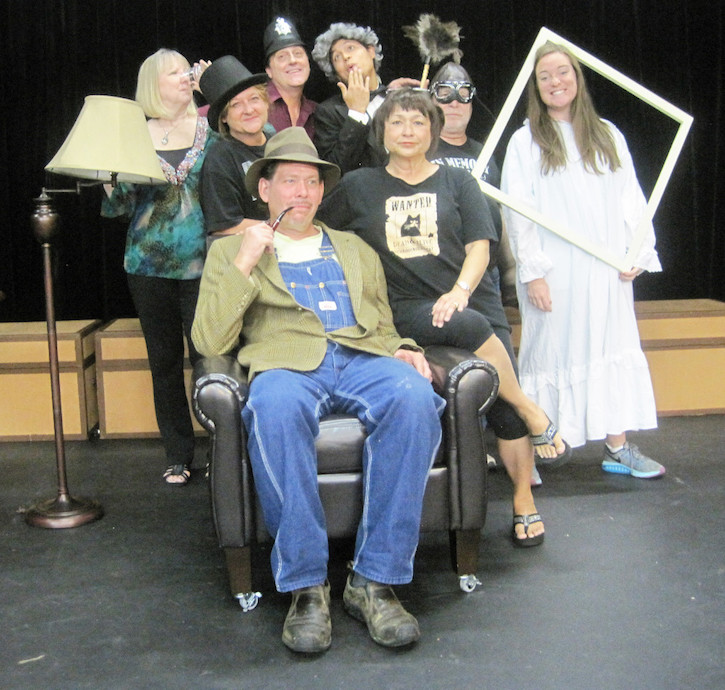 Cast/Crew: Allen Rudolph - Richard Hannay
Randee Lutterloh - Annabella/Margaret/Pamela
Dustin Lucas - Clown 1
Jeremy Carrizales - Clown 2
Patty Loftis - Director
Connie Clark - Assistant Director
Keisha McFerrin - Stage Manager
[image via Samuel French]
---
The 39 Steps
by John Buchan, adapted by Patrick Barlow
Boerne Community Theatre
Fridays-Sundays,
September 09 - September 25, 2016
Thursdays at 7:30 pm, Fridays & Saturdays at 8pm, Sundays at 2:30 pm
Tickets: Regular - $22, Senior (60+) - $20, Military/Student/TPR/SATCO/Teen Troupe - $15, Group (10+) -$20
Reserve online: www.boernetheatre.org