Apr. 25 - May. 09, 2015
Saturdays
Stellaluna the bat, Verdi the snake, and Pinduli the hyena all seek refreshment at a watering hole one hot day, only to find themselves the subjects of a bullying lion's ridicule. But by sharing stories about building self-confidence, these three misfit animals find wisdom, peace, and friendship. Based on the popular books by Janell Cannon, this delightful musical is a treat for both children and adults. (50-60 minutes)
Looking for a family-oriented live show about an hour in length, written and performed LIVE to keep the kids interested and to tackle the issue of 'bullying'? Great for kids and grandparents!! All this and on the Palace stage, too!! Don't miss the live performances of Stellaluna and Other Tales on the Palace's main stage! Performed and directed by professional paid actors and director.
Based upon the works by Janell Cannon
Book and Lyrics by Alyn Cardarelli, Music by Steve Goers, (50-60 minutes)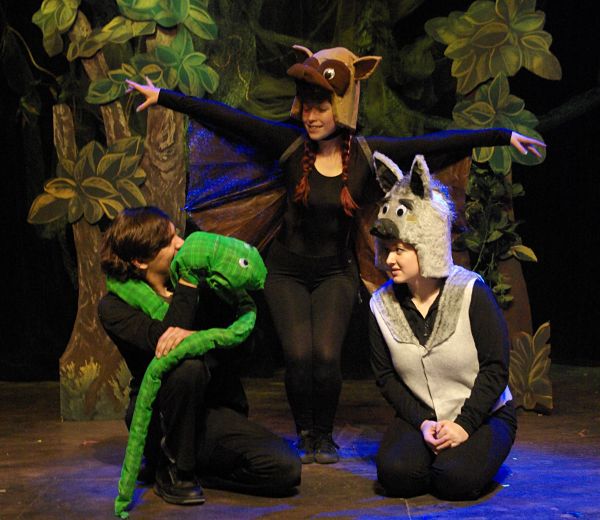 ---
Stellaluna and Other Tales
by Georgetown Palace
Georgetown Palace Theatre
Saturdays,
April 25 - May 09, 2015
presented during the week for schools; performances for families at 10 a.m. on Saturdays April 25, May 2 and May 9
Click HERE for Saturday tickets
Stellaluna runs on Saturday mornings at 10:00, May 2, 9 & 16. (50 to 60 minutes performance time) All tickets $10.
Content (GA): For general audiences. For any questions/clarifications, please email: education@georgetownpalace.com
To purchase tickets, click the BUY TICKETS button on the Theatre For Youth – Stellaluna – Page of the Website www.georgetownpalace.com
or call the Box Office at 512-869-7469.