Feb. 27 - Mar. 14, 2015

Our newest original creation uses visual storytelling and puppetry to tell of an Austin woman's aspirational entrepenurership in conflict with her maternal urges and the lessons she takes from a nesting bird on her porch as Austin's urban community converges on the natural world.
This new piece was workshopped as a ten-minute piece at the 2013 Austin Puppet Incident and was an audience favorite. Through improvisational rehearsal and storyboarding according to the Lecoq method of Physical Theatre, we will build this into a fifty-minute, "tourable" piece, with a two person cast (one puppeteer and one actor) and replicatable props.
Simple Sundries is an original theatrical performance from the award-winning, Austin-based company Glass Half Full Theatre. This new comedy featuring Glass Half Full's unique blend of puppetry and live performancecenters on a budding entrepreneur named Constance,recently arrived in Austin in search of a more Authentic Lifestyle. Her plans to open an extravagant sundries shop in East Austin are thwarted by the former residents of her recently flipped bungalow, namely a colony of monk parakeets who have other plans for their longtime home. A comic exploration of Austin's current economic explosion and what happens to those who were already here, using puppets and physical comedy.
Made for adult audiences, but ok for kids, too.
Click to go to 2-minute audio feature by Michael Lee for KUT-FM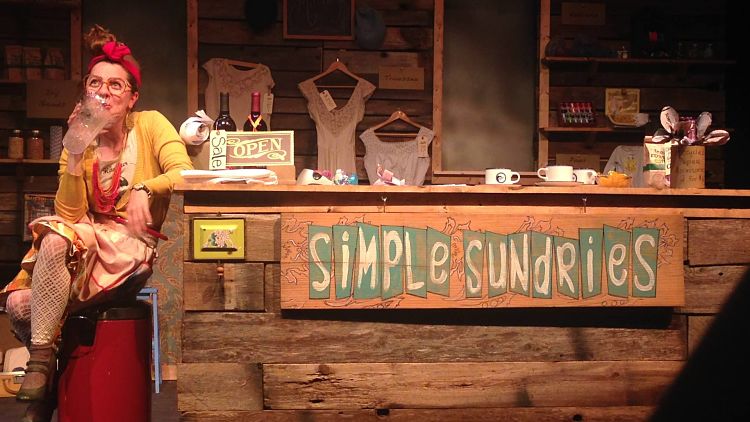 ---
Simple Sundries
by Caroline Reck and Parker Dority
Glass Half Full Theatre
February 27 - March 14, 2015
February 27 - March 14, 2015
Thursdays - Saturdays at 8 p.m., Sunday, March 8 at 6 p.m.
Tickets $16.82 via Eventvite