Mar. 25 - Apr. 16, 2016
Thursdays-Sundays
The VORTEX presents the world premiere musical Persephone by Mick D'arcy and Tyler Mabry. Opening Easter weekend at The VORTEX, this romantic comedy, directed by Matthew Patterson, presents a funny, modern, and refreshing look at an ancient tale.
As in the Greek myth, when Persephone disappears into the Underworld, her mother Demeter (Goddess of Earth and Grain) mourns and searches for her. Without the Goddess, a harsh Winter comes, and people begin to starve. Mick D'arcy has re-visioned Greek mythology with an inventive exploration of the relationship of Hades (Lord of the Underworld) and Persephone (Kore maiden and daughter of Demeter). Persephone transcends her former maiden role as she becomes Queen of the Underworld and connects with the souls of the dead. Tyler Mabry debuts his dynamic new score for Persephone with a live band. The music ranges from poignant to jaunty, haunting to celebratory. Persephone is reminiscent of the best of the American musical theatre canon.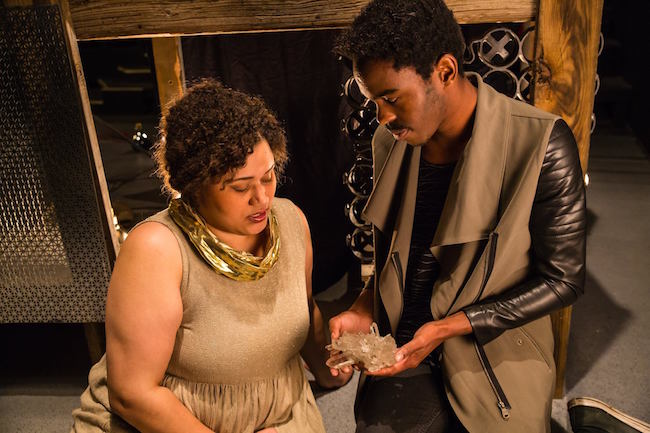 Archived Livestream footage available at http://bit.ly/1MNWgI8


Starring Chelsea Manasseri as Persephone, Amber Lackey as Demeter, and Gregory Driscoll as Hades. Featuring Justin LaVergne as Zeus, Gina Houston as Baubo, Lana Dietrich as Hecate, Eva McQuade as Hermes, Mackenzy Cade as Iacchus, Glen Fraser as Triptolymus, and Rachel Pallante as Metaneira. Also featuring Annie Kim Hedrick, Corinna Browning, Callie Jane Hacker, Jet Ryan, Michael Wheeler, and Kira Lumiel. The band: Tyler Mabry (piano), Stevie Trudell (Percussion), Charlie Tovar (violin, cello), and Josh Wallace (bass, guitar).

Book and Lyrics by Mick D'arcy. Music and Lyrics by Tyler Mabry.
Directed by Matthew Patterson. Choreography by Toni Bravo.

Scenic Design by Ann Marie Gordon. Lighting Design by Patrick Anthony. Costume Design by Talena Martinez. Sound Design by Adam Gunderson. Prop Design by Helen Parish. Stage Management by Tamara L. Farley. Production Management by Melinda Parr.
Managing Director Melissa Vogt. Producing Artistic Director Bonnie Cullum.

Feature by James Rodriguez in the Daily Texan, March 25, 2016
---
Persephone
by Mick D'Arcy, Tyler Mabry
Vortex Repertory Theatre
Thursdays-Sundays,
March 25 - April 16, 2016
Saturday, March 26-Saturday, April 16, 2016 8 pm
ASL-interpreted Saturday, April 2
Live-streaming on Howlround.com/tv March 27 (Easter) 8pm CST

at The VORTEX, 2307 Manor Rd. Austin, TX 78722
Free Parking. Bus Route.
The Butterfly Bar @ The VORTEX opens nightly at 5pm with full bar and hand-crafted cocktails.
Patrizi's @ The VORTEX opens nightly at 5pm with delicious homemade Italian food.

Tickets: $10-$30
$30 Priority (Seated first)
$20 General
$10 Discount (Seated last)
Limited Seating. Advanced Reservations Strongly Recommended.

Radical Rush Free Tickets:
Limited free tickets for each performance in the spirit of sustainability, accessibility, and the gift economy. Radical Rush tickets released at 7pm each night--in-person only.
2-for-1 admission Thursday and Sunday with donation of 2 cans for SafePlace
Click to purchase tickets on-line

www.vortexrep.org or 512-478-5282