Dec. 09 - Dec. 18, 2016
Fridays-Sundays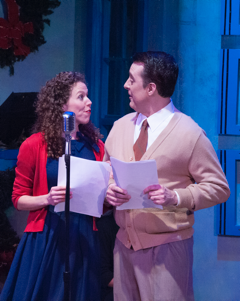 Guest artist Dawn Hahn directs the production. Cast in the show are Priscilla Castaneda as Lana Sherwood, Donna Jackson as Sally Applewhite, Jeff Jeffers as Freddie Filmore, William Joseph as Harry "Jazzbo" Heywood, and Steve Reily as Jake Laurents. John Phelps and Carol Ann Shepherd will serve as the Sound Effect Artists and perform several characters in the play. Young actresses Hailey Knudsen and Jenna Rickerhauser will portray several young characters and will also perform radio commercial as the Jingle Singer. Nancy Rickerhauser will be the keyboardist and also perform several characters in the radio play. The production is part of FTC's 20th anniversary season and will have nine performances onstage at the Steve W. Shepherd Theater, 1668 South US Hwy 87, Fredericksburg, TX, 78624.
It's a Wonderful Life: A Live Radio Play is a stage play adaptation of Frank Capra's film classic. At the time of the film's initial release, it was popular for films to be adapted and performed live on the radio in front of a studio audience. This adaptation is set at a live radio broadcast in the late 1940s, with five actors playing all of the characters. Live sound effects and period commercials will be used to enhance the production and follow traditions of the period. This play challenges five actors and two sound effect artists to perform this beautiful story. In addition, two "Jingle singers" will enhance the production by providing pre-show and intermission Christmas music. Commercial jingles will also be performed as part of the show.
The show is loosely based on the famous Lux Radio Theatre live radio broadcasts and the classic film It's A Wonderful Life. For many years during the heyday of radio Lux Radio Theatre, a long-run classic radio-anthology program, was broadcast on NBC and CBS Radio (1934-55). Initially, the series was broadcast from New York, adapting Broadway plays for two seasons before moving to the West Coast. The series then began to adapt films for the radio. These hour-long radio programs were performed live before studio audiences with musicians and sound effect artists. Lux Radio Theatre was easily the most popular dramatic anthology series on radio for more than 20 years. The series was so popular that it continued on television as the Lux Video Theatre through most of the 1950s.
The program had many hosts over the years, the most famous being film director Cecil B. DeMille, auteur of such classics as The Greatest Show On Earth and The Ten Commandments. DeMille hosted the program for nine years beginning in June of 1936.
Lux Radio Theatre strove to feature as many of the original stars of the film productions as possible, usually paying them $5,000 an appearance. Some of the great stars that performed on the program are James Cagney, John Wayne, Spencer Tracy, Katharine Hepburn, Laurence Olivier, Judy Garland, Frank Sinatra, Lauren Bacall, Humphrey Bogart, Rita Hayword, and Gene Kelly.
The first Lux film adaptation was The Legionnaire and the Lady, with Marlene Dietrich and Clark Gable. It was followed the next week by a Lux adaptation of The Thin Man, featuring the movie's stars, Myrna Loy and William Powell. On March 10, 1947, the film stars Jimmy Stewart, and Donna Reed performed on the Lux Radio Theater broadcast of It's A Wonderful Life, four months after the movie's release in theaters. Three days later the 19th Academy Awards were held in Los Angeles. It's A Wonderful Life was nominated for six Oscars, including Best Picture, Actor, and Director. It won only one award for technical achievement.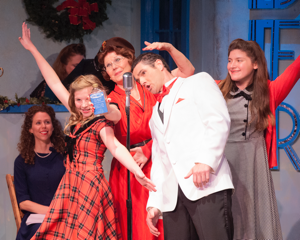 Not considered a "Christmas Movie," nor financially successful at the time of its release, It's A Wonderful Life became a staple on television during the holiday season. Seventy years later it is now one of the most beloved and admired movies of all time. The American Film Institute ranks It's A Wonderful Life as the eleventh greatest movie of all time, and the most inspiring film ever made.
According to director Dawn Hahn, "Our production of It's A Wonderful Life: A Live Radio Play hopes to recapture not only the spirit of the movie, but also the joy of a simpler time when families would gather around the radio, listen, and let their imaginations guide them through an adventure."
About the Fredericksburg Theater Company: The mission of the Fredericksburg Theater Company (FTC) is "to provide superior theatrical programs for regional participation which entertain, educate, enrich and inspire." Formed in 1997 by Jeryl Hoover, the theater has grown to an audience of over 10,000 annually. All performances are held at the Steve W. Shepherd Theater. FTC is a 501(c)3 non-profit organization. It has received statewide recognition from the Texas Nonprofit Theatres as well as grants from various arts endowment organizations.
Dawn Hahn directs this holiday treasure.

Priscilla Castaneda - Lana Sherwood, Violet and more

Donna Jackson - Sally Applewhite, Mary Bailey , and more

Jeff Jeffers - Freddie Filmore, Joseph and more

William Joseph - Harry "Jazzbo" Heywood, Clarence and more

Hailey Knudson - tapper and more

John Phelps - sound effect artist, Nick and more

Steve Reily - Jake Laurents, George Bailey and more

Jenna Rickerhauser - Jingle Singer, Janie and more

Nancy Martin Rickerhauser - keyboardist, board member and more

Carol Ann Shepherd - sound effect artist assistant, Rose Bailey and more
---
It's A Wonderful Life, a Live Radio Play
by Joe Landry
Fredericksburg Theater Company
Fridays-Sundays,
December 09 - December 18, 2016
Performances for It's A Wonderful Life: A Live Radio Play! will be December 9 through 18, Fridays and Saturdays at 7:30 p.m.; Sundays at 2:00 pm. Admission is $29 for adults, $12 for children 17 and under. Seating per show is limited to 250 persons. Tickets go on sale to the public November 28th and can be purchased online at www.fredericksburgtheater.org. Reservations can also be made at the box office, 830-997-3588. An answering machine will capture requests after hours. For more information or directions, visit the theater website at www.fredericksburgtheater.org.