Sep. 02 - Sep. 18, 2016
Fridays-Sundays
After Bert Cates teaches a class about evolution to his Sophomore class, he thrown in jail for breaking the law. This small town trial soon turns into a nationwide debate. This classic story is a powerful, must-see drama.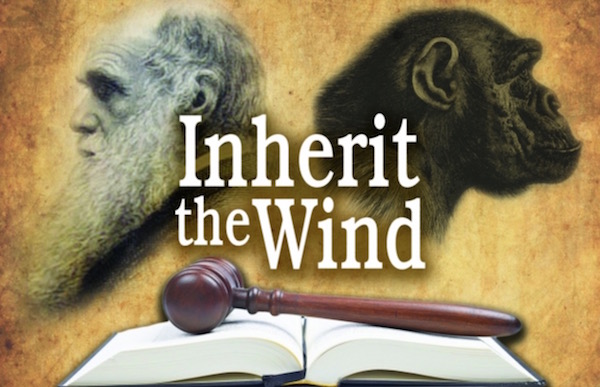 Henry Drummond – PATRICK RICCI
Matthew Harrison Brady – W. T. HENDERSON
E. K. Hornbeck – JOSEPH URICK
Bertram Cates – NICK IVONS
Rachel Brown – ERIN POLEWSKI
Rev. Brown – DAVID GIMINIANI
D. A. Davenport – GREG ALLEN
Mayor – DANIEL LAWSON
Meeker – CHRISTOPHER JOHNSON
Howard – TRISTAN VILLARREAL
Melinda – AMY WILLIAMS
Harold – DREW HEITMEYER
Judge – BOB LANDRUM
Mrs. Brady – CINDY RIFFE
Elijah – STEVE ZINKGRAF
Townsfolk – DUSTIN BENTON, AARON DYBALL, LAILA DYBALL, COURTNEY GREEN, HAILEY HEITMEYER, JENNIFER HEITMEYER, JULIETTE RIFFE, JAY SIKES, DAVID WILLIAMS, JANET WILLIAMS, LEXIE WILLIAMS, DARBY WIRT

Directed by: ROBERTA ELLIOTT
Inherit the Wind is a play by Jerome Lawrence and Robert Edwin Lee debuted in 1955. The story fictionalizes the 1925 Scopes "Monkey" Trial as a means to discuss the then-contemporary McCarthy trials. The debate over creationism versus evolution has contemporary resonance, as evidenced by the play's numerous revivals and screen adaptations decades after its initial theatrical run. -- Wikipedia
---
Inherit the Wind
by Jerome Lawrence and Robert Edwin Lee
Circle Arts Theatre
Fridays-Sundays,
September 02 - September 18, 2016
Fridays and Saturdays at 8 pm., Sundays at 2 p.m.
Tickets via www.circlearts.org
Individual Tickets:
Adult:$22.00
Seniors, Students & Military with ID – $20.00
Major Productions: Friday & Saturday at 8:00 pm; Sunday Matinees at 2:00 pm, Summer Musicals include Thursdays at 8 pm