Oct. 31, 2015
Saturday
The romance, the passion, and the fears of one of America's most distinguished writers are brought to life by actor Lucien Douglas in this dramatic presentation that includes performances of "The Tell-Tale Heart" and "The Raven."
Take a theatrical journey with one of America's most distinguished writers—the inventor of the detective story and the author of "The Raven" (recognized as the most popular poem in America). Poe had all the promise of becoming a wealthy Southern aristocrat, yet he threw it away to live a life of extreme poverty, haunted continually by a strange impending doom.
Why did he struggle with drink? Why did he marry his 14-year-old cousin? What fascinated him about the death of a beautiful woman? Why did he repeatedly risk his life, reputation, and reason? How did his mother influence his work?
The answers are in his stories and poems.
$25.00 Event Admission, Coffee & Desserts Bar
The admission price of $25 includes Chez Zee's signature desserts bar and coffee. Beer, wine and mixed drinks including the "Raventini" will be available for purchase at the cash bar.
A portion of the proceeds will benefit the University of Texas Department of Theatre and Dance Texas Talent Scholarship Campaign.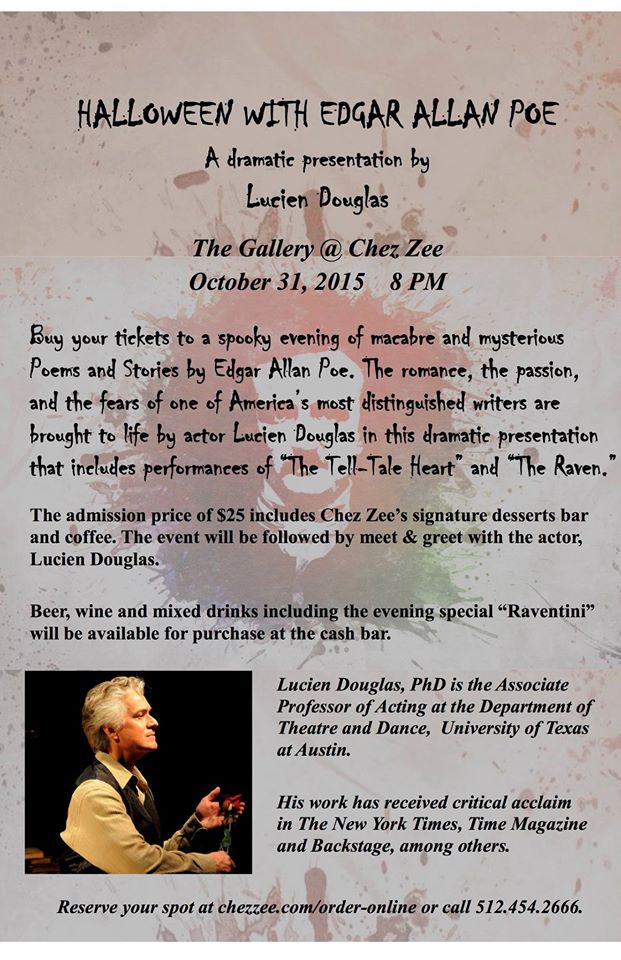 ---
Halloween with Edgar Alan Poe
by Lucien Douglas
University of Texas Theatre & Dance
Saturday,
October 31, 2015
Chez Zee, Halloween October 31, 2015. 8:00pm.
Reserve Now Call (512) 450-2621 or order online (click here).