Nov. 12 - Nov. 14, 2015
Thursday-Saturday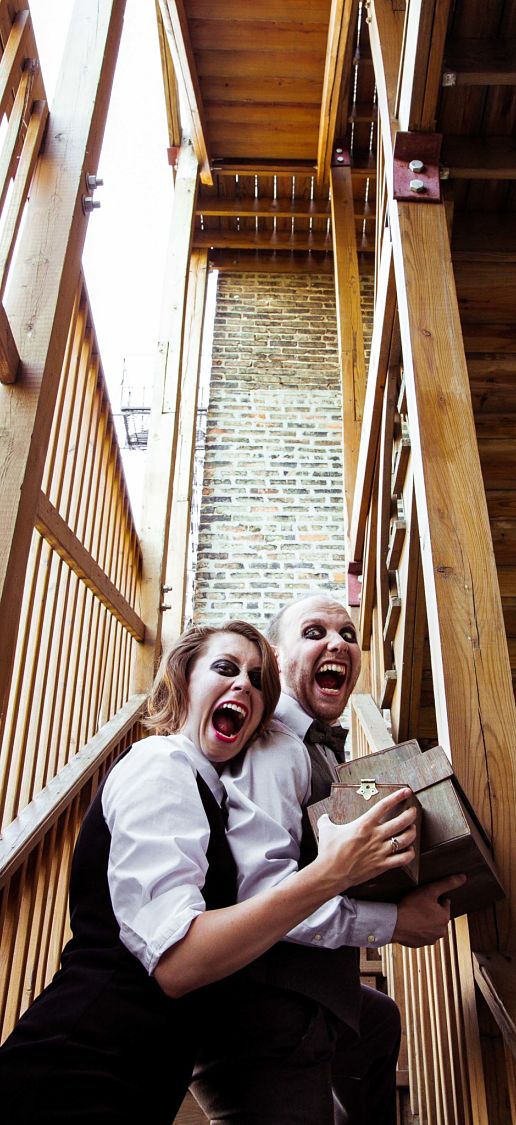 Tim Burton meets Edward Gorey in this immersive theatrical experience where the orphans are running the orphanage.
Rowena and Thaddeus, the two eldest orphans, have taken over Gashlycrumb Orphanage following the mysterious and sudden disappearance of headmistress Mrs. Gintz. As we, the audience-cum-orphans learn, Mrs. Gintz has lied to us about our given names and respectable origins. Only Rowena and Thaddeus know the true story behind the fateful night we each arrived at the orphanage, and only they can help us to uncover the truth.
Gashlycrumb Orphanage examines identity and origin through a range of storytelling styles, including dance, toy theater, and original music.
The Overtime Theatre has opened its doors to host Scott Ray Merchant and Michele Stine; the traveling troupe of two, in their quest to reinvigorate the lost art of the independent touring theatre artist. For one weekend in November, Overtime and A.O. join forces to bring San Antonio this piece of original Chicago Theatre in its Southern premiere.
A.O. The Traveling Trunk Show is a compilation and collaboration with Chicago artists touring across the United States showcasing the values of what makes Chicago Theatre great: raw, honest storytelling carried out with bare bones materials and executed with painstaking care. Theatre-creators Scott Ray Merchant and Michele Stine utilize a rotating repertory of five unique performances, customizable to nearly any venue.
To learn more visit www.aothetrunkshow.com, or call us at 309-798-6834.
[poster photo by Anastasia Page)
---
Gashlycrumb Orphanage
by Scott Merchant and Michelle Stine
A.O. the Traveling Trunk Show
Thursday-Saturday,
November 12 - November 14, 2015
The Overtime Theatre presents A.O. The Traveling Trunk Show's production of "Gashlycrumb Orphanage," originally conceived by Jeff Trainor and Lacy Katherine Campbell, performed by Scott Ray Merchant and Michele Stine
Thursday 11/12 at 8:00 pm
Friday 11/13 at 8:00 pm and 10:30pm
Saturday 11/14 at 10:30 pm
$8 | Approx. 50 minutes
Tickets available via

1203 Camden St., San Antonio, TX, 78215