FronteraFest Short Fringe 2017
by FronteraFest
Jan. 25, 2017
Wednesday
Your Neighborhood Association, by Max Langert (ScriptWorks Commission).
Ripped from the headlines of your local Listserv. Hope you've paid your dues.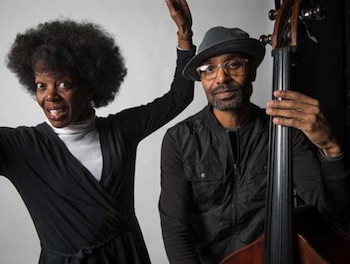 Blue Spiral
, by Nadine Mozon.
Girlhood song lodged in grown woman's psyche gives rise to a chorus of events between the notes. Coming of Age reflection on the "Officer Friendly" song and . . . The what? . . . What went wrong? What is learned by rote leaves a lifetime and history to dissect. A blue-black upward spiral; upheaval gone viral; progress, lament unwrapped, celebration . . . Ascent . . . Performed by Nadine Mozon with Michael Steven on bass.

Souvenirs From Tomorrow, by Kirk German, developed by Kirk German and Heather Huggins.
Whose stories are retold, and whose stories are forgotten? In 1939, New York hosted an enormous World's Fair in Flushing, Queens, which promised a dazzling glimpse at "The World of Tomorrow" -- but for the city's immigrant pushcart peddlers, the promise was a broken one.

SheSheSheShe, by SheSheSheShe.
SheSheSheShe is an all-female-all-the-time improv troupe hailing from Austin, TX. Creating comedy gold from thin air for captivated audiences, these ladies can be found laugh-crying to old episodes of 30 Rock and drinking copious amounts of wine on any given night. Think women aren't funny? Try us.

Freesome, by Greg Castillo.
The play deals with two friends who encounter conflict with their personal ideological differences through an awkward sexual encounter. Dark humor.
Performances at Hyde Park Theatre.
Map
---
FronteraFest Short Fringe 2017
by various
FronteraFest
Wednesday,
January 25, 2017
Tickets $17.81 via www.hydeparktheatre.org.
Start time is 8 p.m.