Sep. 08 - Sep. 25, 2016
Thursdays-Sundays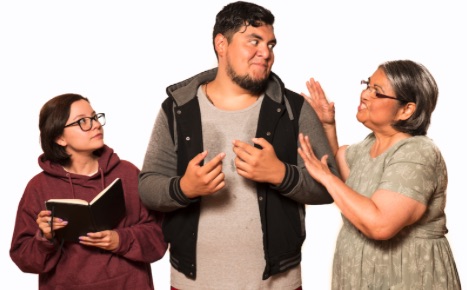 Teatro Vivo is thrilled to present EL, a new play by Raul Garza, directed by Christina J. Moore. Through humor, sadness, and strong allusions to Latino culture, EL takes us through the hardships of a family, as well as their individual struggles and desires.
Emi just wants to be a writer - a writer who tells truths, shatters myths, and rips the lid off her immigrant family's generations-old secrets. Stifled by an overprotective Mom, Clara, and an underproductive brother, Gus, Emi dreams of escaping the confines of the familys crowded brownstone in Logan Square.

A daring relationship with an exotically-stable intellectual, who steps gracefully off the nearby El Train and into her life, ignites Emi's artistic passion. She revels in the success of a revealing but unflattering short story based on her family, even at the cost of her most treasured relationships. Meanwhile, Gus confronts his own demons with the aid of a metaphysical cow head, and Clara reluctantly searches for fulfillment in her adopted homeland.

"El" depicts the human cost of telling our realities, all the while asking, What makes a story matter? and Whose story is it?



a new play by Raul Garza
Directed by Christina J. Moore
with
Gricelda Silva, Jesus Valles, Mary Alice Carnes, Rupert Reyes,
Roxy Becker, and Nate Dunaway.


---
El
by Raul Garza
Teatro Vivo
Thursdays-Sundays,
September 08 - September 25, 2016
Thursdays - Saturdays at 8 p.m., Sundays at 2 p.m.
Emma S. Barrientos Mexican-American Cultural Center, 600 River Street, Austin.
Tickets $20 and $25 (VIP) plus service fees via

Free parking available to theatre goers.
*Thursday tickets are always donation based
"pay what you wish"
at the theatre box office only starting at 7 pm*