Dec. 02 - Dec. 18, 2016
Fridays-Sundays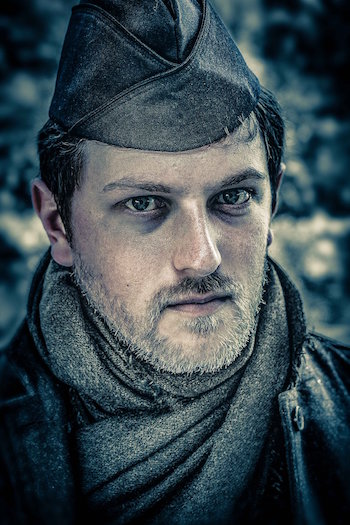 In 1914, at the Western Front, out of the violence comes a silence, then a song. A German soldier steps into No Man's Land singing "Stille Nacht." Thus begins an extraordinary night of camaraderie, music, and peace.
We are pleased and proud to present our upcoming holiday show, All is Calm: The Christmas Eve Truce of 1914. This acapella musical highlights the beauty and power of the human spirit during our darkest days. It does so through the songs and sounds of the era along with the written words of the men that survived the horror.
On stage and in the portraits, the cast members do not strive to represent any particular soldier or nationality. Instead, in keeping with the theme of a shared humanity, the actors switch from representing a British soldier, and in the next scene may read the poetry of a Welshman and then recount the words of a German soldier in the next.
The portraits were designed to be dark and foreboding yet can't possibly capture the intensity of life in the trenches. Our aim was to have the actors attempt to tell a soldier's story simply through their gaze.
The cast includes:
Eric Buchaus, Kevin Collins, Lee Cusenbary, Aaron Ely, David Fenrich, Kyle Krambeck, David Nanny, Robert Nauman, Nicholas Ponting, Travis Trevino, John Towry, Robby Vance, and Grantham Woods
Co-Directed by George Green and Bill Gundry with Music Direction by Nicholas Ponting, All is Calm: The Christmas Eve Truce of 1914 runs Dec 2-18 in the Russell Hill Rogers Theater at The Playhouse San Antonio.
On Dec 17, Join us for a specia l double feature of All is Calm and A Marcsmen Christmas. All is Calm will begin at 7:00 and A Marcsmen Christmas will begin at 8:30. Purchasing a ticket to this event allows entry to BOTH performances.
Click for feature by Deborah Martin at the San Antonio Express-News, November 29, 2016
---
All Is Calm
by Peter Rothstein, musical arrangements by Erick Lichte and Timothy C. Takach
Playhouse San Antonio
Fridays-Sundays,
December 02 - December 18, 2016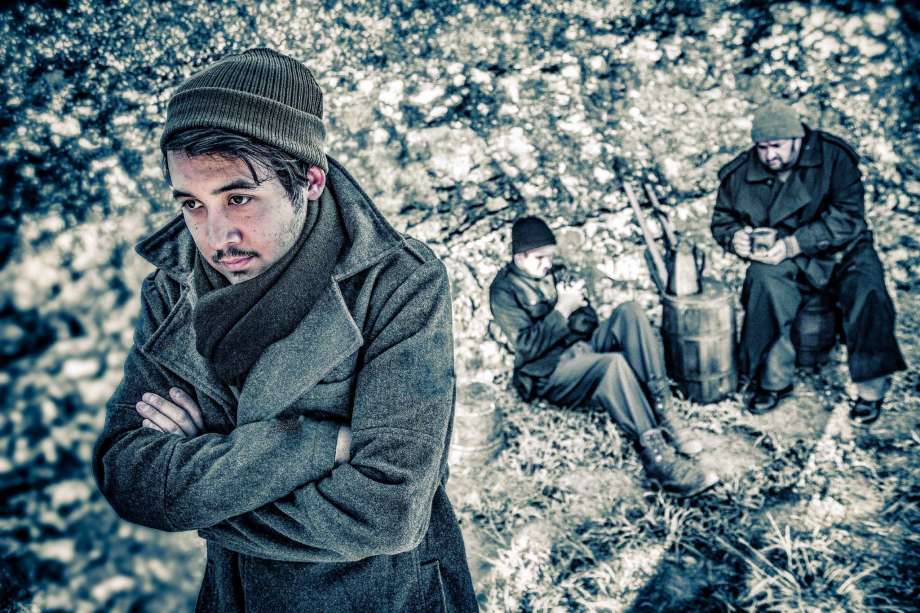 Performances Fridays and Saturdays at 8 p.m., Sundays at 3 p.m.
Box Office Hours
Tuesday-Friday, 1 pm - 5 pm
Phone: 210-733-7258
For tickets and more information, visit the All is Calm page on The Playhouse News at theplayhousesanews.org/all­is­calm .
210.733.7258 or ThePlayhouseSA.org
TICKETS: $12 to $42
DISCOUNTS:
Audiences 12 and under may purchase tickets at $12.
Military members (W/ID) may purchase tickets for $23.
Seniors age 60 and older may purchase tickets for $23.
Students (w/ID) may purchase tickets for $15
Group Rates 10 or more are available. Contact the Box Office at 210.733.7258
Additional Ticket Service fees may apply