Oct. 25 - Nov. 26
Wednesdays-Sundays
Everyone who ever died is still here, just in a different part of here. Linda can communicate with them. And if you believe, she can make you hear them, too — in the thin place, the fragile boundary between our world and the other one. With acuity and relentless curiosity, Lucas Hnath's play transforms the theater into an intimate séance, crafting an unnerving testament to the power of the mind, which has a mind of its own.
Directed by Richard Robichaux
Audience members are engaged in the storytelling, as ZACH takes a fresh approach to familiar work.
Joni Lorraine's review for Austin.BroadwayWorld.com, November 15, 2023
Richard Whittaker's review for the Austin Chronicle, November 15, 3034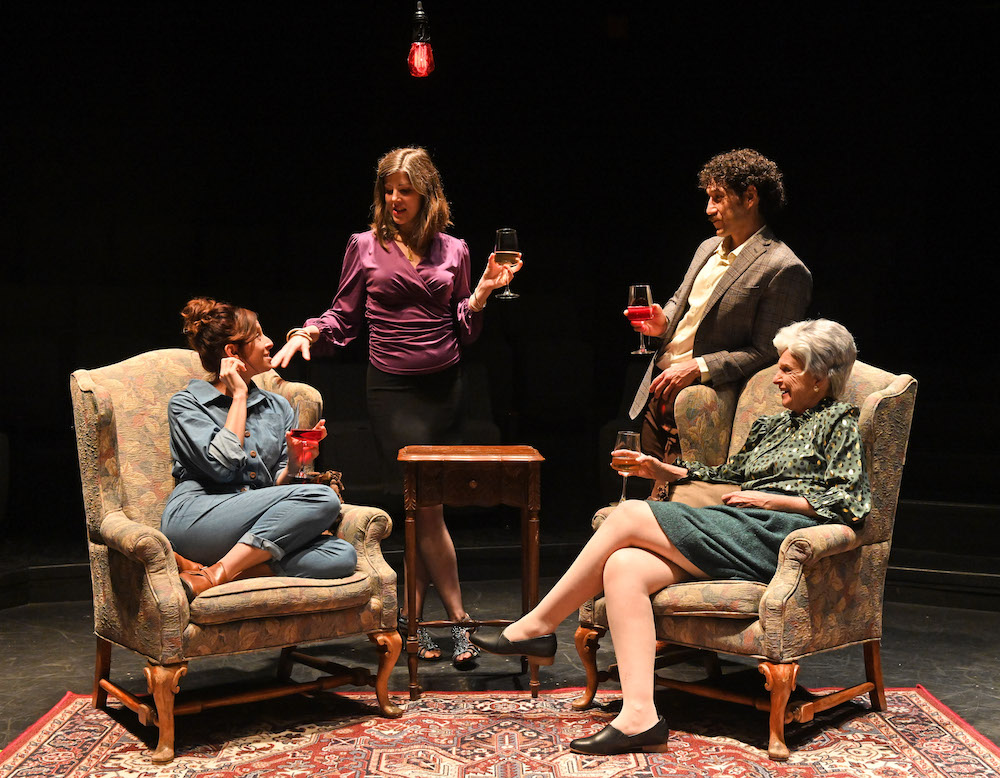 "After working on-screen for years around the country, I recently moved back home to Austin and it's thrilling to be behind the scenes crafting a theatrical experience unlike anything you've ever seen. It's been 10 years since I last directed ZACH and to return with a play so filled with surprises has been a wonderful welcome home for me," said director RichardRobichaux. "The Thin Place is unlike any play I have ever worked on. It has this spine-tingling engagement with the audience that will have people talking for hours and days after the curtain falls. This is a play you don't just see – you feel this play as it unfolds and happens to you. Even as the film industry struggles through a long labor strike and the big streaming services are struggling, this play reminds us why theatre has and will outlive all other mediums."
Casting for The Thin Place includes Elise Ogden as Linda, Katerina Pappacostas as Hilda, Fernando Rivera as Jerry,and Danielle Bondurant as Sylvia.
The Thin Place is directed by Richard Robichaux. Additional production team includes Rosalind Faires as Assistant Director, Natalie Griffith Robichaux as Diction Coch, Iakov Doumanoff as Scenic & Properties Designer; Kristen Knipp as Costume Designer; Jacob Zamarripa as Lighting Designer; Eliot Haynes as Sound Designer; Robert Tolaro as Stage Manager; and Casey Boriskie as Assistant Stage Manager.
Special Events in celebration of The Thin Place:
Pay What You Will Week – Wednesday, October 25 through Sunday, October 29, 2023
Pride Night – Thursday, October 26, 2023 at 7:30pm
Champagne Opening Night – Thursday, November 2, 2023 at 7:30p
ASL performance on Saturday, November 4, 2023 at 2:30pm
---
The Thin Place
by Lucas Hnath
Zach Theatre
Wednesdays-Sundays,
October 25 - November 26, 2023
October 25 - November 26, 2023
Wednesdays through Saturdays at 7:30 pm
Saturdays and Sundays at 2:30 pm
ZACH360 in The Kleberg at ZACH Theatre
1421 W Riverside Dr, Austin, TX 78704

Runtime: 90 minutes (no intermission)12 and up (for language and subject matter)

Ticketing Information:$28 - $84 (click HERE)