The Girl who Became Legend
by Zach Theatre
Sep. 20 - Oct. 01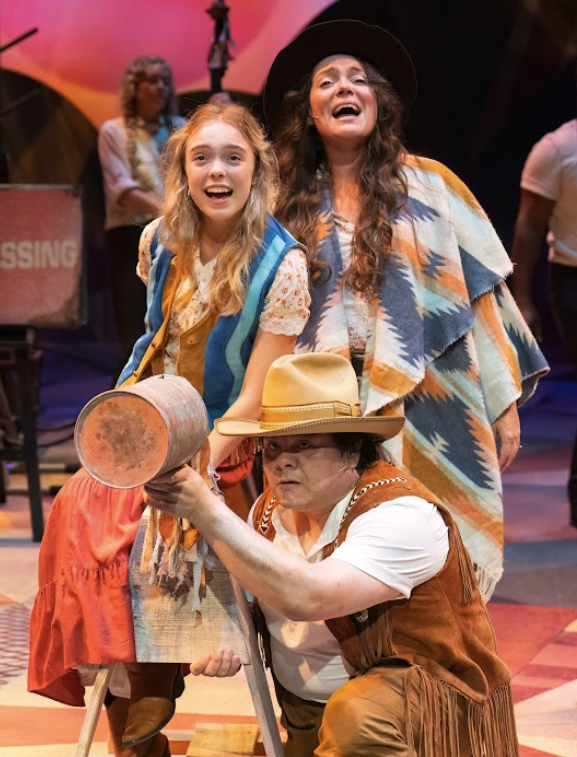 The town of Dustbin is known for two things: rules and dust, the kind you get when it doesn't rain for years and years. One day, Raina spies a cloud in the sky but no one believes her. She sets out on a great adventure to bring the cloud back home. Along the way, she meets outlaws like Calamity Jane, Paul Bunyan, and Johnny Apple Seed as she wrangles a thunderstorm. The Girl Who Became Legend will premiere at ZACH this fall before heading to the Kennedy Center in February 2024. Not to be missed!
Written by Sarah Saltwick
Directed by Liz Fisher
Music by Helyn Rain, Amber Quick, and Paul Sanchez
Grades 1+
Review by Joni Lorraine for Austin Broadway World, September 21, 2023
Review by Bob Abelman for the Austin Chronicle, September 22, 2023
Curricular connections: Language Arts: Folk Tales, Legends, and Tall Tales; Theatre; Music. Social Emotional Learning (Friendship, Acceptance)
ZACH Theatre announces cast and creatives for the World Premiere of The Girl Who Became Legend co-commissioned and co-produced with the John F. Kennedy Center for the Performing Arts. With a book and lyrics by Sarah Saltwick; music and additional lyrics by Helyn Rain Messenger, Amber Quick and Paul Sanchez with direction by Liz Fisher, this new musical is a modern-day feminist folktale journey to bring rain to the town of Dustbin. The Girl Who Became Legend will play September 15-October 1, 2023 at The Kleberg at ZACH before playing the Kennedy Center in February 2024.
Co-commissioned and co-produced with the Kennedy Center, The Girl Who Became Legend first workshopped at ZACH in 2022 and will come to life for 2023-24 Season before heading to the Kennedy Center in February 2024. In the town of Dustbin, where rules and dust prevail, Riana embarks on a daring quest to bring a cloud back home after years of drought. Join her on her extraordinary adventure filled with outlaws, folk heroes, and a thunderstorm.
"I am very excited about this partnership with the Kennedy Center to foster new work for young audiences. I first came to local playwright Sarah Saltwick with the idea of creating an epic Americana folktale that explores the hero's journey with a female protagonist," said ZACH's Director of Youth Programming Nat Miller. "We then submitted the play to the Kennedy Center in DC as part of their New Visions/New Voices festival which led to them commissioning this production. They also funded a year-long development of the script and music with the cast. It is a rare model to create something this collaborative and all that hard work has paid off in an exciting piece of musical theatre. I am extremely grateful for this partnership and the kind of opportunities it creates to make work locally that has a life beyond Austin, especially with such an established organization that has done so much for the field!"
Casting includes Blakeny Mahlstedt and Lila Gonzalez as Actor 1, Amber Quick as Actor 2, Paul Sanchez as Actor 3, Helyn Rain Messenger as Actor 4, Jeremy Rashad Brown as Actor 5, and Nathan Daniel Ford as Musician.
"Partnering with ZACH Theatre on this project has been a joy. We are giant fans of Sarah Saltwick's work and have loved helping to develop The Girl Who Became Legend from afar, celebrating Sarah and her creative collaborators as they move toward this Fall's world premiere in Austin," said David Kirkpatrick, the Kennedy Center's Senior Director, Education Programs and Productions. "The Kennedy Center has a long history of commissioning and developing new onstage work for young audiences, and we are proud to have a small part in the creation of this new musical. We're even more thrilled that DC-area school and family audiences will benefit from the partnership, when ZACH's production of the show tours to our Family Theater in January."
The Girl Who Became Legend is directed by Liz Fisher. Additional production team includes Lisa Laratta as Scenic & Properties Designer; Aaron Flynn as Costume Designer; Kristin Knipp as Costume Coordinator; Rachel Atkinson as Lighting Designer; Kellie Baldwin as Sound Designer; Brennah Galvan as Stage Manager; Kelsey Nelson as Assistant Stage Manager; and Devon Muko as Takeover Stage Manager.
---
The Girl who Became Legend
by Sarah Saltwick, Nat Miller
Zach Theatre
September 20 - October 01, 2023
September 15 – October 1, 2023
The Kleberg at ZACH | 1421 W Riverside Dr | Austin, TX | 78704
Tickets: Start at $16 available at ZACH's Box Office – 512-476-0541 x1, zachtheatre.org
Special Events in celebration of The Girl Who Became Legend:
Opening Night – Friday, September 15, 2023 at 7:00pm
Pay What You Will Week – Friday, September 15 through Sunday, September 17, 2023
Press Night – Saturday, September 16, 2023 at 7:00pm; Press may RSVP to nicole.shiro@motleycrewmedia.com
ASL/Open Captioned performance on Sunday, September 24, 2023 at 2:00pm.