Aug. 04 - Aug. 20, 2022
Thursdays-Sundays
Get your deerstalker cap on — the play's afoot!
From multi-award-winning playwright Ken Ludwig comes a fast-paced adventure about everyone's favorite detective solving his most notorious case. Sherlock Holmes and Dr. Watson must crack the mystery of "The Hound of the Baskervilles" before a family curse dooms its newest heir.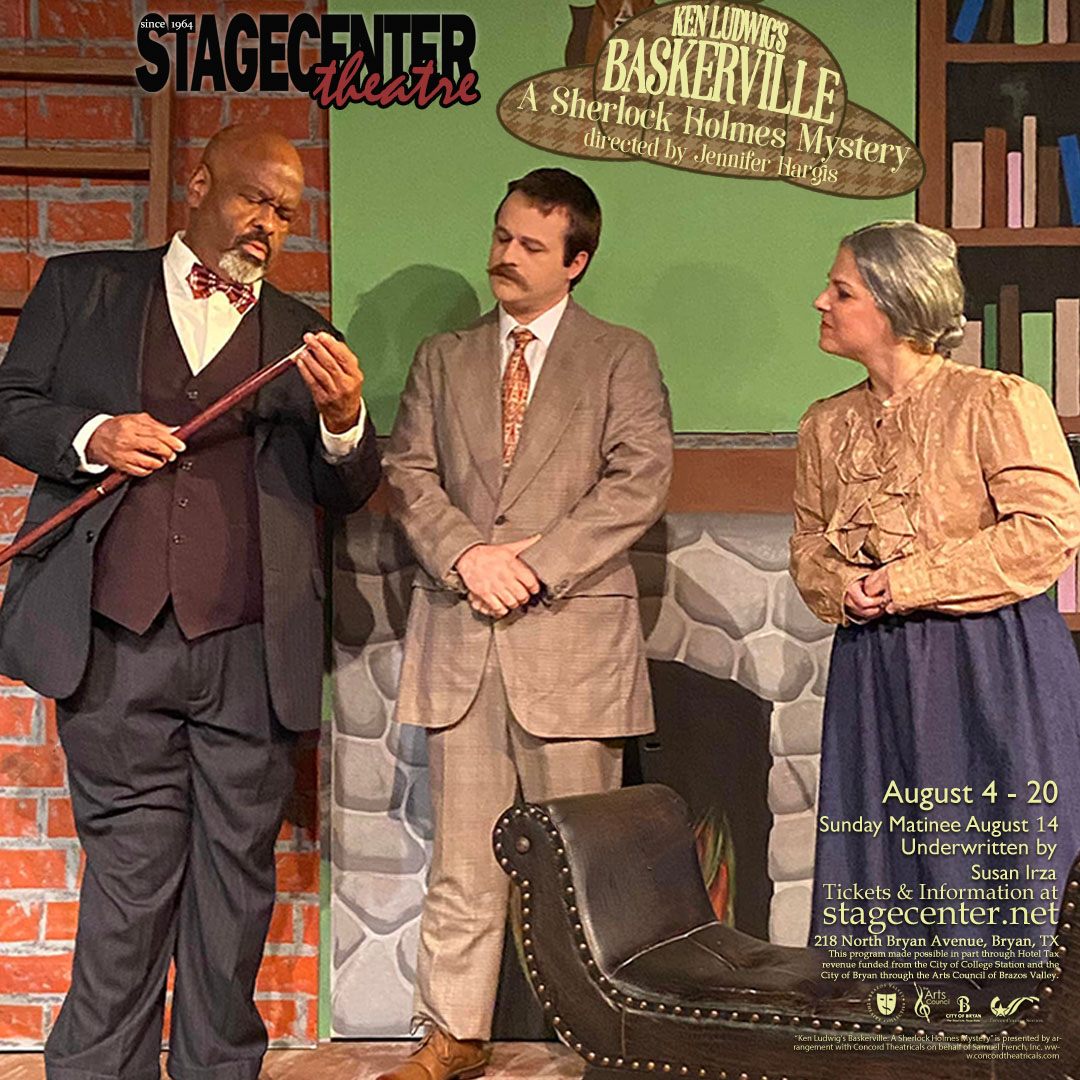 Watch as our intrepid investigators try to escape a dizzying web of clues, silly accents, disguises and deceit as five actors deftly portray more than 40 characters. Does a wild hellhound prowl the moors of Devonshire? Can our heroes discover the truth in time?

Join the fun and see how far from elementary the truth can be.
---
Baskerville
by Ken Ludwig
StageCenter Community Theatre
Thursdays-Sundays,
August 04 - August 20, 2022
August 4 - 20, 2022
Thursdays - Saturdays, Sunday afternoon matinee on August 14
StageCenter Theatre, 218 N. Bryan Avenue, Bryan, TX
Tickets $15, seniors/students $12, plus service fee
Click Here to Purchase Tickets Online
You can choose to purchase your tickets online. To expedite your show admission, be sure to print your ticket. Skip the Box Office, get your ticket scanned, and find your seat. There is a small processing charge, but this is the option that StageCenter highly recommends to guarantee your ticket!Our evening performances begin promptly at 7:30 pm and matinees start at 2 pm. The theatre lobby opens 30 minutes before the performance. We ask our patrons to arrive at least fifteen minutes before curtain goes up. If we sell out and you have not arrived by 5 minutes before the show starts, your ticket will be resold. Because it can ruin the experience for others, patrons will not be seated after 7:40pm for evening performances and 2:10 for matinees.

In the event that we sell out, we can add your name to a wait list if you come in person to our box office. After 7:25, if we have any empty seats, we will start selling tickets for them. We cannot guarantee your party will be seated together.


While we no longer require them, StageCenter Theatre encourages all patrons to wear face masks when coming to view our productions.

Please do not attend if you are feeling sick.