The Very Hungry Caterpillar
by touring company
Jul. 09 - Aug. 18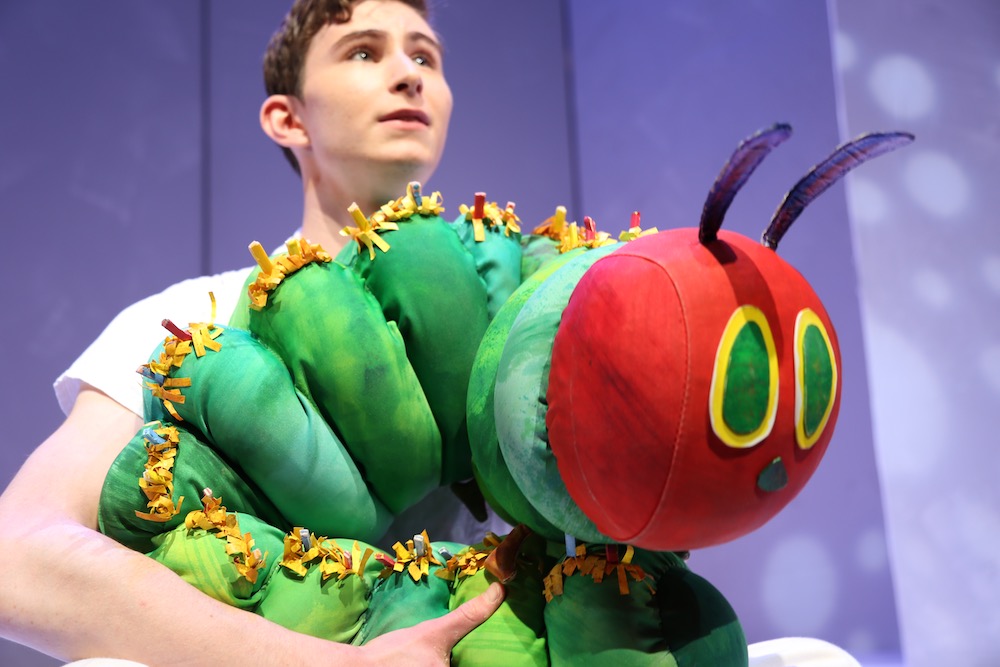 From the creator of the global sensation, The Very Hungry Caterpillar Show, comes The Very Hungry Caterpillar Show Experience, now at Magik Theatre! The production faithfully adapts four stories by author/illustrator Eric Carle: The Very Lonely Firefly, The Artist Who Painted A Blue Horse, Mister Seahorse, and of course, the star of the show – The Very Hungry Caterpillar.
Created by Jonathan Rockefeller, it has been performed over 2,000 times worldwide including sold out shows in Australia, New York, United Kingdom, Dubai, New Zealand, Canada, Belgium, Luxemburg, Netherlands.
Families will see Eric Carle's beautifully imaginative stories come to life at this special event, featuring a variety of enchanting puppets and special audience participation elements.
"After 2,000 plus shows worldwide, the response to The Very Hungry Caterpillar Show has been incredible and has exceeded our expectations. We are thrilled that so many children are experiencing the magic of theatre for the very first time – with a character they all grew up with." Creator/director - Jonathan Rockefeller
Cast and Crew
The Very Hungry Caterpillar Show includes performances by Alaia Brown (Puppeteer), Nicholas Carpenter (Puppeteer), Carrie Daniels (Puppeteer), Austin Thompson (Puppeteer), and Venny Mortimer (Understudy).
The production team includes Michelle Pietri (Director), Katrin Ludwig (Puppet Choreographer), Rebecca J. Simons (Interim Director of Production), and Pat Smith (Technical Director).
---
The Very Hungry Caterpillar
by Jonathan Rockefeller's adaptation of Eric Carle's story
touring company
July 09 - August 18, 2022
The Very Hungry Caterpillar Show will play from July 9 – August 7, 2022.
Tickets are $20 - $25. Recommended for ages 3 +
Tickets available at: magiktheatre.org/the-very-hungry-caterpillar/ or at (210) 227-2751.
Special performances include:
American Sign Language Interpreted Performance:
· Saturday, August 6 at 2:00 pm
Robert Cardoza, the San Antonio theatre community's primary sign language interpreter, will be available during this performance for patrons that require ASL as their primary form of communication.
Sensory-Friendly Performance:
· Saturday, July 23 at 10:30 am
Sensory-friendly performances are designed to create a welcoming environment for people who are on the autism spectrum or may have sensory sensitivities.
The integrity of the performance remains the same, while production elements are modified to accommodate individuals with sensory needs allowing families and friends of those with autism or other disabilities the opportunity to enjoy an authentic performance experience together.

Pay What You Wish Performances:
· Friday, July 15 at 2 pm & Friday, August 5 at 2 pm
Our way of giving back to the community and providing an opportunity for families to experience live theatre with a donation of any amount.
To view Health & Safety Protocols, visit https://www.magiktheatre.org/covid-19-updates/
MASK REQUIRED PERFORMANCES
· Tuesday, July 12 at 10:30 am
· Saturday, July 20 at 2:00 pm
· Sunday, August 7 at 3:00 pm
Stay connected! @TheMagikTheatre
MAGIK THEATRE
A professional theatre for young audiences established in 1994, Magik Theatre's mission is to use the power of theatre to create Magikal storytelling for children that Activates imagination, Grows young minds, and Inspires creativity and a love of learning that is the Key to a more literate future for our community.