Jul. 08 - Jul. 23

A choreopoem told with humor, dance, and music, Tales of a Blerd Ballerina centers the Blerd (Black Nerd) superhero delving into cultural pride and yearning in a world that often limits Black identity. This dynamic new theatrical work weaves concepts from the Afro-Diaspora and style of Jazz Aesthetics into stories of growing up as a Blerd child of the 90's. We join together in Six Square Austin's Black Cultural Arts District on The Eloise Stage at The VORTEX.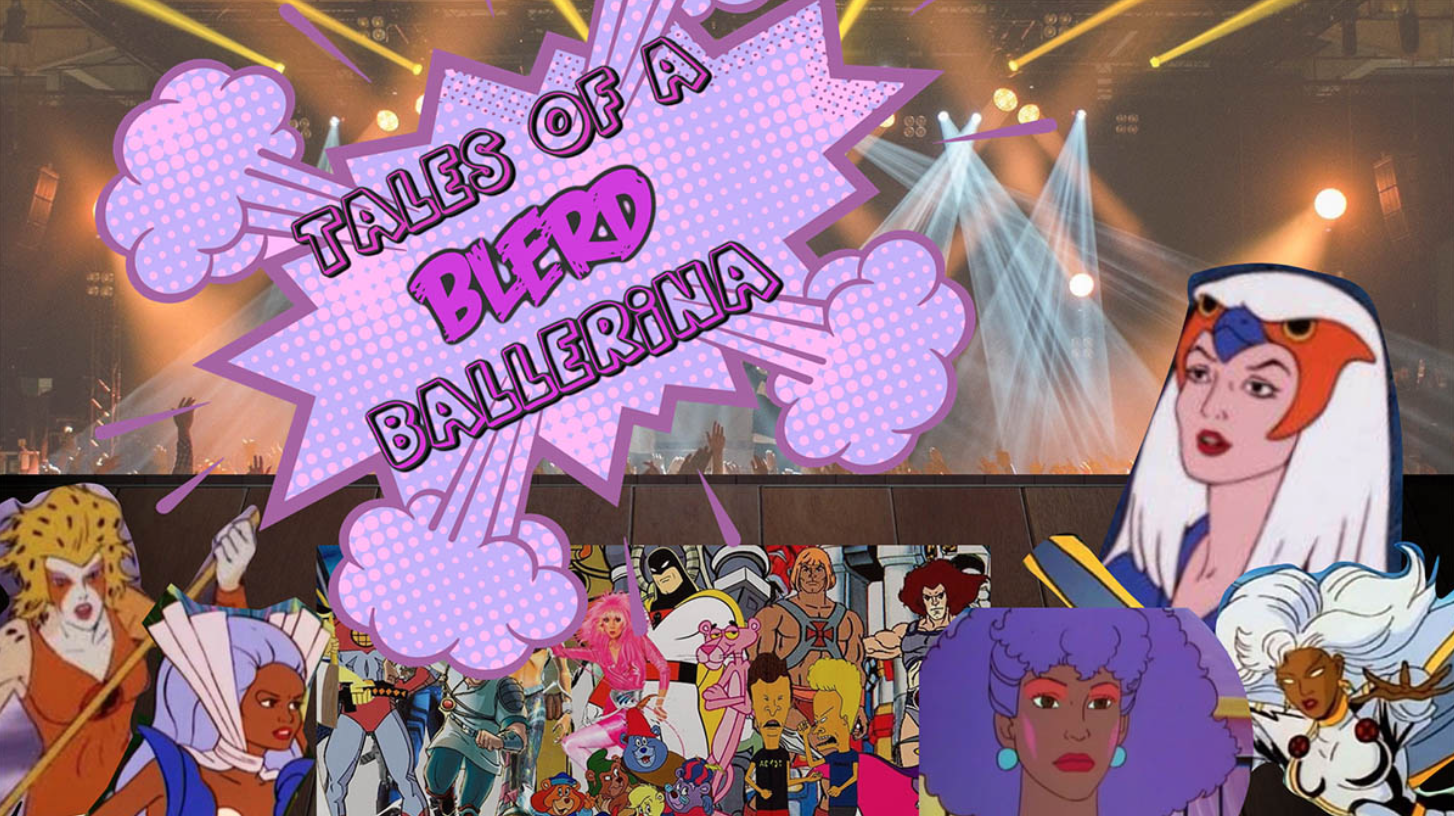 Written and performed by Valoneecia Tolbert
Directed by Florinda Bryant
Presented by The VORTEX
Tales of a Blerd Ballerina was developed in 2020 with Performance Platform Austin and also received support from ScriptWorks Revision Resource funding. Find more information about ScriptWorks at www.scriptworks.org. The National New Play Network awarded this piece with a Bridge Grant, not only funding the live and virtual development of this new play at The VORTEX in April 2021, but also providing a national cohort for Valoneecia Tolbert and The VORTEX. Nnpn.org.
---
ABOUT THE ARTIST: Valoneecia Tolbert has been honing her skills as a playwright during the pandemic, with the dramaturgical support of Florinda Bryant and the mentorship of Sarah Saltwick (MFA Playwriting, Michener Fellow, UT Austin) and Performance Platform Austin. She has extensive professional experience as an actor and voice-over artist. She received a B. Iden Payne Award for her performance in the VORTEX Virtual series, The CoviDecameron- Life Reloaded, directed by Rudy Ramirez. In February 2020, she starred in Lisa B. Thompson's Single Black Female, directed by Matrex Kilgore and produced by Ground Floor Theatre. Other notable roles include Lisa B. Thompson's world premiere of The Mamalogues at The VORTEX; Hellena in Hidden Room's The Rover, directed by Beth Burns; Actor #6 in We Are Proud… by Jackie Sibblies Drury, directed by Liz Fisher; Marianne Angel in Shrewd Productions' The Revolutionists, directed by Rudy Ramirez. She is a company member of Hidden Room Theater, The VORTEX, Shrewd Productions, and Ashé Arts. Valoneecia is an Austin homegrown stage, film and voice actor with a BFA from Texas State University. She is represented by Collier Talent Agency.
ABOUT THE DIRECTOR: Florinda Bryant is an award-winning interdisciplinary artist, activist, and educator – a Texas gurl who calls Austin home. As a performer and director, she has worked with Salvage Vanguard Theater, the Rude Mechs, The VORTEX, Paper Chairs, Theatre en Bloc, and Teatro Vivo in Austin and the Ensemble Theater in Houston. Having trained for over 20 years in performance Jazz Aesthetics, Florinda has worked extensively with Sharon Bridgforth, most recently performing the Blues in dat Black Mermaid Man Lady at Pilsbury House in Minneapolis, MN. Other favorites include Pork Chop Wars written and directed by Laurie Carlos in Austin (Performing Blackness Series) and Minneapolis (Pangea World Theater), the regional premiere of Until the Flood by Dael Grise) (Playmakers in NC and Cara Mia Theater in Dallas). In 2019, Florinda was named the inaugural "Omi Osun Joni L. Jones Visiting Performing Artist" for the African and African Diaspora Studies Department at The University of Texas Austin. The regional premiere of her one-woman show, Black do Crack at Ground Floor Theatre in Austin was nominated for five B. Iden Payne Awards including Outstanding Production of a Drama, Original Script, Direction of a Drama, Dramaturgy, and Lead Actress in a Drama, which she won. Florinda has worked with at-risk communities, young men and women, and adults–using performance as a social justice tool for empowerment and change for over 18 years.
ABOUT THE VORTEX: A leader in the growth of the arts and economic stability in Austin, The VORTEX thrives as a unique regional theatre. Our ensemble creates aesthetically diverse world premiere plays and musicals with hundreds of awards for artistic excellence. As a cultural harbor in Six Square Austin's Black Cultural Arts District, The VORTEX provides a community destination with a spacious Butterfly Sanctuary, food and drink, and an outdoor stage. The VORTEX serves as a catalyst for change, providing theatrical art characterized by direct impact. We engage in radical transformation through edge-walking artistic creations and innovations. Our venue and culture support expanding circles of inclusive community. As a fearless theatre exchange for a shifting age, The VORTEX stimulates inquiry and challenges white supremacy. Our anti-racist lens reflects diversity of people and voices of the BIPOC global majority. As change-makers and truth-tellers for more than three decades, The VORTEX challenges the destructive cycles of industrial society striving for an equitable, life-sustaining civilization. Sustainability centers Earth at our foundation as we envision a green new theatre.
---
Dramaturgy and Direction by Florinda Bryant. Choreography by Valoneecia Tolbert and Kellee Fuller. Scenic Design by Ia Enstarä. Lighting Design by Cheles Rhynes. Sound Design by Johann Mahler. Costume Design by Aaron Flynn. Illustrations by Alexander "Madison" Porter. Photography by John Valdez. Video documentation by Justin Humphrey. Marketing and Poster Design by Melissa Vogt.
Production Manager, Katie Hamilton. Stage Manager, Cortney D'Angelo. Assistant Director, Mia J. McElroy. Assistant Stage Manager, Ciarra Dortche. Assistant Designers Demetri Bellini, Jeannette Mwaki, Catherine Kenner. Financial Director, Krystle Cline. Managing Director, Melissa Vogt. Producing Artistic Director, Bonnie Cullum.
---
Tales of a Blerd Ballerina is funded and supported by VORTEX Repertory Company, Performance Platform Austin, National New Play Network, Austin Script Works, Six Square Austin's Black Cultural Arts District, and a Cultural District Grant from The Texas Commission on the Arts.
---
Tales of a Blerd Ballarina
by Valoneecia Tolbert
Vortex Repertory Theatre