Jul. 01 - Jul. 16
Fridays-Sundays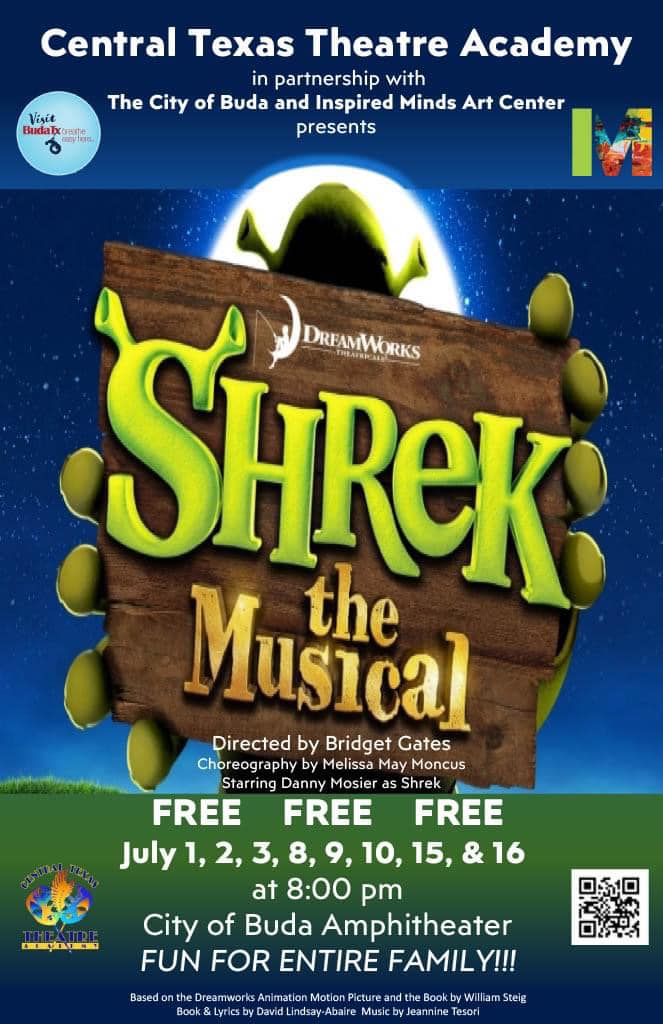 Cast:
Shrek- Danny Mosier
Donkey- Michelle Pesina
Fiona- Melissa Vogt
Lord Farquaad- Ameer Mobarak
Dragon/Blind Mice/Duloc Dancer/Tap Mice- Vanessa Adragna
Momma Ogre/Blind Mice- Lauren Beach
Papa Ogre/Wolf- Logan Mallow
Young Fiona/Baby Bear- Rosalind Gates
Teen Fiona- Chloe Swindle
Baby Shrek/Pied Piper/Grumpy Dwarf- Phoenix
Captain of the Guard- Bill Perkins
Bishop/Thelonious- Zach Watson
Gingy/Sugar Plum Fairy- Sarah Rickert
Pinocchio- Leah Pullin
Shoemaker Elf-Valentina Tiberi
Pig 1/Duloc Dancer/Tap Mice/Blind Mice-Jack Garrett
Pig 2- Hallie Strange
Pig 3-Hannah Lewis
Wolf- Logan Mallow
Witch- Holly Tiberi
Ugly Duckling- Maeve Galloway
Humpty Dumpty- Robyn Gammill
Peter Pan/Tap Mice- Christian Young
Momma Bear- Donielle Sleek
Papa Bear- Ashley Hennie
Baby Bear- Rosalind Gates
Mad Hatter- Cara Mosier
White Rabbit- Elisabeth Giminiani
Fairy Godmother- Lara Newcomer
DULOC DANCERS:
Vanessa A, Lauren B, Aileen, Jack, Holly T, Riley, Madison, Valentina, Brenna, Maeve
TAP DANCING MICE:
Vanessa A, Lauren B, Aileen, Holly T, Valentina, Brenna, Jack, Riley, Madison, Christian
Knight 1/Ensemble-Kelle Barron
Knight 2/Guard- Cynthia Cannon
Knight 3/Ensemble- Amanda Defrees
Ensemble/Guards-Em Richardson, Ashley Rose, Kara Finlayson, Gallileo Majors, Amy Majors
---
Shrek The Musical
Central Texas Theatre Academy
Fridays-Sundays,
July 01 - July 16, 2022
July 1 - 3, 8-10, 15 & 16, 2022 at 8 p.m.
Buda Amphitheatre
Free admission