Jun. 17 - Jun. 26
Thursdays-Sundays
Austin Shakespeare will celebrate the 15th year of its Young Shakespeare program with the whimsical romantic comedy Love's Labor's Lost at The Curtain, an outdoor replica of an Elizabethan theatre. The teen production will be staged at 8 pm, June 17-26.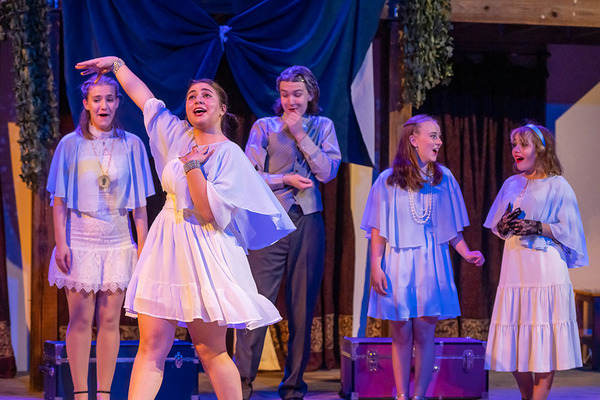 With set, costume and music design inspired by Harry Potter, Love's Labor's Lost is Shakespeare's comedy of four young nobles who vow to study and swear off dating women for three years, and then they meet four young ladies from the French court and secretly find them irresistible.
"Love's Labor's Lost is a delightful comedy full of fantastic characters, delicious wordplay, and charming antics: oaths are made and broken, love letters litter the stage, identities are mistaken, love is won and then lost again. This is a perfect comedy to enjoy with the whole family, brought to you by Austin's best young theatre talent," coirector Nancy Eyermann said. "The Harry Potter styled design enhances this playful world into a setting mingled with magic."
Returning to Young Shakespeare are Dexter Barnhart, Charlotte Blackmon, Gabriel Cruz, Drew Darsey, Elyse Daniels, Fin Fulmer, Jago Mystiek, Sophie West, Richard White, and Rachel Zook. New to the company are Lara Alcantara, Bliss Mohon, Erin Zuniga, Jaxie Watts, Steely Schmid and Teagan Boyd. Students range from 13-19 years old and attend Sarah Lawrence College, Anderson High School, McCallum Fine Arts Academy, Lehman High School, Vandegrift, Veritas and Ann Richards High School.
Special outdoor seating includes audience members on three sides of the raised stage as well as seats at "groundlings level."
Love's Labor's Lost is co-directed by Ann Ciccolella and Nancy Eyermann; costume design is by Madalyn Lamb; the set and light designer is Patrick W. Anthony; the props designer is Kaitlyn Comer; the sound design is by Kellie Baldwin and the choreography is by Lori Hutson.
ABOUT AUSTIN SHAKESPEARE: "The Bard is only the beginning." Audiences travel many roads with this professional company for surprising and entertaining theater productions featuring heightened language at The Long Center's Rollins Studio Theatre in the fall and spring, as well as Free Summer Shakespeare in Zilker Park and Young Shakespeare at the Curtain Theater replica. Founded in 1984 and the only professional classical theater company in Central Texas, Austin Shakespeare stages performances that are fresh, bold, imaginative, thought-provoking and eminently accessible — connecting the truths of the past with the challenges and possibilities of today. Austin Shakespeare's ongoing "Shakespeare Aloud" reading group and "Artist's Way" sessions invite new participates weekly and the company's education program 20/20 sends professional actors into schools to encourage love of language.
---
Love's Labor's Lost
by William Shakespeare
Young Shakespeare Troupe
Thursdays-Sundays,
June 17 - June 26, 2022
Austin Shakespeare's Young Shakespeare teen company
WHAT: Shakespeare's Whimsical Comedy: Love's Labor's Lost
WHEN: 8 pm Fri-Sunday June 17-19 and Thurs-Sun, June 23-26
WHERE: At The Curtain Theatre, Austin's replica of an Elizabethan theater | 7400 Coldwater Canyon Drive, Austin, TX 78730
TICKETS: from $12-$22 at www.AustinShakespeare.org