Apr. 13 - Apr. 24, 2022
Wednesdays-Saturdays
Someone sneezes. Someone can't get a signal. Someone won't answer the door. Someone put an elephant on the stairs. Someone's not ready to talk. Someone is her brother's mother. Someone hates irrational numbers. Someone told the police. Someone got a message from the traffic light. Someone's never felt like this before.

In this fast moving kaleidoscope, more than a hundred characters try to make sense of what they know.
Directed by Mike Steele.
Click to view interview with director Mike Steele, posted at the UT Theatre & Dance blog "Off Book," April 11, 2022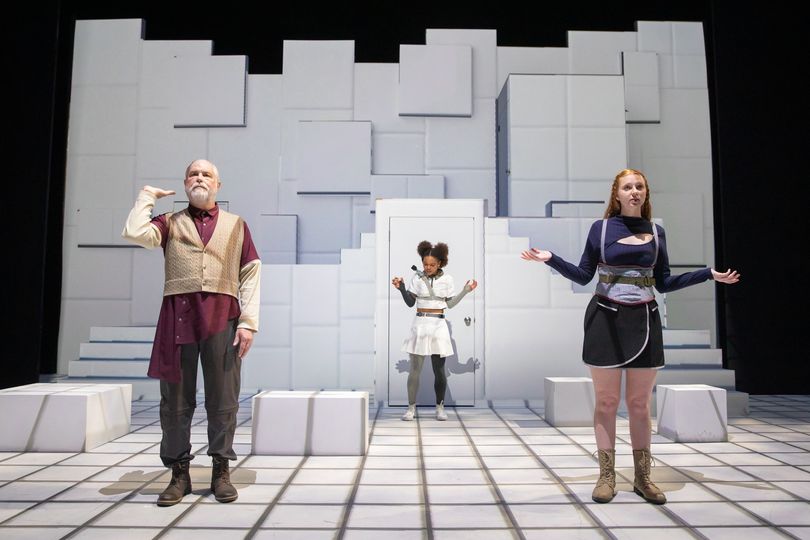 Mike Steele is a director, performer and writer from Chicago, Illinois. Most recently he directed poolboy00 and OCD for UTNT (UT New Theatre) (2020/2021). Other directing credits include The Killer and Sad Happy Sucker (Trap Door Theatre) and The Capillaries (Links Hall). Steele is also the former founding artistic director of The Island Theatre of Chicago. With The Island he led the creation of several original plays including Tourist Trap and The Glass Inward. Recently, Steele has been developing an immersive performance piece titled High Strangeness dealing with belief, aliens, spirituality, mischief and fakery. Also an actor, Steele has performed with numerous companies and toured internationally in cities across Poland, Romania, Hungary and the Republic of Moldova. Steele holds a B.F.A. in Theatre Studies from the Meadows School of the Arts.
---
Love and Information
by Caryl Churchill
University of Texas Theatre & Dance
Wednesdays-Saturdays,
April 13 - April 24, 2022
April 13-24, 2022
Wednesdays - Saturdays at 7:30; matinees on Saturdays and on Sunday, April 24.
Oscar G. Brockett Theatre, University of Texas at Austin
General admission $26 (students with ID, $15; UT faculty and staff, $21)
Purchase tickets online HERE (all tickets are general admission)