The Rocky Horror Show
by Zach Theatre
Apr. 06 - May. 01, 2022
Wednesdays-Sundays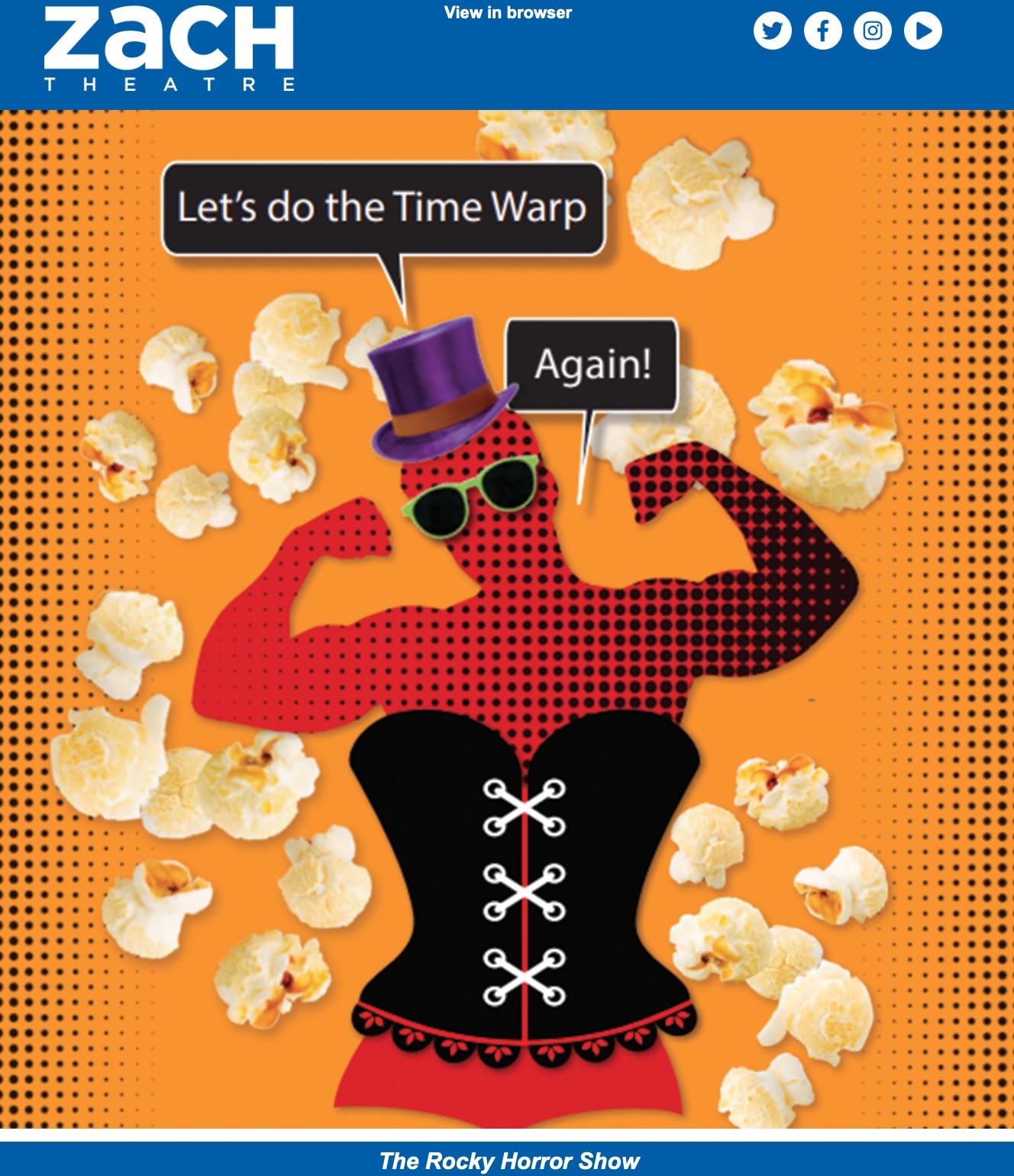 In this cult classic, sweethearts Brad and Janet, stuck with a flat tire during a storm, discover the eerie mansion of Dr. Frank-N-Furter. As their innocence is lost, Brad and Janet meet a houseful of wild characters, including a rocking biker and a creepy butler. Through elaborate dances and rock songs, Frank-N-Furter unveils his latest creation: a muscular man named "Rocky."
Age recommendation: 14 and up for adult content and sexual themes.
Casting includes CECIL WASHINGTON JR. (Sunday in the Park) as Frank-N-Furter, Daisy Wright as Janet Weiss, AUSTIN HYDE as Brad Majors, Cameron Mitchell Bell (80s Dance Party) as Riff Raff, Jill Blackwood (Sunday in the Park, Rocky Horror) as Magenta/Usherette, HALLIE WALKER as Columbia/Usherette, Logan Hart (Jagged Little Pill) as Rocky, Chris Cornwell as Eddie/Dr. Scott/Guitar, KAILA BURRITT and NATALIE CLAIRE FREEMAN as Usherettes, and RICHARD ROBICHAUX ("Bigshot", "Boyhood", "Bernie") as the Narrator.
The Rocky Horror Show is directed by Dave Steakley with musical direction by ALLEN ROBERTSON. Additional production team includes SCOTT GROH as scenic and property designer, Ashton Murphy as projection designer, Susan Branch TOWNE as costume designer, SERRET JENSEN as hair and makeup designer, AUSTIN BROWN as lighting designer, CRAIG BROCK as sound designer, Robin Lewis as choreographer, JEN MALHSTEAD YOUNG assistant choreographer, and CATE TUCKER as the stage manager.
Run time: Two hours and ten minutes including one twenty-minute intermission.
Austin Chronicle review by Bob Abelman, April 18, 2022
Review by Cliff Cunningham, Sun News Austin, April 15, 2022
---
The Rocky Horror Show
Zach Theatre
Wednesdays-Sundays,
April 06 - May 01, 2022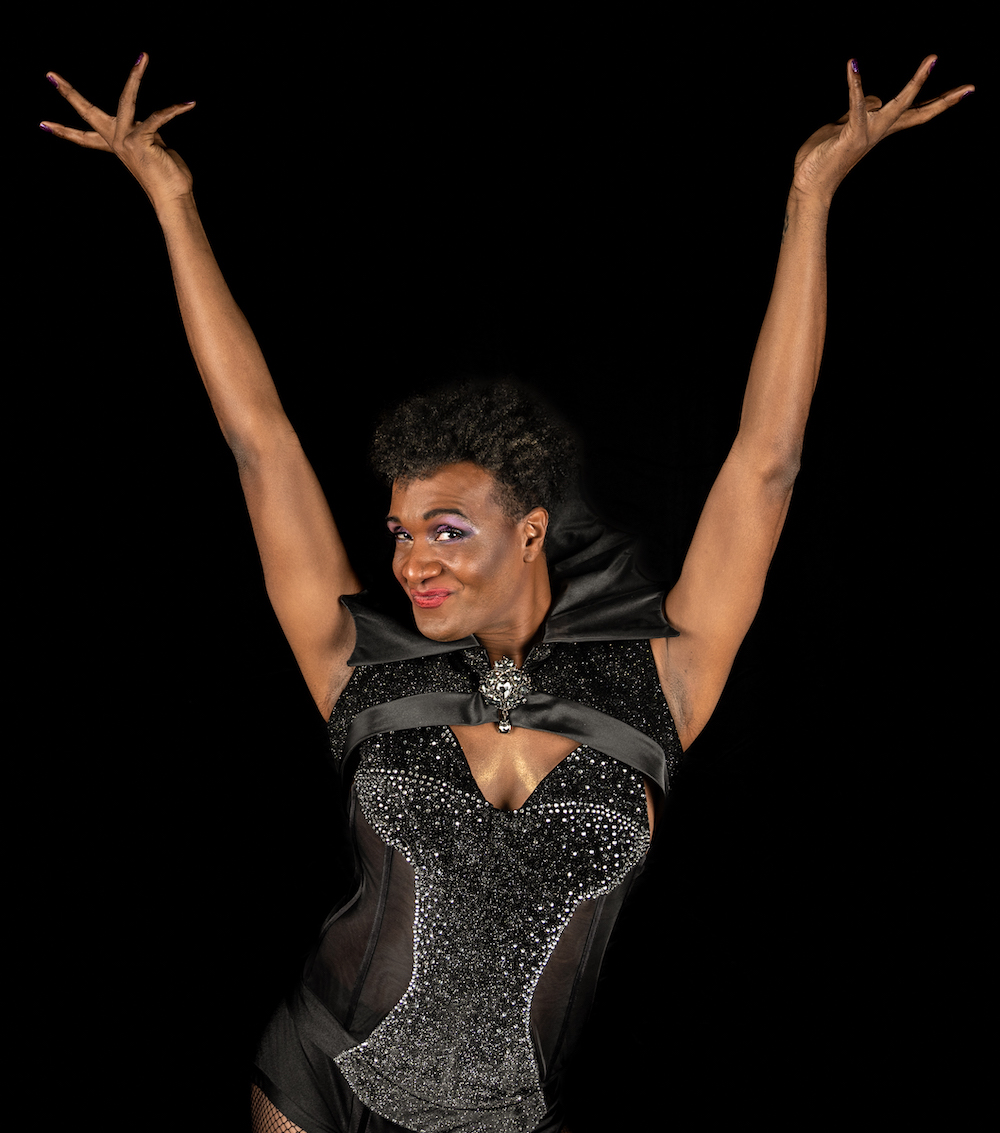 Performances begin April 6, 2022, and close May 1, 2022, with six to seven shows per week: Wednesdays through Sundays at 7:30 pm and some Saturday and Sundays at 2:30 pm.
Tickets are available online at zachtheatre.org, by phone at 512-476-0541 Monday through Friday, 12–5 p.m. Free, short term and convenient parking available at the front entrance. ZACH Theatre is wheelchair accessible. Student Rush Tickets are $18 one hour before show time (with valid ID). A limited amount of Pay–What–You–Will tickets are available the day of for Mainstage preview performances only. Groups of 8 or more may request reservations by calling 512-476-0594 x3 or by emailing groupsales@zachtheatre.org.
ZACH XP memberships are $39 per month and give access to all Mainstage and Family series shows, including The Rocky Horror Show, April 6 to May 1; Somebody Loves You, Mr. Hatch, April 29 to May 22; The Sound of Music, June 15 to July 24; and The Inheritance (Part 1), August 10 to September 24. Visit zachtheatre.org/zachxp to learn more.
Special Events in celebration of The Rocky Horror Show:
ASL Interpreted Performance – Saturday, April 30, 2022 at 2:30 p.m.
COVID PROTOCOLS AND HEALTH AND SAFETY:
A negative COVID-19 test result must be obtained within 72 hours (3 days) of the show date. Both molecular (PCR) and antigen (rapid) tests will be accepted. In lieu of a negative test, patrons may volunteer proof of vaccination. Negative COVID-19 test, or proof of vaccination will checked upon entry to ZACH's campus. The following forms of proof of vaccination will be accepted:
Physical vaccination card
Verified App (CLEAR Health Pass, My Bindle)
A photo of a physical vaccination card
Final vaccine must be dated at least 14 days prior to show date.
The policy applies to both indoor and outdoor performances and will affect audience members ages 12 and up. Children under 12 will not be required to provide a negative COVID-19 test upon entry.
Find more details on safety, procedures, and the most current up to date information at zachtheatre.org/healthandsafety.