Sep. 03 - Oct. 03, 2021
Fridays-Sundays
By America's great comic playwright, this memory play is set in Yonkers in 1942. Bella is thirty-five years old, mentally challenged, and living at home with her mother, stern Grandma Kurnitz. As the play opens, financially strapped and desperate son Eddie deposits his two young sons on the old lady's doorstep. He is taking to the road as a salesman. The boys are left to contend with Grandma, with Bella and her secret romance, and with Louie, her brother, a small-time hoodlum in a strange new world called Yonkers.
Review by Nathaniel Reid, Broadway World Austin, September 19, 2021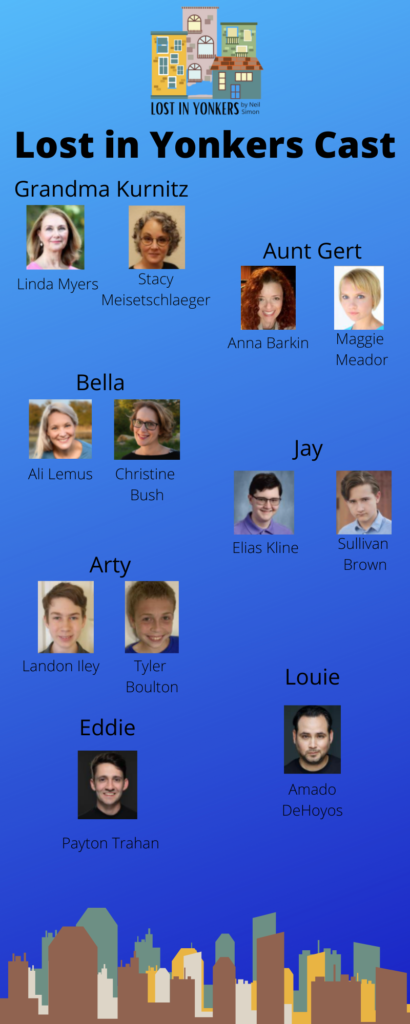 ---
Lost in Yonkers
by Neil Simon
Georgetown Palace Theatre
Fridays-Sundays,
September 03 - October 03, 2021
Georgetown Playhouse
817 S. Austin Avenue
across the street from the Georgetown Palace Theatre
Georgetown, TX, 78626
September 3 - October 3, 2021
Fridays and Saturdays at 7:30 p.m., Sundays at 2 p.m.
The show will be in the Playhouse, which is our black box theatre, off 8th Street and Tin Barn Alley,, 810 South Austin Avenue, Georgetown, TX 78626
Ticket Prices: Adult-$34
Seniors (55+) / Military / Students-$32
*Student Rush Tickets $24 at the door with student ID.
All fees are included in ticket pricing.
Click HERE to reserve and purchase online.
BOX OFFICE
512-869-SHOW (7469)
M-F 10am-4pm